Congratulations To Our LTSE Awards Winners
Posted on: 20 May 2020 by Nick Jones in 2018 Posts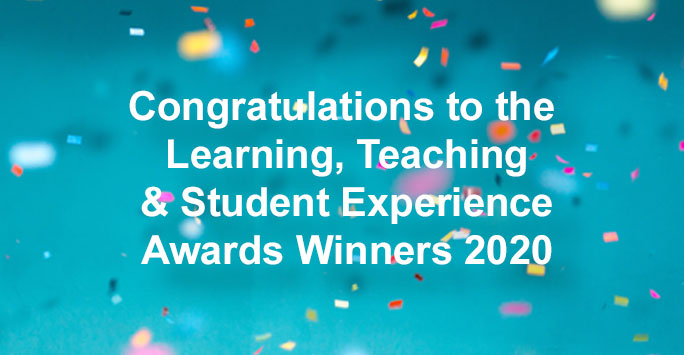 We're pleased to announce the winners of the 2020 Learning, Teaching & Student Experience Awards. Congratulations to all our winners!
We are pleased to announce the winners of the Learning, Teaching and Student Experience Awards for 2019/20. This year, we received a variety of excellent applications from colleagues outlining innovative projects designed to enhance the student learning experience and develop activities across the institution.
Now in its 8th year, the LTSE Award is a scheme designed to recognise, value and reward staff who have made a positive impact within their respective areas by developing projects to enhance the student teaching/learning experience. This year, schemes sent for consideration ranged from projects in decolonising curricula, developing student photogrammetry skills and expanding Year in Industry programmes among others. Similarly, our applicants came from a wide range professional backgrounds varying from Careers, English and Sociology to name a few, as well as cross-faculty collaborative initiatives co-led by staff from multiple disciplines.
For our 7 winning applications, the prize-winners will be granted £500 to develop their projects in full and to use across learning and teaching activities in their specific areas. Prize-winners are similarly encouraged to disseminate the outcomes of their practice to other colleagues in the aim of enhancing good practice in teaching overall. Lastly, staff will be presented with the Alastair Pilkington Award as a celebration of their contribution to pedagogy and enhancement of the student experience.
Here is our list of winners for this academic year:
Bright Ideas Team
Amy Gerrard (School of the Arts), Cornelia Nelson (The Careers Service)
This project is a new enterprise programme developed in collaboration between the School of the Arts and the Careers and Employability Team aiming to engage students with enterprise. The team looked to develop opportunities for students to explore enterprise and independent employment pathways giving them an alternative view on the traditional world of work. Through workshops addressing topics such as creativity, market research, understanding customers and developing business plans, students were guided through the entrepreneurial process and encouraged to test ideas, additionally awarded funding, aftercare, and mentoring support.
Kerry Traynor (School of The Arts)
Dr. Traynor's project involved the expansion of a pilot Year in Industry programme within the School of the Arts to create a full-fledged course. The Liverpool Communication and Media Year in Industry is a 40+ week paid placement in a communication/media role or respective industry. Proving successful in its pilot stages, the course worked to support students through their placements by facilitating relationships with employers, providing supervision for ongoing academic studies and preparation for assessments prior to selection. Funding of this scheme means Liverpool is now one of only four Russell Group institutions to offer this type of course.
Study Abroad Team
John Green (University of Liverpool Management School), Hannah Lewis (School of Law and Social Justice), Kevin Melling (School of Law and Social Justice), Charlotte Fairclough (School of the Arts)
The Study Abroad Team's cross-discipline Faculty initiative, the "HSS Study Abroad Week," is an initiative dedicated to promoting Study Abroad and providing interested students with a platform to obtain further information. The team, working in a co-led fashion, ran joint sessions, application workshops and partner sessions whilst creating other spaces to provide detailed information for those interested. The collaborative working practice displayed between four schools was recognized as a positive example of inter-school efforts as well as a template for progress towards achieving KPI11 of the Education Strategy.
Melissa Raines (School of The Arts)
Dr. Raines' project evaluated best practice in formative assessment and the student feedback experience. Through trialling and comparing alternative methods of assessment such as the use of partial drafts and essay plans, Dr. Raines' work helped to create a positive learning environment where students understood how best to receive and use feedback. The project also evaluated the formative assessment process leading to changes within the Department of English.
Terence Heng (School of Law and Social Justice)
Dr. Heng's project involved the design and delivery of both an undergraduate and corresponding postgradute module in the Sociology, Social Policy and Criminology Department, SOCI348: Documentary Photography as Social Research and SOCI540: Photography and Creative Practice. This project enabled students to incorporate digital photography into their research repertoire by teaching about the value of documentary photography to Sociology and Visual Sociology, theories of the photograph and how to create compelling images as data for use in dissertations, assignments and future research.
Ardern Hulme-Beaman (School of Histories, Languages and Cultures)
Dr. Hulme-Beaman's project worked to develop the university's Department of Archaeology, Classics and Egyptology as a centre for photogrammetry excellence in the UK with student-driven research at its core. The project was commended on its use of interactive teaching methods for students, such as the use of individual and group learning sessions, fieldtrips and student-assisted leadership projects to raise public awareness of photogrammetry.
Deana Heath (School of Histories, Languages and Cultures)
Dr. Heath's project concerned the practice of curriculum decolonising as included in her second-year module HIST 235: The Indian Freedom Struggle(s). This project encouraged students to challenge perceptions of indigenous and non-Western knowledge through various activities. Using innovative practices such as mock group press conferences and constructing newspaper articles where students would assume the guise of late-nineteenth/early twentieth-century Indian journalists and historical figures, students on the module were encouraged to explore issues relevant to module themes of identity, engagement and decolonised academic practice.
Congratulations to all our winners, and we look forward to more exciting entries in next year's awards!
---