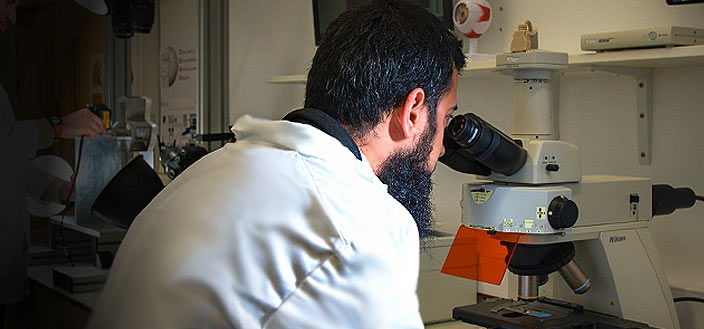 Pace setting engineering research
We provide a well-equipped, well-resourced research environment that encourages collaboration across disciplines, departments and organisations.
Research is focused on three centres to reflect today's key challenges: engineering sustainability; engineering dynamics; materials and structures.
These provide platforms for the school's specialists in fields such as aerospace engineering, civil engineering, mechanical engineering, materials engineering, and design & manufacturing.
Collaborations
Recently we have worked with colleagues across the University to found new institutes, for renewable energy and risk & uncertainty.
Additionally you will find many other innovative collaborations here, such as our work on Biomechanics, with the Faculty of Health & Life Sciences.
Our programmes frequently involve external partners, both academic and industrial, regionally, nationally and internationally.
The Virtual Engineering Centre (VEC) is the leading technology innovation centre for engineering development using Virtual Engineering technologies and expertise. The VEC is a partnership between, the School of Engineering at the University of Liverpool, the Science and Technology Facilities Council (STFC), BAE Systems, North West Aerospace Alliance (NWAA) and Morson Projects.
N-STAR (Nuclear Science and Technology Applied Research) forms a hub of advanced interdisciplinary nuclear science and technology research.
The University of Liverpool Doctoral Network in Technologies for Healthy Ageing is training the next generation of physical scientists and engineers to develop novel technologies and devices to address the challenges faced by older people and our clinical colleagues who work with them.
It is structured around three healthy ageing challenges:
Prolonging independence
Maintaining wellness
Accelerating recovery
Looking ahead
As part of an elite Russell Group university, we have significant funds to invest in research and are constantly searching for new opportunities.
We are keen to speak to potential partners and to expand our community of postgraduate / PhD students in line with our expanding research programme.
---
Science and Engineering's Research Staff Society
Science and Engineering's Research Staff Society (SERAS) was founded by Ashkan Eliasy and started its work in October 2017. The aim of the society is to support the development of all research staffs (post-docs and research assistants) and to improve and enhance the experience of RAs life within the faculty at UoL. Since its establishment, it has held various workshops and events for professional and personal development of research staff. With the support of Dean of School of Engineering, Professor Ahmed Elsheikh, it created an opportunity for qualified postdoctoral researchers to teach for 20% of their time and become a fellow of higher education. First SERAS symposium was organised on 9th of July 2019 and had a full day packed with interesting activities. The aim of the conference was to promote networking opportunities and multidisciplinary research among RAs and to bring industrial and entrepreneurial insights for future career developments. Please contact one of our committee members to take part and benefit from our activities.
Committee members
Ashkan Eliasy (eliasy@liverpool.ac.uk)
Henry Ng (hchng@liverpool.ac.uk)