Return to top
Course overview
MSc Money and Banking is an excellent opportunity for students who wish to pursue a career requiring a sophisticated understanding of the macro-economy and state-of-the-art analytical skills, such as in global industry, banking and finance, or government organisations.
Introduction
The world of business is becoming ever more connected. Firms are looking for people who are able to leverage the interconnected nature of banking, finance, and the macroeconomy to help them manage risk and uncertainty.
MSc Money and Banking provides you with the crucial knowledge to understand current debates in monetary, fiscal, and macroprudential policymaking.
With a strong emphasis on technical skills, the programme teaches you how to model economic issues, conduct rigorous empirical analyses, and discuss their work with diverse audiences to generate meaningful insight.
The modules in this programme cover a wide range of fields within macroeconomics and finance, allowing you to study many of the current issues facing the world economy, including Brexit and rising trade barriers, regulations of finance and banking, and the economics of cryptocurrency.
An important feature of our programme is that the modules are taught by world-class researchers who publish in leading academic journals on the very topics they teach. Many of our faculty maintain close relationships with businesses, governments, and non-profit organisations, connecting their research to real-world impact.
The Management School has ringfenced a number of ULMS Excellence Scholarships for our economics master's programmes. Eligibility and more information can be found on the School's scholarship pages. In addition, international students could be eligible to receive a discount of up to £7,500 off your tuition fees with the University of Liverpool Postgraduate Global Advancement Scholarship, find out more on the Postgraduate Global Advancement Scholarship webpages.
Accreditation
The University of Liverpool Management School is one of an elite group of institutions worldwide to hold the gold standard 'triple-crown' accreditation from AACSB, AMBA and EQUIS.
Course content
Discover what you'll learn, what you'll study, and how you'll be taught and assessed.
Semester one
The 12-month programme consists of seven compulsory modules and one optional module, followed by a dissertation carried out over the summer period upon completion of Semester two.
Compulsory modules
ECONOMETRIC AND STATISTICAL METHODS (ECON814)

Credits: 15 / Semester: semester 1

Econometric and statistical methods are of vital importance for estimating relationships between economic and financial variables, and for making predictions about the future. Central banks maintain large scale forecasting models for macroeconomic variables, for instance, and policy institutes use a wide range of econometric tools for modeling macroeconomic or microeconomic data. Within the private sector, financial analysts routinely estimate volatility models, credit risk departments estimate probability of default models, and, as a final example, marketing departments in large e-businesses make use of website hit counts and treatment test methods to test for the effect of their promotions on demand. These are just a few examples of how relatively advanced econometric methods are used in practice. ECON814 Econometric and Statistical Methods lays the foundation for learning the more specialised methods taught in ECON920 Advanced Econometrics, and equips the participant with a good general understanding of the methods used for estimating and testing linear and nonlinear relationships between variables.
Macroeconomic Analysis (ECON905)

Credits: 15 / Semester: semester 1

In this module students will get a well-rounded overview of modern macroeconomics. Topics covered are facts about growth, the Solow growth model (theory and empirics), the Neoclassical growth model (growth with dynamic optimisation), and endogenous technical change. The second half of the module will focus on real business cycle models and the new Keynesian framework. We will evaluate the successes and failures of the basic models in matching data.
Microeconomic Analysis (ECON915)

Credits: 15 / Semester: semester 1

This module aims to provide an understanding of the essentials of microeconomic theory. This includes understanding what is meant by rational choice and how it can be used to predict what choices agents will make in different contexts. Students will also understand how markets work and what causes markets to fail.
International Economics (ECON704)

Credits: 15 / Semester: semester 1

This module covers the core concepts of international trade and international finance. It introduces the key facts and theories in international economics and discusses contemporaneous issues in the global economy (e.g., Brexit and COVID). Topics in this course include classic international trade models, international prices and exchange rates, regional trade agreements and Brexit, and international monetary systems. In this module, students will be taught how to conduct their own research on recent economic events drawing on data from different sources, analysing them using appropriate economic models and communicating the results to a range of different audiences.
Programme details and modules listed are illustrative only and subject to change.
Semester two
The 12-month programme consists of seven compulsory modules and one optional module, followed by a dissertation carried out over the summer period upon completion of Semester two.
Compulsory modules
Applied Macroeconometrics (ECON920)

Credits: 15 / Semester: semester 2

This module will provide students with an understanding of modern econometric time series methodology suitable for applications to financial and macroeconomic data. Topics include model selection, estimation and forecasting for univariate models; nonstationary models and testing for nonstationarity; models with conditional heteroscedasticity; and model selection, estimation and forecasting for multivariate models and testing for cointegration.
MONEY AND BANKING (ECON916)

Credits: 15 / Semester: semester 2

The main objective of this module is to develop a microeconomic and a macroeconomic perspective of banking. Students will acquire an understanding of the specific nature of a bank as a firm, the role of banks in an economy, and of the regulatory environment in which banks operate. The module develops an economic foundation of the banking sector and analyses its importance for the macro-economy.
Economics in Financial Markets (MGTK758)

Credits: 15 / Semester: whole session

This module provides an extensive introduction to the key principles of micro- and macroeconomic analysis, with particular emphasis on the relevance to financial markets. Students will first develop an understanding of fundamental microeconomic models, i.e. the determinants of demand and supply, the theory of the firm and various market structures. They will then build on those foundations while exploring the key themes in contemporary macroeconomics, ranging from business cycle analysis, through fiscal and monetary policy, to the determinants of foreign exchange rates. The module seeks to equip students with a thorough understanding of the underlying theories and economic models which will then be applied in a practical setting. Ongoing analysis and discussion of contemporaneous issues in macroeconomics and their likely effects on financial markets will form an integral part of students' learning experience, thus allowing them to develop the knowledge and skills necessary to succeed in their future professional and academic pursuits.
Optional modules
Current Topics in Economics (ECON827)

Credits: 15 / Semester: semester 2

This module covers a variety of cutting-edge topics in economics. Based on articles published in peer reviewed academic journals, publications by international and government agencies, and working papers, this module is delivered by several research active staff specialising in each area. The module is a mix of lectures delivered by staff and roundtable discussions led by student presentations.
Machine Learning and Big Data Econometrics (ECON701)

Credits: 15 / Semester: semester 2

Machine Learning and Big Data Econometrics teaches students the fundamentals of data analysis for big data. Students will be taught the latest machine learning methods, as well as how to implement machine learning using the Python coding language. Students will be taught valuable technical skills which apply to a wide range of careers in research and data science. Example topics include LASSO, Random Forests, and Deep Learning. The module will discuss the application of machine learning methods to economics and business.
Programme details and modules listed are illustrative only and subject to change.
Final project
The 12-month programme consists of seven compulsory modules and one optional module, followed by a dissertation carried out over the summer period upon completion of Semester two.
Compulsory modules
DISSERTATION (ECON912)

Credits: 60 / Semester: summer

Comprising two elements: research methods introduces students to the principles and practices of researching and writing dissertations and results in an agreed outline plan of work for the dissertation and a completed literature review. The dissertation itself will be undertaken over the summer period and will involve the implementation of the research work plan and the completion of a 15,000-20,000 word dissertation.
Programme details and modules listed are illustrative only and subject to change.
How you'll learn
Modules are taught using the latest active learning techniques including real-world case studies, social media, lecture capture and real-time financial and business data using our Bloomberg trading floor.
The principal forms of teaching are face-to-face lectures and seminars with lectures normally being supported by material such as hand-outs and presentations. Seminars give the opportunity for detailed discussion of a topic under the direction of a tutor. You are normally expected to prepare work in advance for seminars and may be expected to present work or give presentations.
In addition, this course offers an enhanced programme of events and activities such as coding bootcamps and guest speakers.
Following semester two you will complete a dissertation the support of an academic supervisor.
Teaching time will account for an average of 10 hours per week and you should anticipate an additional 30 hours of self-directed study and group work.
How you're assessed
In semester one and two, you will take modules totalling 120 credits. The Dissertation completed during the summer period is worth 60 credits and students will be supported by their academic supervisor.
Students are required to complete 180 credits to achieve a full MSc.
Subject to meeting specific criteria outlined by the University, students will graduate with a Pass, Merit or Distinction.
Assessment tasks are varied and some may be designed specifically to meet the learning outcomes of a particular programme of study, but students can expect to be assessed via coursework, essay, group work, presentations, case studies, negotiation exercises, reports and examinations. The weighting of individual components will vary from one module to another. All assessment information is included within the module specification.
Liverpool Hallmarks
We have a distinctive approach to education, the Liverpool Curriculum Framework, which focuses on research-connected teaching, active learning, and authentic assessment to ensure our students graduate as digitally fluent and confident global citizens.
Your experience
This programme is delivered by the triple-accredited University of Liverpool Management School.
The School has a thriving international master's community with a comprehensive, interdisciplinary programme of social and extra-curricular events and dedicated careers and employability support.
Watch now
Video
Economics master's programmes
Start your postgraduate economics journey at the University of Liverpool Management School.
Virtual tour
Supporting your learning
From arrival to alumni, we're with you all the way:
What students say...
The rigorous training offered as part of the MSc Economics course has been essential for building my skills as a practising economist. The programme has a wonderful blend of modules and can really be tailored depending on different students' career or research aspirations.
Chat with our students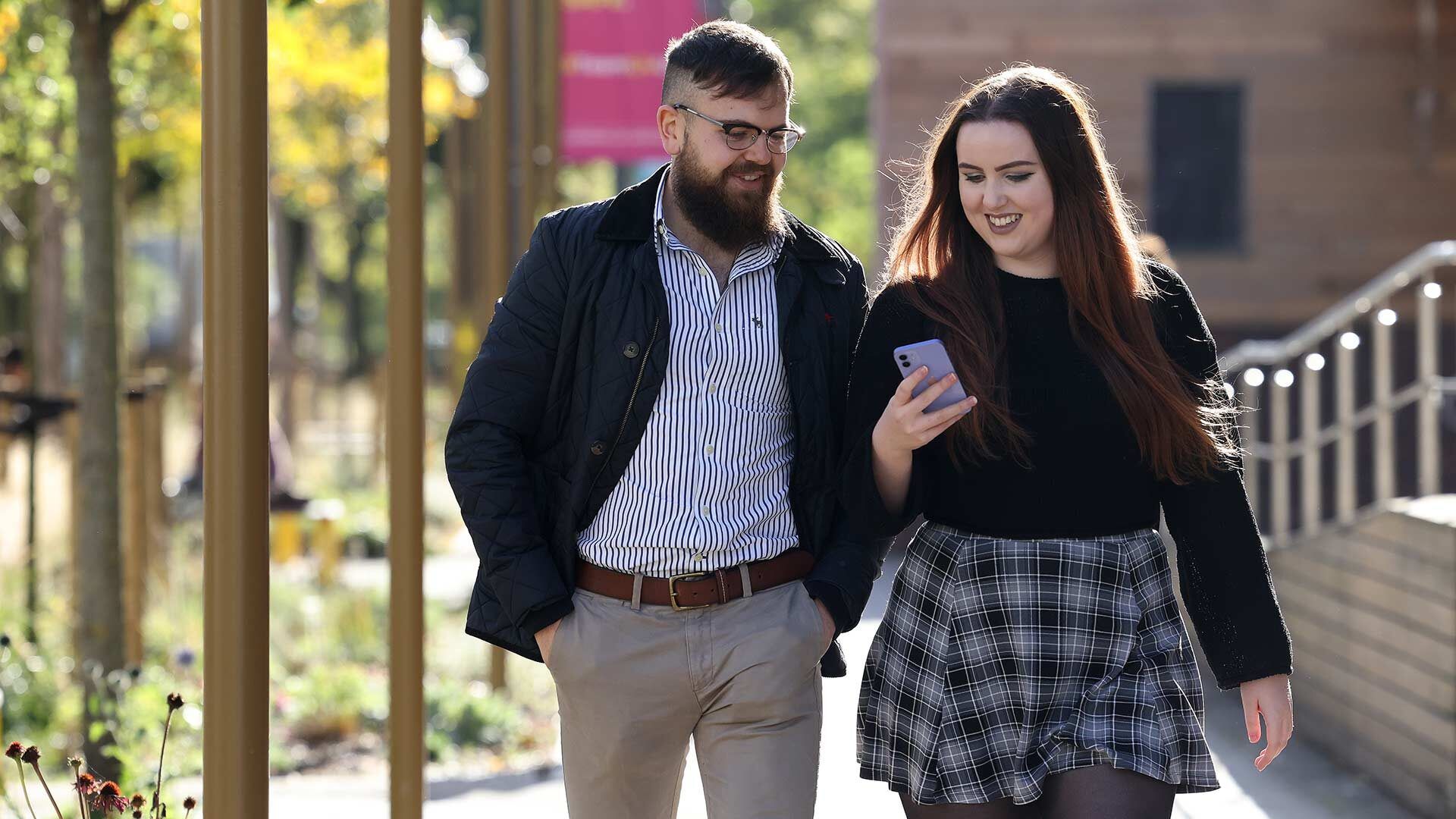 Chat with our students
Want to find out more about student life?
Chat with our student ambassadors and ask any questions you have.
Careers and employability
The programme will equip students with state-of-the-art quantitative tools and an in-depth understanding of the banking sector in order to prepare you for a  successful career.
During the year, you can take part in dedicated skills and employability days including coding bootcamps in R and python to allow you to reach software fluency and allow you to excel at any task in the workplace.
The School will also host an event for data scientists from industry and the civil service to talk to you and give an insight into the career possibilities open to you.
Your future
You will have access to a specialist, in-house postgraduate careers team and have access to one-to-one careers guidance, workshops, seminars, and employability initiatives.
MSc in Money and Banking is an excellent opportunity for students who wish to pursue a career in:
Banking
consulting firms
Investment banks
Research institutes
Government agencies.
Fees and funding
Your tuition fees, funding your studies, and other costs to consider.
Tuition fees
UK fees

(applies to Channel Islands, Isle of Man and Republic of Ireland)

Full-time place, per year
£12,500
International fees
Full-time place, per year
£25,000
Fees stated are for the 2024-25 academic year.
Tuition fees cover the cost of your teaching and assessment, operating facilities such as libraries, IT equipment, and access to academic and personal support.
If you're a UK national, or have settled status in the UK, you may be eligible to apply for a Postgraduate Loan worth up to £12,167 to help with course fees and living costs. Learn more about paying for your studies..
Additional costs
We understand that budgeting for your time at university is important, and we want to make sure you understand any course-related costs that are not covered by your tuition fee. This could include buying a laptop, books, or stationery.
Find out more about the additional study costs that may apply to this course.
Scholarships and bursaries
We offer a range of scholarships and bursaries to provide tuition fee discounts and help with living expenses while at university.
Entry requirements
The qualifications and exam results you'll need to apply for this course.
Your qualification
Requirements
Postgraduate entry requirements

A 2:1 Honours degree (or overseas equivalent) in Economics or a related discipline with a quantitative focus.

Students with a 2:1 degree from a quantitative science discipline (e.g. Maths, Physics, Statistics, Operations Research) are also encouraged to apply.

International qualifications

If you hold a bachelor's degree or equivalent, but don't meet our entry requirements, a Pre-Master's can help you gain a place. This specialist preparation course for postgraduate study is offered on campus at the University of Liverpool International College, in partnership with Kaplan International Pathways. Although there's no direct Pre-Master's route to this MSc, completing a Pre-Master's pathway can guarantee you a place on many other postgraduate courses at The University of Liverpool.
English language requirements
You'll need to demonstrate competence in the use of English language. International applicants who do not meet the minimum required standard of English language can complete one of our Pre-Sessional English courses to achieve the required level.
English language qualification
Requirements
GCSE
Grade C
IELTS
C
View our IELTS academic requirements key.
International Baccalaureate

Standard Level (Grade 5)

INDIA Standard XII
National Curriculum (CBSE/ISC) - 75% and above in English. Accepted State Boards - 80% and above in English.
WAEC
C6
Hong Kong use of English AS level
C
Cambridge Proficiency
C
More about life in Liverpool
Discover more about the city and University.
Why study at Liverpool?
Liverpool bursts with diversity and creativity which makes it ideal for you to undertake your postgraduate studies and access various opportunities for you and your family.
Accommodation
To fully immerse yourself in the university experience living in halls will keep you close to campus where you can always meet new people. Find your home away from home.
Fees and Finance
Discover what expenses are covered by the cost of your tuition fees and other finance-related information you may need regarding your studies at Liverpool.
Contact us
Have a question about this course or studying with us? Our dedicated enquiries team can help.