Master of Business Administration (The Liverpool MBA)
Return to top
Course overview
The Liverpool MBA is designed to extend your existing expertise and build strategic leadership capabilities. You'll build a deeper understanding of core business and management disciplines, and learn how they link together strategically and operationally.
Introduction
The MBA programme:
Helps students to build their strategic leadership capabilities and the ability to make and communicate connections across complex ideas.
Exposes students to the key dilemmas facing organisations in advancing technological development and economic growth, while balancing issues of sustainability, social responsibility and stakeholder management.
Our MBA students develop creativity and critical thinking skills, as well as self-awareness, emotional/social intelligence and interpersonal skills.
Through core and elective modules, the programme will expose you to core management and leadership challenges, including:
Designing and implementing strategy
Using the power of data analysis to anticipate, rather than follow
Building and investing in teams and allocating organisational resources
Innovating in processes, platforms and culture
Navigating the politics of power
Leading with presence and authenticity
We focus on enhancing your understanding of the interplay of organisation dynamics—people, power, politics and systems—and on gaining new analytical skills to identify, dissect and solve complex business problems. We also focus on you as a leader and the development of your personal capabilities to lead and drive change.
Who is this course for?
Candidates join our MBA programmes to achieve a number of professional goals. Typically they will have a minimum of 3 years of relevant management experience in the private or public sector.
Students may be planning to:
Start a new business
Move into a more senior strategic role
Improve the performance of their current company
Change the function, sector or country they work in.
Accreditation
The University of Liverpool Management School is one of an elite group of institutions worldwide to hold the gold standard 'triple-crown' accreditation from AACSB, AMBA and EQUIS.
Course content
Discover what you'll learn, what you'll study, and how you'll be taught and assessed.
Studying this course part-time
International students may be able to study this course on a part-time basis but this is dependent on visa regulations. Please visit the Government website for more information about student visas.
If you're able to study part-time, you'll study the same modules as the full-time master's degree over a longer period, usually 24 months. You can make studying work for you by arranging your personal schedule around lectures and seminars which take place during the day. After you complete all the taught modules, you will complete your final dissertation or project and will celebrate your achievements at graduation the following term.
Studying part-time means you can study alongside work or any other life commitments. You will study the same modules as the full-time master's degree over a longer period, usually 24 months. You can make studying work for you by arranging your personal schedule around lectures and seminars which take place during the day. After you complete all the taught modules, you will complete your final dissertation or project and will celebrate your achievements at graduation the following term.
Semester one
The 12-month full-time programme consists of ten compulsory modules and two elective modules, followed by a work based project or a dissertation carried out over the summer period following semester two. A dissertation enables you to undertake an in-depth study of a sector, an industry, a subject area, or a company. 180 credits are taken in total.
For details of the part-time programme structure please contact us.
Compulsory modules
LEADERSHIP, MANAGEMENT AND ORGANISATION (ULMS847)

Credits: 10 / Semester: semester 1

This module explores topics in organisational behaviour at the individual, group, and organisational levels. At the individual level, the module looks at individual differences in key attributes that lead to work effectiveness such as personality and motivation. At the group level, the module builds on earlier content to establish how teams function and explores the role of effective leadership in influencing teams. At the organisational level, the module looks at organisational culture and change and consolidates the content by looking at a range of organisations and sectors. The module will offer students several reflection points on their work behaviours on which they will receive targeted feedback.
MANAGERIAL ECONOMICS (ULMS848)

Credits: 10 / Semester: semester 1

Today's managers must understand more than just how markets work and the principles of supply and demand. They also must understand how self-interested parties within organisations interact, and how corporate governance mechanisms control these interactions. This module applies basic economics tools to provide aspiring managers with the skill set necessary for rigorous analysis of business problems that they are likely to encounter throughout their careers.
Managing Financial Resources (ULMS701)

Credits: 10 / Semester: semester 1

The module aims to provide students with an understanding of the nature of financial resources available to an organisation; how resources can be managed to add value; how business activities are summarised and the relationships between different activities summarised and predicted; and how the core skills and competencies of an organisation are identified and managed.
MARKETING & SUPPLY CHAIN MANAGEMENT (ULMS846)

Credits: 10 / Semester: semester 1

The module takes a strategic approach and captures the essence of marketing planning in analysing the internal, external and customer environments in order to evaluate choices and exploit opportunities for growth. It examines sources of competitive advantage including being customer orientated, matching supply chain design to competitive strategy, exploiting pricing options and positioning the organisation's products and/or services through integrated marketing communications strategies.
STRATEGY AND ORGANISATION (ULMS822)

Credits: 10 / Semester: semester 1

Leaders and managers of organisations today face many types of challenges. The essence of strategy is in successfully achieving the appropriate fit between resources and environment in an increasingly dynamic and turbulent world. The aim of the module is to provide the students with a comprehensive overview of strategic analysis, strategy formulation and implementation, and to enable them to develop and implement strategies in their own organisations. The module pays particular emphasis on helping students to understand the environment in which strategising takes place, including the industry and country environment. Furthermore, the module aims to enable students to understand and appreciate the organisational context in which strategic decisions are made. The module takes a critical approach. It draws on insights from a variety of sources and disciplines, including managerial and industry economics, but also behavioural perspectives and organisation theory in order to provide an integrative perspective on strategy.
STRATEGIC MANAGEMENT SIMULATION (ULMS774)

Credits: 10 / Semester: semester 1

This module aims to enable students to understand and apply key aspects of strategic management through business simulation exercises. Students work in a team environment to develop and reinforce their knowledge and skills in strategic decision-making, with a number of tasks centred on strategy, finance, marketing, and operations.  During the exercises teams compete against each other in a simulated business environment and the strategic decisions they make have various impacts on their organisations. Decisions are coordinated within the team based on the interpretation of various forms of information. Students reflect and are assessed on their understanding of both technical performance, complexity, temporal impacts and team/process issues.
Programme details and modules listed are illustrative only and subject to change.
Semester two
The 12-month full-time programme consists of ten compulsory modules and two elective modules, followed by a work based project or a dissertation carried out over the summer period following semester two. A dissertation enables you to undertake an in-depth study of a sector, an industry, a subject area, or a company. 180 credits are taken in total.
For details of the part-time programme structure please contact us.
Compulsory modules
DEVELOPING AS A MANAGER AND A LEADER (ULMS821)

Credits: 10 / Semester: semester 2

This module is focused on developing the individual student as a reflective leader and manager. Through a series of diagnostic tools and exercises, students will gain insights into their strengths in leadership roles as well as develop areas for improvement. The module draws on a wide range of leadership theories and management best practices to equip students with the necessary tools to function as effective leaders. In sum, this module focuses on the individual within their own context, enabling them through practice, diagnostics, experience and reflection to recognise and develop the skills and knowledge they need to progress.
Innovation and Entrepreneurship (ULMS704)

Credits: 10 / Semester: semester 2

The objective of this module is to integrate the two fields of innovation and entrepreneurship focusing upon management practice and creating change in a range of sectors. It will approach the analysis of innovation and entrepreneurship by drawing attention to relevant theories and research but placing more emphasis on applying these to practice in a broader context including the private, public and third sector and ways of creating new business models, opportunities, value and change. In particular, the module will examine issues and dilemmas in "doing" innovation and entrepreneurship.
INTERNATIONAL BUSINESS AND THE GLOBAL ENVIRONMENT (ULMS849)

Credits: 10 / Semester: semester 2

The module provides an understanding of the major drivers of the internationalisation of business activities. Based on the understanding gained from lectures, seminars and individual and group research activities throughout the module, students will be able to analyse the strategic implications of internationalisation for organisations and assess how to manage international business activities effectively. The module outlines the main theories and latest research evidence on major issues of international business management and explores key factors that make international business management different from domestic strategies and operations. The application of theoretical models and concepts to practical issues in the management of organisations is central to the module's objectives. The module provides students with a sound knowledge of not only the theory and evidence on key topics in the internationalisation processes of organisations, but also applies this to how to manage effectively in the context of a complex and evolving international business environment. Examination of the major drivers of evolution of the international business environment (for example, the rise of emerging economies, and economic, technological, political and cultural changes affecting international trade and investment) provides the basis  for assessing how organisations may best adjust to the changing patterns of internationalisation. By the end of the module, students will understand how business strategies and operations fit into the fast changing global arena and will have a good appreciation of the strategic challenges and opportunities facing organisations that operate internationally, as well as of implications for their personal careers in an international context.
MANAGEMENT CONSULTING IN PRACTICE (ULMS850)

Credits: 10 / Semester: semester 2

Management consulting projects offer great opportunities for learning and exchange, but they need to be carefully managed in order to achieve the expected outcomes. In this module, students gain first-hand practical experience in management consulting by working on a live project with a client organisation. Students are expected to offer a solution for the client's issue in presentation format to be delivered to senior client managers.

The module provides the participants with both conceptual foundations and practical experience in the management of consulting projects, which can be delivered either by external consultants or by internal employees. The module builds on and integrates content from other MBA modules, such as Managing Financial Resources, Strategic Management Simulation and Strategy and Organisation. Students will develop skills related to management consulting, in particular project management, teamwork, data analysis, and oral and visual communication. Further learnings will depend on the exact project specified by the client, i.e students will gain insights into the client's industry and the functional topic of the project, e.g. strategy, business development, marketing, etc. Typical projects could relate to market analysis, change management or product innovation and tasks could include industry analysis, external and internal benchmarking and firm-internal data analysis.
Optional modules
ADVANCED CORPORATE FINANCE AND FINANCIAL MANAGEMENT (ULMS538)

Credits: 10 / Semester: semester 2

Advanced Corporate Finance and Financial Management aims to endow students with a comprehensive coverage of key finance areas, including equity/bond valuation, investment appraisal methods, portfolio theory, asset pricing, debt financing, initial public offerings, dividend policy, capital structure, mergers and acquisitions. Delivered through block teaching over five weeks via a mix of lectures, seminars and in-class exercises, the module provides students with a thorough understanding of key aspects of financial decision making, allowing them to better appreciate the enhanced – and ongoing – complexity of contemporary capital markets in terms of their functions, the variety of financial instruments available, the globalisation process and how it affects them and the concomitant changes in their reigning institutional design.
Effective HRM (ULMS886)

Credits: 10 / Semester: semester 2

This module aims to enhance students' knowledge and skills in Human Resource Management (HRM). The module covers several important topics in managing human resources, such as functional HRM, strategic HRM and the implications of HRM to organisational performance. This knowledge will increase students' capabilities of implementing HR practices and develop their skills in human resource management.
MANAGING AND COMMUNICATING THE BRAND (ULMS540)

Credits: 10 / Semester: semester 2

​The module covers the major aspects of designing, launching, communicating and managing a brand. Delivered via a combination of interactive lectures, workshops, peer assessed presentations, case studies, quizzes and independent reading, students will be equipped with the tools necessary to design a brand and a launch campaign. Students then will be assessed via a role-play presentation to pitch the campaign.
Advanced Analytics for Business (ULMS885)

Credits: 10 / Semester: semester 2

The module will introduce students to the use of data analytics to aid decision making. Through the use of case studies from a variety of industries (e.g. aviation, health, sport), students will learn how different industries and organisations use analytics to gain insight from data in order to improve their operations. It also establishes the importance of data science for business intelligence, and describes opportunities and limitations in the use of analytics.

Upon completion of the module students will be able to interpret analytical results found in organisational reports, industry press, relevant literature and journal articles, and be able to make objective judgements on the quality, validity and usefulness of analytics performed by others.

Students will engage in data management and analysis, and familiarise themselves with existing platforms and software tools to develop core skills and expertise needed to process and visualise big data. The software package R will be used throughout the module and students will be able to perform analysis, including using machine learning, themselves.

The module will be delivered in an interactive style. Student participation and class exercises will allow students to gain a practical understanding of why data analytics has become an important tool in the business environment.
Corporate Governance and Sustainability (ACFI818)

Credits: 15 / Semester: semester 2

This aim of this module is to present key issues in corporate governance and discuss their impact on corporate financial performance. These include most common big-scale "agency" problems, where top executives of the firm have opportunities to take actions that benefit them, while shareholders and other stakeholders bearing the cost of these actions. In particular, it covers various aspects of internal governance including the role of the board of directors, reviews the importance of executive compensation, equity ownership structure and turnover as internal control mechanism. The course also explores numerous external governance devices from non-executive to non-equity shareholders, and addresses the role that accounting, legal and regulatory interventions play in corporate governance. Academic research and real-world case studies will be used to enhance the understanding of why corporate governance matters, and how directors, managers and shareholders respond to these issues in their daily corporate affairs. By the end of this module, students will gain: (ii) the ability to look at the "big-picture" questions in the area of corporate governance, and (ii) skills to critically discuss the practical solutions/mechanism to improve the effectiveness of corporate governance.
Programme details and modules listed are illustrative only and subject to change.
Final project
Students have the option to complete a work based project or a dissertation carried out over the summer period following semester two. A dissertation enables you to undertake an in-depth study of a sector, an industry, a subject area, or a company.
Compulsory modules
Dissertation (ULMS706)

Credits: 60 / Semester: summer

The dissertation is a major academic component of the MBA. This module aims to equip students with the skills and resources required to effectively prepare for and produce a dissertation. This will include: determining the topic and structure for the dissertation; conducting a literature review; selecting the research design; selecting and applying research methods; advancing coherent arguments and conclusions; presenting the dissertation and completing the bibliography. The module also aims to support the students in developing a research proposal as a part of the dissertation process. On completion of the module students will understand the purpose and structure of dissertations and have the skills necessary to conduct an independent piece of research. After completing the dissertation students will learn how to develop an initial idea into a feasible research project, be able to plan and schedule the dissertation, appreciate how to choose appropriate research methods and understand how to present a logical, critical and sustained argument, and develop conclusions in a manner consistent with Master's level. There are three parts to the assessment: topic choice form; dissertation proposal; and the dissertation itself. During the dissertation phase of the module students will be individually supervised. The design and delivery of the Dissertation module, student's engagement with the research methods workshops and the preparation, writing and submission of a research proposal all contribute to the successful preparation of an MBA dissertation.
Consultancy Based Project (ULMS823)

Credits: 60 / Semester: summer

This module provides an alternative to the traditional academic dissertation, and is aimed at those students who have secured a work placement. This module prepares MBA students to undertake their work based project which is the final integrative activity of the MBA Programme. The aim of this module is to provide a process which will enable students to use and extend knowledge and skills that they have acquired during their programme of study. Using appropriate management research methodologies and/or data collection methods, students will have the opportunity to explore an area of interest within management in significantly greater depth than during the taught modules themselves. Students will work on a specific project for an organisation. This organisation selected will function as the 'client'. The aim of this path is to enable students to undertake a self-managed process of systematic practitioner inquiry within the domain of management. The output will be two documents, one for the client, in the format appropriate to that organisation, and one for academic purposes which incorporates those elements that are important to an academic research project of this nature, but are not required by the client. This will also include a reflective piece on the student's personal development.
Programme details and modules listed are illustrative only and subject to change.
How you'll learn
MBA students are taught in a dedicated, purpose-built teaching space, the Brett Building. Its facilities include state-of-the-art audio visual equipment, a lecture theatre, break-out spaces, and social zones.
Through your studies you will explore how business challenges can be addressed by considering real case studies of international organisations. Virtual business simulation exercises will ask you to make strategic financial, marketing and HR decisions as a team. You will interpret the stock market and other relevant information, and assess the real time impact of your choices on business performance. You'll also have the opportunity to tackle real crisis management scenarios, through participation in action learning sets, formulating new business proposals and presenting solutions to senior business leaders. You will have access to personalised learning support which covers study skills and English language skills. Academic advice and mentoring is provided by your Academic Advisor and the alumni network.
How you're assessed
In semester one and two, you will take modules totalling 120 credits. The dissertation or work-based project completed during the summer period is worth 60 credits and students will be supported by their academic supervisor.
Students are required to complete 180 credits to achieve a full MBA.
Subject to meeting specific criteria outlined by the University, students will graduate with a Pass, Merit or Distinction.
Assessment tasks are varied and some may be designed specifically to meet the learning outcomes of a particular programme of study, but students can expect to be assessed via coursework, essay, group work, presentations, case studies, negotiation exercises, reports and examinations. The weighting of individual components will vary from one module to another. All assessment information is included within the module specification.
Liverpool Hallmarks
We have a distinctive approach to education, the Liverpool Curriculum Framework, which focuses on research-connected teaching, active learning, and authentic assessment to ensure our students graduate as digitally fluent and confident global citizens.
Your experience
The MBA programme is delivered by the triple-accredited University of Liverpool Management School.
Each year our MBA students form lasting friendships and build a supportive global network. The MBA student community meets regularly, following a calendar of social events to make the most of all Liverpool has to offer.
Watch now
Video
The Liverpool MBA at the University of Liverpool MBA
An introduction to the Liverpool MBA at the University of Liverpool Management School from Dr Dane Anderton.
Watch now
Video
Studying an MBA at the University of Liverpool Management School
Learn more about studying an MBA at the University of Liverpool Management School.
Virtual tour
Supporting your learning
From arrival to alumni, we're with you all the way:
What students say...
Take the opportunity, invest and challenge yourself to achieve your goals. 
Chat with our students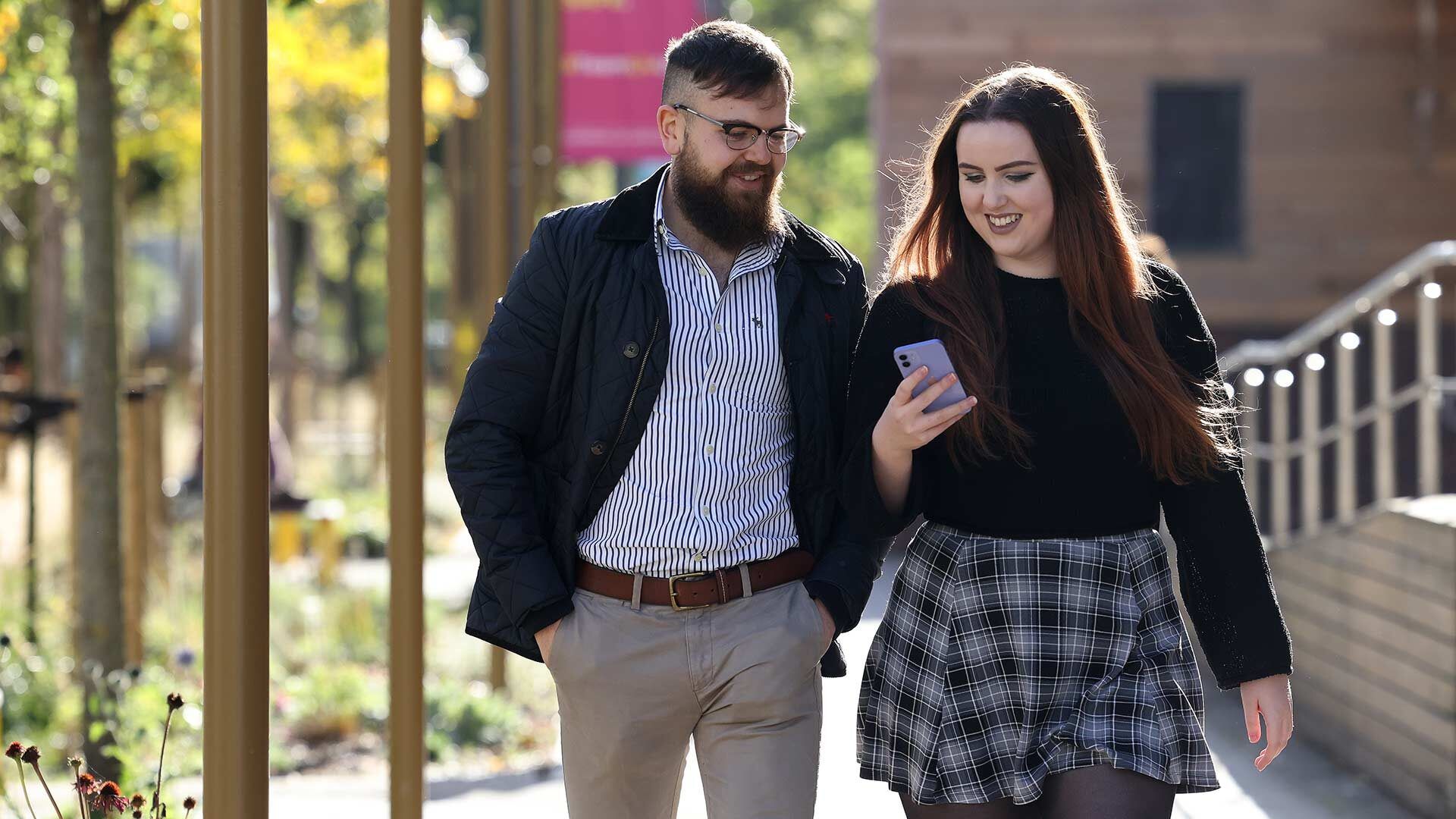 Chat with our students
Want to find out more about student life?
Chat with our student ambassadors and ask any questions you have.
Careers and employability
Our MBA Career and Leadership Development Programme is designed to enrich your MBA journey by challenging your thinking about your own professional, career and leadership development. Active participation in the Programme will deepen your awareness of yourself, your strengths, motivations and aspirations, and support you in confidently articulating and leveraging your MBA with impact and influence.
Networking is a central part of the MBA journey, network with peers, MBA Alumni and Guest Speakers. The Programme enhances professional networking skills both in person and virtually.
Careers support doesn't end when you graduate from your MBA programme. You are a lifelong member of the MBA community and we encourage you to stay connected and in turn become mentors to the next generation. You will also benefit from access to a wide range of careers and professional development support, advice and webinars up to five years after you've graduated.
Your future
In practice, the programme offers:
One to one individual coaching from our dedicated MBA Professional Development team
Tailored psychometric assessment with guided feedback
Workshops: Leadership – to develop behaviours and attributes of the whole person as a future leader
Workshops: Career – practical sessions to navigate recruitment processes and leverage your MBA learning
Masterclass Guest Speakers: With significant networks to draw upon, we attract leaders and MBA Alumni from diverse sectors. Bringing a monthly 'Consultancy Challenge', a real-world issue, our students are encouraged to make authentic contribution
Access to a wide range of online careers resources to support career decisions, job searches and recruitment processes.
Some of our most recent graduates are now working in:
Accenture
Airtel
Arab Bank
Bank of America
Barclays
Capgemini
CitiusTech
Cummins
Deloitte
Deutsche Bank
Dubai Cable Company
Goldman Sachs
Hewlett-Packard
KPMG
Lloyds TSB/Capita groups
Oracle
PriceWaterhouseCoopers
Proctor & Gamble
PwC
Saudi Aramco
Skye Bank PLC.
Fees and funding
Your tuition fees, funding your studies, and other costs to consider.
Tuition fees
UK fees

(applies to Channel Islands, Isle of Man and Republic of Ireland)

Full-time place, per year
£25,000
Part-time place, per year
£12,500
International fees
Full-time place, per year
£31,000
Part-time place, per year
£15,500
Fees stated are for the 2023-24 academic year.
Please note the fee for this course includes one international study trip, including flights, accommodation and excursions. The fee does not include any additional costs associated with the trip, such as visa applications. The School cannot guarantee that visa applications connected with the study trip will be successful. Fees will not be refunded to students who do not participate in the international study trip.
Additional costs
We understand that budgeting for your time at university is important, and we want to make sure you understand any course-related costs that are not covered by your tuition fee. This could include buying a laptop, books, or stationery.
Find out more about the additional study costs that may apply to this course.
Scholarships and bursaries
We offer a range of scholarships and bursaries to help cover tuition fees and help with living expenses while at university.
Entry requirements
The qualifications and exam results you'll need to apply for this course.
Your qualification
Requirements
Postgraduate entry requirements

Professional Experience

MBA Candidates are normally expected to have a minimum of 3 plus years of substantive managerial experience in the private or public sector.

They will have managed budgets/people/projects.

Qualifications

Candidates will normally be expected to hold a 2:1 Honours degree (which may be in any discipline) from a UK university, or an equivalent professional qualification from a similar non-UK institution.

Non-graduates who possess extensive professional experience (more than 5 years) and/or a postgraduate qualification are encouraged to apply.

Non Standard Entry

Non Standard entry relates to applicants who may not hold a degree or the required degree classification. We would still encourage applications if you have:

Significant management experience (more than 5 years),
Substantial record of achievement in business and leadership (for example accredited training courses, learning & development courses),
Below 2:1 or no formal university degree.

Each application is considered on a case by case basis and will include a short assessment set by the Director of ULMS MBA Programmes.

Applicants should apply via the normal route. For more information on this non-standard entry process please contact ulmsmba@liverpool.ac.uk.

Personal Statement

The personal statement encourages students to write between 100-200 words for each of the following sections:

your interest and experience in this subject area,
your reasons for choosing this particular programme,
your future aim or career plan
how the programme of study enables you to achieve this.

GMAT Score

A GMAT score is not a mandatory requirement; however, we do encourage candidates who have undertaken the examination to submit their scores for consideration alongside other criteria during the admissions process.

We look for a balanced score across all components of the GMAT and will only accept scores which are still valid (attained within the last 5 years) by the time of entry to the programme.

Our institution is listed as University of Liverpool, University of Liverpool Management School and the programme code for the full-time and part-time MBA is: ZCC-MW-92

International qualifications

If you hold a bachelor's degree or equivalent, but don't meet our entry requirements, you could be eligible for a Pre-Master's course. This is offered on campus at the University of Liverpool International College, in partnership with Kaplan International Pathways. It's a specialist preparation course for postgraduate study, and when you pass the Pre-Master's at the required level with good attendance, you're guaranteed entry to a University of Liverpool master's degree.
English language requirements
You'll need to demonstrate competence in the use of English language. International applicants who do not meet the minimum required standard of English language can complete one of our Pre-Sessional English courses to achieve the required level.
English language qualification
Requirements
GCSE
Grade C
IELTS
C
View our IELTS academic requirements key.
International Baccalaureate

Standard Level (Grade 5)

INDIA Standard XII
70% or above from Central and Metro State Boards
WAEC
C6
Hong Kong use of English AS level
C
Cambridge Proficiency
C
More about life in Liverpool
Discover more about the city and University.
Why study at Liverpool?
Liverpool bursts with diversity and creativity which makes it ideal for you to undertake your postgraduate studies and access various opportunities for you and your family.
Accommodation
To fully immerse yourself in the university experience living in halls will keep you close to campus where you can always meet new people. Find your home away from home.
Fees and Finance
Discover what expenses are covered by the cost of your tuition fees and other finance-related information you may need regarding your studies at Liverpool.
Contact us
Have you got a question about this course? Email the admissions team