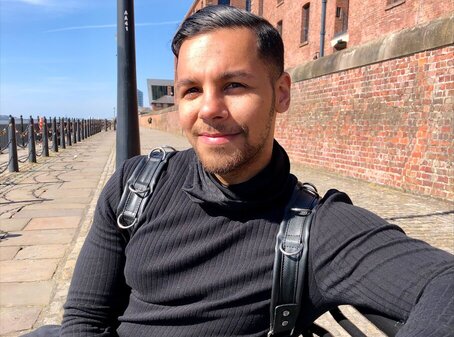 Shane Glean
MSc Data Science and Artificial Intelligence
Hi, my name is Shane and my background is a little different than most. I was born in Florida and lived there until I was 10. After that I moved to Liverpool, and from the age of about 13 I was earmarked to go into professional football. After a brief career at Fleetwood Town and Queen of the South, I decided to do something different, which set me on the path I am on now.
The course I am studying currently is Data Science and Artificial Intelligence MSc in the Department of Computer Science.
Before I arrived here, I was studying Politics and Philosophy at Lancaster University. Halfway through my degree at Lancaster I realised that I wanted to do something more quantitative, primarily because I was so interested in the use of data science in football. After some research I knew the government had started putting money towards postgraduate conversion courses to address to tech skills shortages. While the timing was seemingly perfect, the catch was I knew I would not be able to afford the course unless I could get one of the scholarships available. Luckily, I qualified for them because of my background and the fact that where I live in Knowsley the participation rate for higher education is extremely low.
The process of getting the scholarship was remarkably straightforward. It was just a short form to fill out that was on the university's website, and a few weeks later I was ecstatic to find out I got it- contingent on me getting the required undergraduate grades that is.
I chose postgraduate study at the University of Liverpool for two reasons really. The first is that the content of their course was much more diverse and advanced than similar courses offered elsewhere. It was also really appealing that throughout the MSc you could be on the same courses and collaborating with actual MSc Computer Science students, which indicated to me that the course was taught at quite a high level. The second reason is that Liverpool has been my home for nearly 15 years, and the prospect of studying the course I wanted in the wonderful city I live in was an opportunity I was always going to jump at.
This course entails a lot, but in a good way. In the first semester, the focus is setting up a foundation that you can build on in semester 2 and 3. This means getting you up to undergraduate standard in mathematics and programming, while also introducing you the research process via a group project. In the second semester you have more optionality in terms of what you can study depending on your interests. This is where the fun really begins as you start getting into theoretical computer science, machine-learning, and will likely be on many of the same courses as MSc computer science students. Given my background, this is something I still have to pinch myself about! In third semester you take all the skills you've gained so far to take on a piece of original research on a topic (mostly) of your choosing.
The best thing about studying in the department is the intellectual diversity of fellow students for sure. The course brings together a wide range of people with different academic, professional, and cultural backgrounds which has allowed me to learn as much from them as I have from my course. For instance, on the first-term project I was in a group with many international students that had backgrounds in software development, engineering, and physics- one of them was even a nuclear physicist by trade! Meeting and learning from them has been a highlight of the course so far.
One of the great things about the university are the accessibility of the computer labs, both in person and virtually. Some of the work we do requires specific software that can be tricky to install the right way. Luckily, there are always computers accessible in the computer science labs with everything installed on them already. In the event you can't make it on to campus, you can still connect to the university computers virtually, with that versatility making a big difference when things get busy.
The support you get from tutors is mostly through labs and tutorials, which will run each week for each module. Here the tutors will help you with any aspect of the module you are finding difficult (apart from the assignments of course). Another form of support is that all your lecturers are extremely accessible by email and will occasionally host Q&A sessions, allowing immediate clarification on any content you don't understand that well. I sometimes just email them with more general questions about a module that are not directly related to the course, but they are always happy to reply.
Thinking about the studying experience as a whole, I have loved being pushed further cognitively than ever before, meeting so many interesting people, learning some fascinating ideas, and having a new lens to see the world through. If I had to pick one, however, I would say it is being able to prove to myself every day that I am capable of doing it. I think lot of people who have not done a STEM degree, or gotten at least a B in A-level maths, just assume that they are not smart enough to enter a technical field. Admittedly, this is something I believed as well for a time, especially since the last time I took a maths exam was at GCSE when I got a grade C. Now, thanks to some great mentors and a lot of effort, I am doing mathematics and programming at such a high level it seems crazy that I thought I wasn't capable of this before.
I believe undertaking postgraduate study has already improved my career prospects, as employers who would originally not even consider my application because I had not taken A-level maths will at least look at my CV now. Also, it has gotten me over a lot of the math anxiety that will sometimes hinder you when doing numerical reasoning tests employers use; 99% of them are at a mathematical standard well below this course. As far as my future plans go, I want to do something related to my MSc that keeps pushing me intellectually and enables me to work with really talented people, just like this course.
For anyone considering pursuing an undergraduate degree, I would say be as rational as you can in your choice of degree, which you can do in one of two ways:
1. Pick the degree that is at the intersection of what you enjoy and what you are good at,
2. If you can't find that intersection, pick the degree that's available to you with the best labour market prospects (as defined by average graduate salary of that degree). That way you always have something to fall back on if you want to do something else later.

If you have already completed your undergraduate degree and are considering a postgraduate degree, you would do well to really think about what you are hoping to gain from it. For me, it was getting to do a conversion in something that simultaneously related to my recreational interests and improved my job prospects. Also, I would strongly advise against doing a Master's in your undergraduate subject unless it is a something you are really passionate about that you want to pursue a PhD in. Otherwise, if you really want to pursue a postgraduate degree but do not want a PhD, you should really consider a conversion or a postgraduate qualification directly linked to a career, such as a PGCE or a PGDL.