Professor Simon Keller - European Young Investigator 2022 ILAE
Posted on: 27 April 2022 in April 2022 posts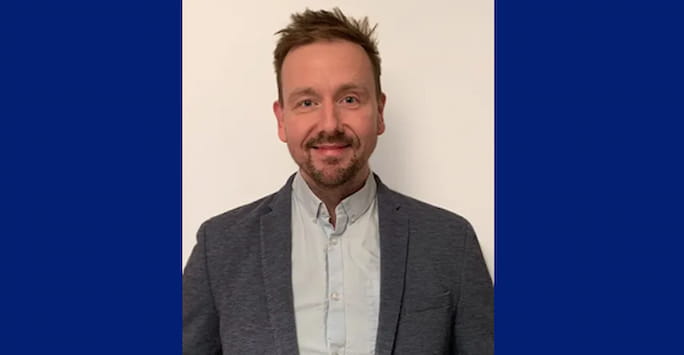 Professor Simon Keller has been announced as the recipient of the European Young Investigator Award, from the International League Against Epilepsy.
Organisers of the award say it is given to stimulate a promising research career in Epileptology and in recognition of outstanding contributions to epilepsy research. Professor Keller will be invited to receive the award in Geneva at 14th European Epilepsy Congress on 9th July 2022.
Professor Keller is Chair of Neuroimaging at the Department of Pharmacology and Therapeutics, and works closely with the Walton Centre – a leading facility in neurology and neurosurgery. His research focuses on developing novel treatments for Epilepsy and understanding the condition in a more comprehensive way.
In recognition of the award, we met with Professor Keller, to discuss his work in the Institute of Systems, Molecular and Integrative Biology, as well as collaborations with the Walton Centre.
You can find the interview below:
---
What is your role within the Institute?
My role includes both teaching and research, focusing on most things connected to neuroscience. This generally includes how the brain works, what happens when people get brain damage, and how to try and fix the symptoms when people get brain damage.
I lead the University Brain Research Using Advanced Imaging in Neurology (BRAIN) Lab, which uses cutting-edge MRI techniques to study the human brain. Of special interest to the lab, and to myself, is epilepsy, although we are reaching into other areas nowadays, including movement disorders, neurodegeneration and brain infections. All our research is clinically orientated and patient-facing.
I also work closely with the Walton Centre, which is the only specialist hospital trust in the UK dedicated to providing comprehensive neurology, neurosurgery, spinal and pain management services. Many of the people we study for research are patients with the Walton Centre.
The BRAIN Lab - a clinically-oriented neuroimaging research group specialising in the application of advanced magnetic resonance imaging (MRI) techniques to understand brain impairment in neurological disorders.
Are there any standout studies you and your team are currently working on?
We are funded by the Medical Research Council to carry out several studies into epilepsy. One of these focuses specifically on the early stages of epilepsy; we want to understand what is happening in the brain when patients first begin to have seizures, and how the condition will develop in the coming years.
We also research severe cases of epilepsy, including patients who need surgery to treat their seizures. This work has been established to answer the question 'why do some patients react more positively to surgery than others?' To do this we use a range of techniques, including brain imaging investigations before and after surgery.
Professor Keller's Research – utilises advanced quantitative neuroimaging techniques, mainly magnetic resonance imaging, to understand aberrant brain mechanisms in neurological disorders, help improve imaging diagnostic accuracy and identify reliable imaging prognostic markers of medical and neurosurgical treatment. Epilepsy in particular, and also movement and neurodegenerative disorders are of primary interest.
What does your work with The Walton Centre entail?
I work closely in research with many clinicians at the Walton Centre who are responsible for the care of patients. Many of my clinical colleagues at Walton also have a research interest in neurological disorders. Our research lab would not be able to carry out patient-facing research without the help of the staff and patients at the Walton Centre.
We all have a common interest in trying to map what's happening in the brains of some of the patients to explain their symptoms and we are also interested in predicting their future health. When we start a research project, we always involve the clinicians from the very start, so they can be involved throughout the development of a study.
The Walton Centre - is a leader in the treatment and care of neurology and neurosurgery. They are the only specialist hospital trust in the UK dedicated to providing comprehensive neurology, neurosurgery, spinal and pain management services. Originally formed in 1992, the Trust received Foundation Trust status in 2009..
Why did you decide Epilepsy would be the key focus of your research?
I completed a master's degree at University of Liverpool in 1999, and as part of the research project in the final months I was allocated a project on MRI and epilepsy; basically, I haven't stopped since! From there I completed a PhD on MRI and epilepsy, then a postdoctoral position in Liverpool, research fellow in Germany, and Lecturer at Kings College London, all of which were orientated towards using MRI in people with epilepsy.
What fascinated me so much about epilepsy was the patients. The disorder is so heterogeneous, in that one patient can be entirely different from the next. This raises challenges in how we develop treatment pathways, and how we even consider some patients to be suffering from the same disorder given the clinical heterogeneity. Epilepsy research is rewarding because there are good outcomes for many patients and there is hope that the research we do will make a difference to their lives either now or at some point in the future.
Where do you see the treatment of Epilepsy and similar conditions being in 20 years' time?
Well, people with epilepsy experience a wide range of symptoms, not just seizures. So it depends on what symptoms and treatments we are talking about. Many patients are bothered by things other than seizures, such as memory problems and issues with cognition. A person with epilepsy is considerably more likely to die prematurely and spontaneously compared to a person without epilepsy. This is something called SUDEP, Sudden and Unexpected Death in Epilepsy.
Hopefully in 20 years, we could find a treatment that doesn't only treat the symptoms of seizures and comorbidities but actually treats or halts / reverses the process that causes these problems – this means actually finding a cure, which strictly speaking doesn't current exist. We can stop the seizures for many patients though, which makes a massive difference to their quality of life.
You've recently been awarded the International League Against Epilepsy Europe Young Investigator award. How did that come about?
Yes, I'm truly honoured by this award. It's something that is awarded to a researcher who has made an outstanding contribution to epilepsy research and who is also under 46 years old – so I just make it! Something like this simply comes from a combination of passion for your work and help from others; none of this we can do in isolation, and I'm very fortunate to have had brilliant collaborators, supervisors and students over the years. The award will be presented in Geneva in July this year.
Professor Simon Keller - Simon.Keller@liverpool.ac.uk
Institute of Systems, Molecular and Integrative Biology