Brews and Brows: Shaping Stories from Eyebrows to Scousebrows
---
Lead: Dr Niamh Thornton, University of Liverpool
---

‌The Project
This project entails gathering stories and exploring what the eyebrow means to identity and selfhood. Inspired by the performance of mid-20th Century Mexican screen icon, María Félix, Dr Niamh Thornton, University of Liverpool, began this project as an investigation into the evolution of the eyebrow in contemporary culture.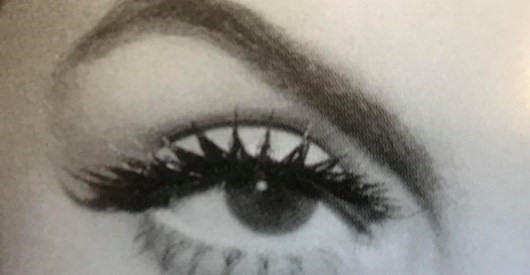 Image: María Félix's brow
Jointly led by Niamh Thornton and Liz Greene, Liverpool John Moores University, the project is interested in how taste functions in the ways individuals throughout Merseyside pluck, sculpt, and position their eyebrows to enact a carefully crafted aestheticized sense of self.
Liverpool is the only city with a named brow. Labelled the Scousebrow, it is oft-derided as evidence of poor or absence of taste by the popular press and online fora, yet it is a highly resonant marker of identity. One of our launch points has been to challenge the current denigration of the Scousebrow that is associated with both working class women of Liverpool and celebrity culture, by creating spaces to display and discuss (over a brew) the personal significance of eyebrow shaping. The project has opened the conversation out and gathered a wide range of stories across a variety of communities.
Given the absence of positive articulations of the eyebrow and scant theoretical basis underpinning its self-fashioning, the project draws on the practices and skills of the participants and invite them to engage with the researchers and to co-design and formulate a taxonomy of the brow.
Activities and Outcomes
From 25th-28th of April 2018, using FACT Liverpool, as a public and centrally-located space and engaging with the local media, the project opened up a city-wide conversation around the eyebrow and its relationship to gender, class, race, and sexuality. This was followed up by a symposium on the 2nd of October 2018, also at FACT, and an event in the Open Eye Gallery, "Browsing Queer Cinema", as part of Homotopia Festival on the 27th of November 2018. At these events participants had an opportunity to get their eyebrows 3D scanned, their picture taken by fashion photographers, and share their brow stories in our Brow Booth. The Brow Booth is in residence at the Open Eye Gallery until the 17th of February 2019.
A final Liverpool event was held at the Garstang Museum, at the University of Liverpool, on the 17th of May 2019 as part of LightNight, a free one-night arts and culture festival where a number of institutions and cultural organisations open their doors late into the evening and invite the general public to participate in a variety of events and activities across Liverpool. As well as gathering data through scanning, photography, and the booth, for this event Surgical Arts devised a face mask inviting children to design brows thus engaging them while their adult family members shared their stories, got their eyebrows scanned and had their photographs taken.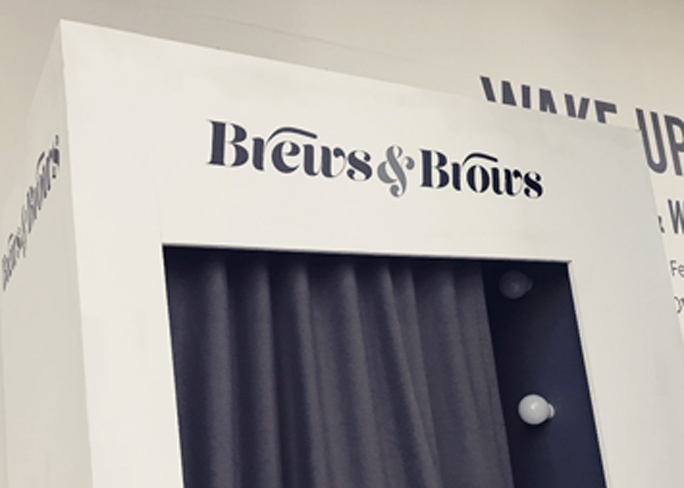 Image: Brow Booth at the Open Eye Gallery
The primary impacts will be the following:
To create a dialogue on the nature of eyebrow sculpting, self-fashioning, and identity for amongst a wide demographic (women, men, drag artists, the LGBTQ+ community, those with alopecia, etc) and hair and beauty salons specialist in these skills.
We have discussed the value and significance of eyebrow sculpting and overall aesthetic look, what it means to the participants and how they self-identify.
Following on from the participant formulations and storytelling, and in collaboration with fellow academics and the beauty experts, we aim to further understanding of the significance of micro-gestures and facial features in film and popular culture.
We will also share their findings with a wide audience through a forthcoming documentary.
Public outputs
Funding and Collaboration
Team: Dr Liz Greene Liverpool John Moores University; Dr Catherine Wilkinson, Liverpool John Moores University; Dr Samantha Wilkinson, Manchester Metropolitan University; Prof Caroline Wilkinson, Liverpool John Moores University; Sarah Shrimpton, Liverpool John Moores University , Jacqui McAssey, Liverpool John Moores University; Marc Provins, Liverpool John Moores University; Dr Penny Spikins, University of York and Roger McKinley, FACT Liverpool.
The project has been supported by University of Liverpool Discretionary Research Fund, LJMU QR funding, the AHRC North West Consortium Doctoral Training Partnership Cohort Development Fund, the ESRC through Methods North West and engage@Liverpool, and the Homotopia Festival.
Public Engagement and Future Work
Working in partnership with FACT, the Open Eye Gallery, and Local SMEs including hair and beauty salons, this is a series of public engagement and research impact events. PGR and US students have been integrated into the activities and trained to provide assistance in the management and promotion of the event and have been given key insights in the reporting of the findings and process in the follow up research events.
Outputs
As well as scholarly articles and audio-visual essays, there will be a documentary produced about the project to be exhibited at FACT and at other arts venues in the UK.
For more information please visit the project's website, and follow the project on Twitter and Instagram or follow Niamh Thornton @enortee (project lead).


Greene, Liz and Niamh Thornton "Brews and Brows: Research Note" in Screen, vol. 61, no. 4, Winter, 2020, (DOI: 10.1093/screen/hjaa055)