Inspiring Writing – The German author Kerstin Carlstedt visits students of German
Posted on: 27 April 2023 by Sandra Strigel in 2023 posts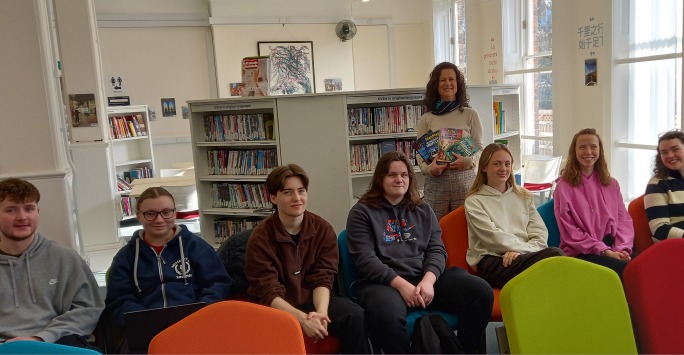 On Friday, 21st April 2023 we welcomed the Liverpool-based German author Kerstin Carlstedt to the Department of Languages, Cultures and Film. Kerstin spoke to first- and second-year students of German about her books, her inspiration for writing and her career.
During this engaging question and answer session she also gave tips how to practise writing skills. This was of particular interest to those students who have been practising creative writing in class this semester. Kerstin's books are also on the reading list for selected modules and so it was great to be able to meet her in person and ask questions about her work!
During the session we learnt that Kerstin has a long and varied career in which she has used her writing skills in different ways: She has worked in journalism, produced television contributions and features and is involved in web editing. She writes books for teenagers and young adults.
Inspired by personal experiences
It was particularly interesting to hear how Kerstin's writing is inspired by her personal experiences: Her sons' interest in the computer game 'Fortnite' sparked the idea to write 'Let's play: Fortnite' (Carlsen: 2019), a book which contains interviews with prominent German Fortnite youtubers. The book was a great success and convinced her that it was possible to entice young people to read by tapping into their lived experiences and interests. Two more Fortnite-themed books followed: Kerstin co-authored the novels 'Die Trolle von Shabby Sands' (Fischer Verlag: 2020) and 'Die Verlorenen von Creepy Castle' (Fischer Verlag: 2021) with the youtubers TuTo and Stan Play respectively, again targeting a teenage audience.
In her latest novel, Kerstin also builds on her personal life – but this time through the locations she has chosen as a backdrop for the fictional plot: In 'Tinda Trixa – der Betrüger auf deiner Dating App' Kerstin explores the use and misuse of dating apps. She introduces the reader to a range of characters who have all been scammed by the fictional character Matteo – and takes us on a journey through Liverpool and Europe to see if Matteo's victims can finally turn the tables and get revenge! It was interesting to hear how she builds on places she has visited and conversations she has had to enrich her writing and build connections with her readers. The students were particularly interested whether she changes her writing style depending on whether she writes for adults or a younger audience. This is definitely something she tries to do, she said, but you also have to be careful not to overdo it - 'Jugendsprache', the language used by young people, can quickly change and it may also come across as insincere when used by adults.
Living and working in the UK and Germany
The students also asked about Kerstin's experiences of living and working in the UK and Germany, which led to interesting insights into how the German job market has changed since the pandemic. Kerstin talked about the opportunities that now exist due to remote working. This, coupled with Germany's current 'Fachkräftemangel' (an acute shortage of skilled workers), has opened up many employment opportunities in Germany and Kerstin encouraged students to keep this in mind for their future career planning. German employers, she said, were keen to attract talented people and offered excellent working conditions to retain staff. This certainly is good news for German language graduates!
Kerstin finished the session with some writing tips: She encouraged the students to overcome writer's block by building writing into their daily routines and to be courageous to start writing even if the beginning was not clear. The text could always be edited later, she said, and new beginnings added as ideas developed. This is also how she approached writing 'Tinda Trixa' for which Kerstin wrote the first chapter much later than the beginning she had originally in mind!
This was the second visit Kerstin made to the Department. The first one, in 2020, coincided with the beginning of the Coronavirus pandemic and the session had to be delivered online. So, it was great that we could welcome Kerstin on campus and speak to her in person this time. We would like to thank her for her time and hope to welcome her again in the future! A big thank you also to the language lounge for hosting the event.
---