Featured Project - The Romani Holocaust
Posted on: 20 June 2022 in 2022 posts
'The Romani Holocaust' Project Success in REF2021
Eve Rosenhaft's research on the history and commemoration of the genocide of Europe's Romani people (1930s-1945) has contributed to raising awareness of this "forgotten Holocaust" in Europe, the United States and East Asia, provoking reflection on the consequences of structural racism and anti-Gypsyism in our present as well as in the historical past. With the exhibitions ...don't forget the photos, it's very important and Unwelcome Neighbors she has engaged audiences across the world – including school teachers and students, policy makers and practitioners and members of Romani communities. Her advisory role is reflected in the first exhibition at the Wiener Holocaust Library dedicated to Romani victims (now featured on the United Nations website), in the new Holocaust Galleries in the Imperial War Museum London and in the United States Holocaust Memorial Museum's updated online Encyclopedia of the Holocaust.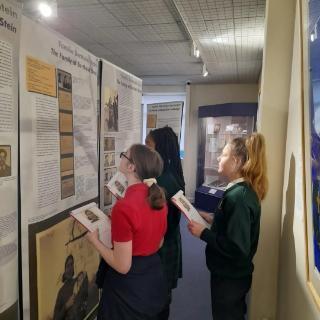 Year 8 students visiting the exhibition ...don't forget the photos, it's very important (Donegal County Museum, Letterkenny, Ireland, March 2022)
In the new Holocaust Galleries at the Imperial War Museum, London, the persecution of Romani people is thoughtfully incorporated in the Holocaust narrative, from the first initiatives in eugenics and racial classification to the testimony of survivors in postwar trials of the perpetrators.
---