Featured Project - MVR Colombia
Posted on: 16 August 2022 by Claire Taylor in 2022 posts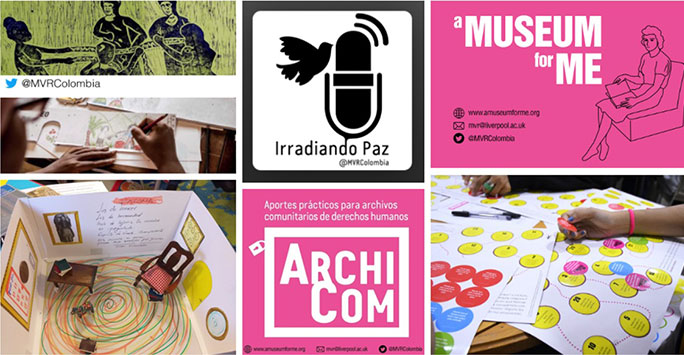 As Principal Investigator, Prof. Claire Taylor oversees the AHRC-funded research and impact project Memory Victims and Representation of the Colombian Conflict (MVRColombia).
Since September 2018 it has worked with NGO partners and museums in Colombia and the UK in the areas of human rights and victim testimony, run visiting doctoral and internship programmes, and produced a range of collaborative academic publications and presentations, including a three-day, twenty-one panel international conference in April 2021.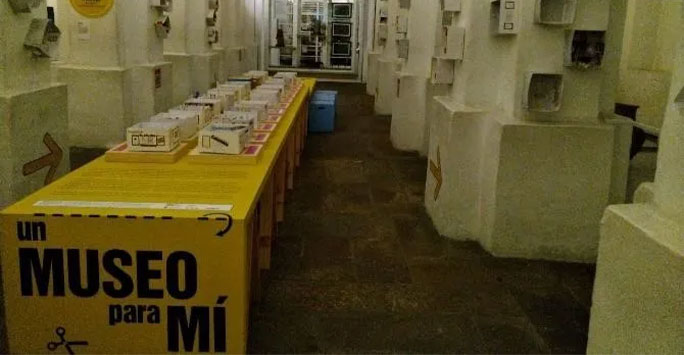 An installation of personalised museums from Un Museo Para Mí, August 2020 at the National Museum of Colombia, Bogotá.
One core activity is A Museum for Me / Un Museo Para Mí, a strand of work that has developed creative museum products, practices and spaces, helping to ensure that stories of the armed conflict are told, and voices are heard from communities working to build peaceful futures. Specially designed kits, with instructions for partner coordinators, help survivors of the armed conflict, including exiles, to record and share their own experiences. Multiple workshops are run across Colombia; so far in 2022 these include with Organización Femenina Popular, Museo Afro and Fundación Guagua. #AMuseumForMe also runs workshops in the UK, making an appearance last year at the British Library for the Being Human festival, with Colombian migrant women from Mujer Diáspora and the UK & Ireland Hub in support of the Colombian Truth Commission.
Un Museo Para Mí with Fundación Guagua, Cali, Colombia, during their monthly day of Commemoration for the Disappeared, May 2022.
Countless people - particularly women - who have suffered during Colombia's devastating and protracted conflicts, have used materials provided by the team to express and effectively curate –in significantly vernacular ways– their own experience. The process and results often challenge top-down, official narratives and museological conventions and archival practices. Indeed, MVRColombia secured further GCRF-funding in 2020 to create ArchiCom (Community Archives of Human Rights), a research, design, and training initiative for the preservation of non-state collections, helping to safeguard irreplaceable community-based human rights archives. Updates from #ArchiCom, #AMuseumForMe and many more activities and partners feature in #IrradiandoPaz, the podcast series specially created by @MVRColombia and broadcast on community radio stations in the UK and Colombia.
https://twitter.com/MVRColombia
---