"How do you say 'Podcast' in Spanish?" : Podcasting for Language Learning
Posted on: 31 May 2022 by Paula Portela Cabana in 2022 posts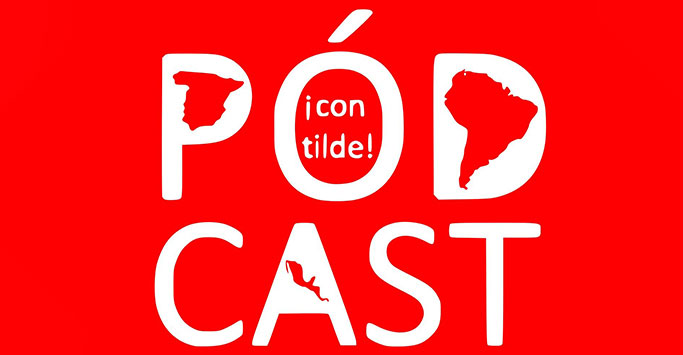 Any language student will be familiar with that oft-repeated tip from teachers: listening to podcasts in their target language. And with good reason – podcasts are a great way to practise listening skills while running on the treadmill or cleaning the house, and they are becoming increasingly popular.
This got us thinking about the possibilities that this format offers to learners of Spanish, not just as listeners, but as creators, and, with a small group of Second and Final Year Students, we started Pódcast con tilde. The results couldn't have been better, and the experience has been incredibly rewarding, both for the teachers and the students.
The idea was to create a link between the students and the Department of Languages, Cultures and Film, while at the same time addressing issues that are of interest to students of Spanish at university level. The students immediately got down to business, and the result was a series of episodes dealing with all sorts of topics, from the Year Abroad to the feminist perspective on reggaeton music. Many professors from the Department appear as guests, sharing their expertise on the different topics discussed.
Of course, the technical side of things couldn't be forgotten, and Pódcast con tilde wouldn't have been possible without the help of Michael Bayliss, the School IT and AV Technician, who edited all the episodes and made us all sound like professional radio hosts (or perhaps I should say like professional podcasters). Listening to the programme, I think it is exactly what we set out to achieve: it's engaging and thought-provoking, with a good mix of serious and light topics.
And what do the students think? To Ellis Dowling, working on the podcast was "a great learning curve", allowing him to "practise Spanish in a variety of new contexts and situations". Veronika Prokopova says that she especially enjoyed "being able to engage with the academic staff in a more informal way, getting to know more about their expertise while practising Spanish". Iustina Pascu has found the project "an incredibly rewarding opportunity to connect with other students and staff members who are equally passionate about language and culture". Izota Sarmiento says that the experience made her more comfortable and creative in speaking the language outside the class. She adds, "you don't have to be abroad to converse in Spanish. It is a great opportunity to challenge your inner linguist".
If you are curious, you can find the first episode of Pódcast con tilde below and follow us on Instagram at @podcastcontilde. We hope you enjoy listening to it as much as we enjoyed creating it!
---