"…don't forget the photos, it's very important" - An exhibition marking the 75th anniversary of the destruction of the 'Gypsy Camp' in Auschwitz
Posted on: 9 August 2019 by Professor Eve Rosenhaft in 2019 posts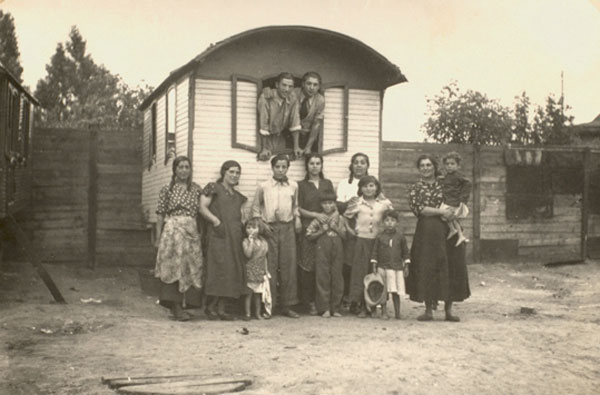 The travelling exhibition about the Nazi persecution of Sinti and Roma, has returned from across the water – the Mersey, that is.
After showings in Liverpool, Germany and Poland over the past 18 months, the exhibition "…don't forget the photos, it's very important", was recently hosted by the Cheshire West and Cheshire Council, in Ellesmere Port, for Roma Holocaust Memorial Day (August 2).
The exhibition, which has been visited by many members of the Traveller community and by professionals who work with Roma Travellers, describes the experiences of German Sinti and Roma ("Gypsies") during the Nazi regime through the lives of nine families, drawing on a unique set of photographs. Most of the photographs were taken by the photo-journalist Hanns Weltzel (1902-1952), in and around his home town of Dessau-Roßlau.
Roma Holocaust Memorial Day is commemorated all over the world, with events that include an annual ceremony at Auschwitz.
Auschwitz remains a powerful symbolic point of reference for European Roma – as it does, of course for global memory of the Holocaust. August 2 is commemorated annually in memory of the "liquidation" of the "Gypsy Camp" there in 1944, when 2,900 men, women and children were gassed in a single night.
A highlight of this year's Auschwitz commemoration, was an address by American civil rights activist Rev. Jesse Jackson. He spoke of the similarities between the history of the Roma and that of African Americans and emphasised that they share an ongoing struggle for rights and civil dignity.
Discover more
---