From Liverpool to Palermo: Molly's Year Abroad
Posted on: 5 February 2018 by Molly Davis in 2018 posts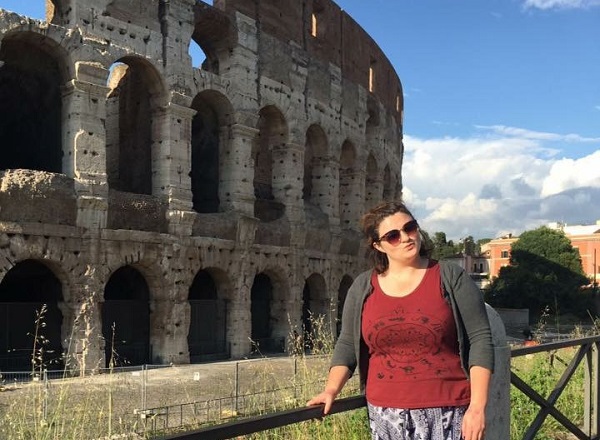 Hispanic Studies and Italian graduate Molly Davis reflects on her exciting adventure studying in Spain and Italy.
---
My name is Molly Davis and I am a recent graduate from the University of Liverpool. I graduated in June 2017 with a First Class Honours in Hispanic Studies and Italian. During my time at the University of Liverpool, I took on the role of President of the Italian Society in my second year. I then spent my Erasmus year in both Spain and Italy. I undertook an internship in Malaga for five months and then spent five months studying at the University of Palermo in Sicily for my Erasmus placement.
Having graduated, I look back upon my time at the University of Liverpool with fond memories and look forward to undertaking my PGCE in Modern Foreign Languages in September2018. I have spent the last year working for an international school in Somerset as a Graduate Resident Assistant which has allowed me to observe both language and EAL classes in preparation for my upcoming studies.

It is always around this time of year that I miss my Year Abroad most. Snuggled up in blankets, staring out of the window at the miserable English rain, I imagine myself sipping on an espresso in the main town square of Palermo, or walking along the beach in Málaga. I long to be back in the sun, with my Erasmus friends, exploring the hidden gems of our new home.
However, unlike most of my other university friends, I have a little advantage when it comes to relieving those post- Year abroad blues. Before I embarked on my Erasmus year, I decided to start a YouTube channel. It started at the beginning of my second year at university where my lecturer for my Spanish Listening class suggested that I document my oral skills through recording myself speaking. As my channel started to develop and I uploaded more videos, I started searching on YouTube for similar channels, and for channels that documented a Year Abroad experience. Unfortunately I didn't find many and decided that I would lead the way and vlog my Year Abroad experience from start to finish. "Molly's Year Abroad" (newly named "Mollyglot"- pardon the pun!) documents my experiences from finding out my placement locations to my final days in my second semester in Italy.
Despite the fact that my channel has yet to become incredibly famous (I have 50 subscribers- feel free to make it 51!), my channel has always been there to remind me of the amazing places I visited such as Granada, Catania and Agrigento, the amazing jobs that I did (please see my 'A Day in the Life' series that I vlogged during my internship in Spain) and most importantly my language improvement.
My Youtube channel became my very own version of a scrapbook that I am able to constantly look back through and relive those special experiences that only a Year Abroad can offer. Even though my Year Abroad ended, I decided to continue making videos on my YouTube channel in the hope that people would be interested in my life as a language graduate or they would be inspired by my love of languages. If you would like to see more of my Year Abroad, or my other videos such as 'Post Year Abroad Italian Discussion' or 'How am I learning French?' then please visit my channel.
Discover more
---