'Beautiful world, where are you?' - film director, Agnès Varda, at Liverpool Biennial
Posted on: 16 October 2018 by Paige Johnson in 2018 posts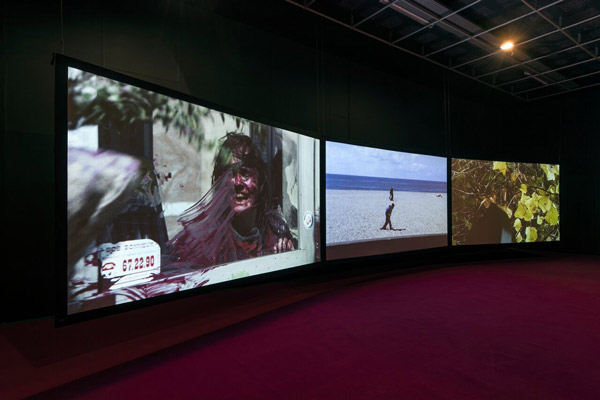 French and English student, Paige Johnson, explores the work of pioneering French New Wave director, Agnès Varda at Liverpool Biennial.
"I recently visited Liverpool Biennial's 2018 'Beautiful world, where are you?' exhibition, throughout which various artists and audiences alike were encouraged to think about a world in political, economic and social distress.
In particular, I chose to visit Agnès Varda's exhibition at Liverpool's FACT. I'm currently studying French and English at University of Liverpool, so I was particularly interested to find out more about her work, with Varda being a pioneer in French New Wave filmmaking.
Her exhibition consisted of a three-channel video commission, '3 moving images. 2 rhythms. 3 sounds.', accompanied by her 1982 short film Ulysses and a photographic installation of her grandson and his friends after their graduation, entitled 5 Rêveurs.
The three-channel video installation was really interesting in the way it combined extracts from Varda's previous films Vagabond (1985), Documenteur (1981) and The Gleaners (2000) to explore the rhythm of human life and the importance of reflection throughout her work.
This also proved to be a very haunting experience given the violence of Vagabond coupled with the calmness of The Gleaners, a contrast that could be heard as much as seen, in what I found was an unnerving, yet thought-provoking installation.
Likewise, Ulysses formed the second segment of Varda's exhibition, consisting of her short 1982 documentary of the same name presented with the still photograph itself, taken by Varda in 1954.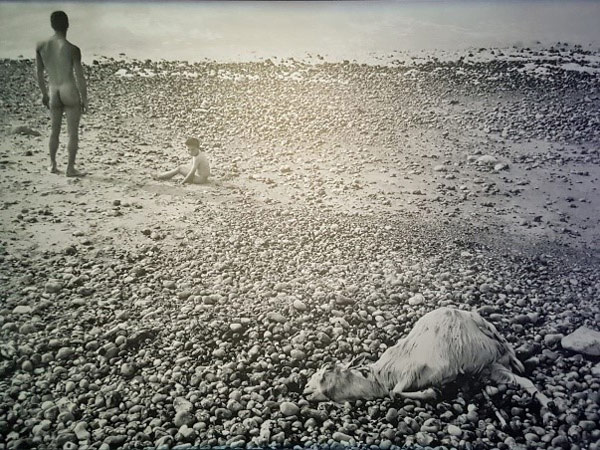 The purpose of this part of Varda's exhibition was to question the impact of images on memory as she revisits the still she took on a beach in Calais, France, examining its significance in the lives of the models she chose as well as her own. As you can see, the still features a naked man with his back to us, a young boy (Ulysses) and the body of a goat.
In the documentary itself, Varda interviews the models she chose to examine the lasting significance of the photograph on their lives. Although she initially yielded few results, we soon learn from Ulysses' mother, Bienvenida, that visiting the beach helped to treat Ulysses' hipbone disorder. The still serves as a painful reminder of this for Bienvenida, and so the documentary really encourages us to think about the way images can affect and reflect memory upon seeing how strongly the still affects Bienvenida.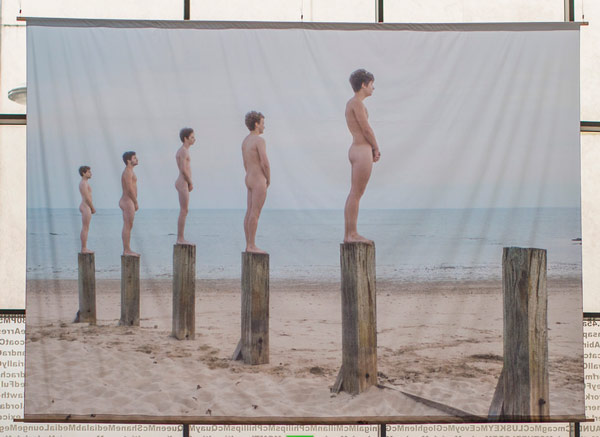 However, whilst these two works were both very interesting in their exploration of film, temporality and memory, I personally found 5 Rêveurs to be my favourite part of the exhibition! Consisting of a still photo installation, the image features five naked men – specifically Varda's grandson and his friends – balancing on breakwater gates as they look out to sea. As the photograph was taken to celebrate the end of their studies, 5 Rêveurs boasts a much more playful sentiment as the still captures a moment of simplicity, one in which five young men reflect on what is the beginning of a new stage in their lives.
All in all, the exhibition was as enjoyable as it was thought-provoking!
From the playful 5 Rêveurs to the more haunting Ulysses and 3 mouvements, Varda's work cleverly encourages us to think about the way different rhythms and walks of life are parallel to one another, as well as question the way images reflect and affect memory."
Discover more
---