Bittersweet - artist Sebastian H-W on his live art show
Posted on: 3 November 2016 by Lisa in 2016 posts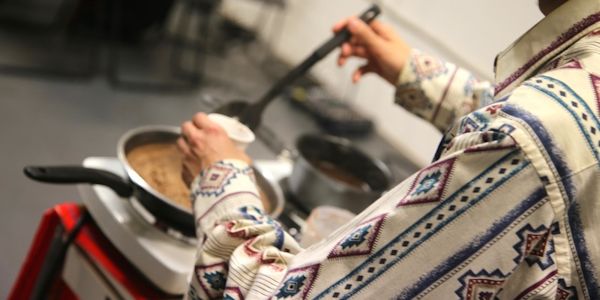 In this guest blog, Sebastian H-W, artist and residence for Iberian and Latin American Week, talks to us about the ideas and creative process behind his work.
Don't miss Sebastian's live art show "Now Eat Your Words - Sharing Performance" on Thursday 3 November from 5pm, at our Rendall Building on Bedford Street South. Find out more about Iberian and Latin American Week, which runs until Sunday 6 November.
"My project is called 'Chokolatul' - and this is an attempt in a single title, to encapsulate the transatlantic journey of my life, reflecting the historical colonial legacy of cocoa from Pre-Hispanic America to Spain and England, through the mishearing, misspelling and mispronunciation of one culture by another.
'Chokolatul' is neologism resulting from the attempt by a Brummie trying to pronounce the word 'Chokolatl', a previous neologism created by the missionary and theologian José de Acosta and his contemporaries to Mexico and Nueva España, attempting to pronounce the Aztecs "xocoatl", where 'xoco' means bitter and 'atl' means water.
Another part of my work is 'performance writing' - this explores the rapid changes taking place within the technologies for producing, circulating and receiving text; a 'turn to writing' within other cultural practices, especially perhaps its integral presence within visual and sonic culture, philosophical preoccupations with the idea of performativity, the (theatrical) performance or visual space, and the changing status of the page" (J.Hall (2013) Essays on Performance Writing etc Vol 1 Shearsman: London)
Food is integral to my performance 'Chokolatul' and is increasingly becoming more prevalent in my practice since attending the First Food Artist Residency in Mexico back in 2015.
The making, serving and exploration of food in live performance, as a live, and often mediated 'act' - be that using the raw ingredients as spatial or visual material or the cooking of a dish to eaten by participants - can form strong relational, cultural and experiential connections between performers and audience to understand narrative, place and identity."
---