'Fashion and Freedom' - women and the First World War
Posted on: 24 November 2016 by Lisa in 2016 posts
Corsets. Flares. Mini-skirts. They all tell us something about what was happening in society at the time that they first became popular. Looking back at fashion can give us a fresh perspective on key moments in history and on social change.
Earlier this month I went to see the 'Fashion and Freedom' exhibition at Manchester Art Gallery, which explores the profound effect the First World War had on women, through the lens of fashion.
The onset of war in 1914 changed British society. As men left to fight in Europe, over a million women went to work for the first time. New responsibility gave women new freedom and led to new ways of dressing, as silhouettes and social codes changed.
Our History degree module 'British society and the first world war' looks at social change during the First World War, with themes that include 'Women and the wars'.
Restriction vs freedom
The exhibition kicks off with a display of historic dress including a striking bottle-green Edwardian evening dress and corset. They reflect the social conventions for women at the time – dressing was extremely complicated and restrictive, with different outfits needed for afternoon visiting and evening. Fast-forward to the post-war dresses of the 1920s and you see a more relaxed style of dress, reflecting women's new freedoms after joining the workforce during the war.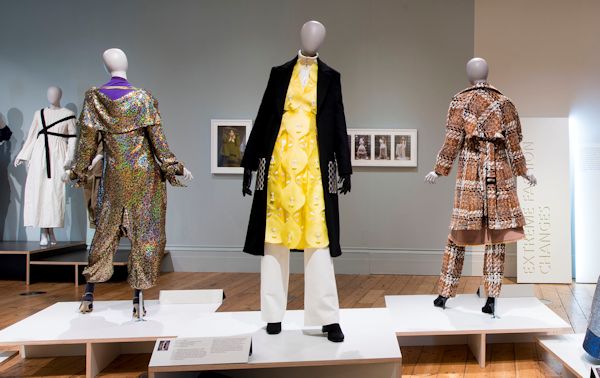 Contemporary designs inspired by First World War stories
New commissions by top fashion designers take inspiration from the stories of women who worked in factories during the war. Holly Fulton's yellow organza dress is inspired by the women who worked in the munitions factories:
I was fascinated by the munitionettes, or canary girls…I thought about the emancipation women were working towards, but also how vanity must have suffered because handling TNT turned their skin yellow and their hair green.
Although Vivienne Westwood's iridescent jumpsuit was a firm favourite of mine it was the work of the fashion students who explored the theme of 'Restriction/Release' that stuck with me after I left.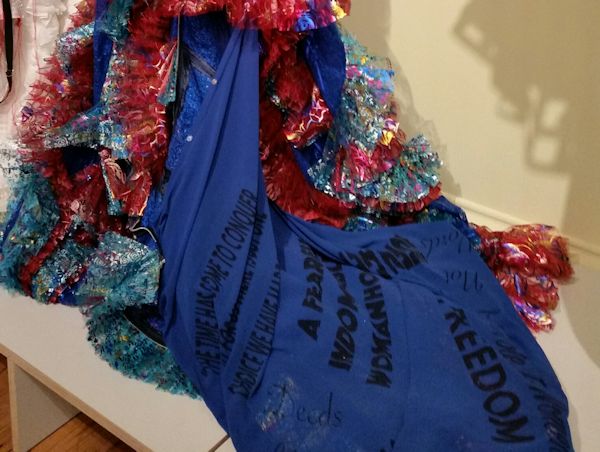 Joana Almagro Bustalino's 'Women Voters: Conquer Freedom' dress is a tribute to the Suffragettes, incorporating their motto 'Deeds not words' on flowing blue fabric.
From University of Salford, Sarah Curtis highlights the story of Lily Parr, star of the women's football team 'Dick Kerr and the Ladies', with an adaptation of the team's bold black and white uniform. Playing during their lunch hour, munitionettes formed their own football teams and competed, to socialise and keep their spirits high.
Don't miss it!
The stories weaved through this exhibition come together to build a moving yet colourful picture of what life was like for working women during the First World War.
So if you need a break from your history books, make sure you visit before the exhibition closes on Sunday 27 November.
---