Black History Month 2020 - EEECS Black Trailblazers
Posted on: 1 October 2020 in Blog posts

Black History Month 2020 takes place from 1st - 31st October. Each year the University takes this time raise awareness of events relating to race and ethnicity.
It is a time to learn, reflect and celebrate, so we wanted to take a look at some black trailblazers from the fields of Electrical Engineering, Electronics and Computer Science.
Kimberly Bryant: Founder of Black Girls Code
(Image source - Kimberly Bryant/LinkedIn)
Kimberly founded Black Girls Code in 2011.
It is a non-proft organisation which was set up to teach programming to young girls of colour.
It's vision is to 'increase the number of women of color in the digital space by empowering girls of color ages 7 to 17 to become innovators in STEM fields, leaders in their communities, and builders of their own futures through exposure to computer science and technology. To provide African-American youth with the skills to occupy some of the 1.4 million computing job openings expected to be available in the U.S. by 2020, and to train 1 million girls by 2040.'
Before setting it up, Kimberly was an Electrical Engineer who had worked in biotech for over 20 years.
Mark Dean: Co-creator of the IBM personal computer
Mark is an inventor and computer engineer.
He was part of the team that developed the ISA bus, and he also led a design team for making a one- gigahertz computer processor chip.
In 1981, Mark was the co-creator of the IBM personal computer.
He was also the first African-American to become an IBM fellow, which highlights the highest level of technical excellence.
Granville Tailer Woods: First African-American to become a Mechanical and Electrical Engineer
Granville was an inventor who held more than 60 patents.
When he was younger he could not afford to study at college but he later graduated in Mechanical and Electrical Engineering.
His work is credited for making transport systems throughout the United States safer and better because he invented and patented tunnel construction for the electric railroad system.
Donna Auguste: Former Senior Engineering Manager at Apple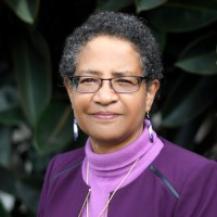 (Image source - Donna Auguste/LinkedIn)
Donn earned her undergraduate Bachelor of Science degree in Electrical Engineering and Computer Science.
She did research into artificial intelligence while studying for a graduate degree in Computer Science.
Apple hired her to work as a software engineering manager for the Newton PDA development project.
Donna then founded Freshwater Software in 1996 - which she went on to sell for $107 million!
With the money she formed a non-profit organisation, Leave a Little Room Foundation, which helps provide vaccinations, housing and electricity to underpriviledged people around the world.
Find out more about Black History Month 2020:
---