Welcome to the Outreach page of the Department of Electrical Engineering & Electronics! We believe in nurturing curiosity, fostering innovation, and empowering the next generation of thinkers, creators, and problem solvers. Our mission is to inspire young minds, ignite their passion for science and technology, and provide exciting opportunities to explore the fascinating world of electrical engineering and electronics.
Unleashing the Power of Outreach
Throughout the year, we organize a series of captivating events tailored to primary and secondary schools, as well as sixth forms. Our interactive workshops, engaging presentations, and hands-on activities are designed to spark the imagination and captivate young minds. Whether it's understanding the wonders of electricity, unravelling the mysteries of circuits, or diving into the realm of robotics, our outreach events promise an unforgettable learning experience.
Teachers, Let's Collaborate!
We value the important role teachers play in shaping young minds. We invite educators to get in touch with us to explore the opportunities for collaboration. Whether you're seeking engaging guest speakers, informative career talks, or workshops tailored to your curriculum, we're here to support you. Let's work together to inspire and equip the next generation with the knowledge and skills they need to thrive in a rapidly evolving technological world.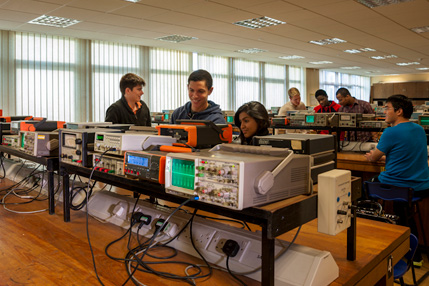 I will be recommending the outreach sessions to fellow teachers in my network. Students got so much out of the activity and it's all they can talk about since. Looking forward to next year!

Teacher from a Liverpool school
Back to: Department of Electrical Engineering and Electronics