Return to top
Course overview
The Music Management MA is a programme designed with your career prospects in mind. You will gain real-world experience in the music industry, with a substantial placement working for one of the largest arts employers in the North West, the Royal Liverpool Philharmonic.
Introduction
As a result of the unique placement opportunity we offer, you will graduate from this master's programme with enhanced employment prospects. These prospects will be enriched not just by exposure to the best minds of an historic and thriving institution but by the support we give you to complete a dissertation in your chosen specialist field.
You'll work closely with some of the best minds of an historic and thriving institution, gaining invaluable knowledge around not only the classical music industry, but arts management, heritage management and other roles in the public sector.
As well as our partnership with the Royal Liverpool Philharmonic, you will have access to our internal performance facilities including the Tung Auditorium.
The University's Department of Music has a long history in music industry studies and our staff will be able to give you the detailed academic support you require to realise a substantial study that helps demonstrate your newly developed expertise to prospective employers. Your CV will be improved and your skill levels will be raised in substantial and rewarding ways.
Please note that this course was previously known as Classical Music Industry MA.
What you'll learn
Fundamental concepts of the Music industry.
How to interpret markets and audiences of Classical music.
Understand contracts and publishing rights in the Music industry.
Key managerial skills surrounding entire orchestras.
Develop essential skills for research at postgraduate level.
Teamwork and communication skills.
Course content
Discover what you'll learn, what you'll study, and how you'll be taught and assessed.
Semester one
The Music Management MA will consist of six modules; three in the first semester and three in the second yielding a credit total of 120. The further 60 credits will be earned through the completion of the dissertation which can be on any aspect of classical music business.
Compulsory modules
MANAGING MUSIC MAKING (MUSI541)

Credits: 30 / Semester: semester 1

​This module introduces students to every aspect of managing a symphony orchestra and its associated venue. Students will benefit from guest speakers drawn from the managerial staff of the Liverpool Philharmonic.
Researching the Music Industry (MUSI510)

Credits: 15 / Semester: semester 1

The module examines some of the interdisciplinary approaches to the study of the music industries and explores these contributions. Drawing on examples it examines, in a practical way, how research in the field is conducted. Students learn how to plan and develop a research project in preparation for their dissertation. Students will develop their understanding through lectures, online class discussions and tutorials. Successful students on this module will develop skills in research appropriate for the study of the music industries at postgraduate level, including bibliographic skills and the ability to find and evaluate various kinds of evidence.
MARKETING LIVE MUSIC (MUSI540)

Credits: 15 / Semester: semester 1

This module will cover methodologies and practices for identifying audiences for live music performances and explore how to apply strategies and tactics for managing and marketing live music events and/or venues.
Programme details and modules listed are illustrative only and subject to change.
Semester two
Compulsory modules
CLASSICAL MUSIC: INDUSTRY AND SOCIAL CONTEXTS (MUSI543)

Credits: 15 / Semester: semester 2

​This module addresses the challenges encountered when attempting to manage a symphony orchestra that enjoys its own premises. The Liverpool Philharmonic is exceptional in that the orchestra enjoys its own concert hall; consequently, the orchestra needs to be managed as does the venue. In fact, Liverpool Philharmonic has two venues. Overall, the module explores the management of a large body of musicians singly and as a whole. This involves professional development, leadership, health and well-being as well as meeting artistic and creative career development needs. Further, there needs to be engagement with the 'crossover' issues of programming repertoire as well as delivering events, recording and touring the orchestra. Further still, the two venues also need to be programmed and events costed, marketed and promoted.
MUSIC CONTRACTS (MUSI516)

Credits: 15 / Semester: semester 2

​This modules explores the key agreements entered into between musicians and music companies. Central among these are the contracts which seal the assignment of rights in songs publishing and recording. Further, there are agreements made between musicians and managers and between live agents, venues and promoters that, together, create the legal frameworks within and through which music industry takes place.
WORK PLACEMENT (MUSI542)

Credits: 30 / Semester: semester 2

​This module involves students working at the Liverpool Philharmonic in a range of departments. They will shadow departmental managers and learn the modes and methods of managing in specific sections of this large and complex organisation. Students will keep a reflective diary on their day-to-day experiences and will also assemble a portfolio of relevant materials. They will present their analysis of their placement following its completion. The reflective journal and the portfolio will then be assessed alongside the presentation in order to determine a mark for the module as a whole.
Programme details and modules listed are illustrative only and subject to change.
Final project
Compulsory modules
DISSERTATION (MUSI524)

Credits: 60 / Semester: summer

· To deepen the student's knowledge of the chosen topic

· To develop and practice research skills

· To develop and practice writing and presentation skills
· To develop the ability to conduct extendedarguments
Programme details and modules listed are illustrative only and subject to change.
How you'll learn
Teaching on MA Music Management is mainly lecture-based. Three modules are taught each semester which means a total of seven hours class contact time for full-time students. Class sizes are usually between 30 and 40 students.
How you're assessed
Students are assessed through course work. We tend to expect two pieces of coursework per module. The types of coursework vary widely across the programme – from group presentations to the production of portfolios on specific subjects to standard essays. All students submit a dissertation and there is a dedicated class to prepare you for the development of your topic. Individual students are then furnished with academic supervisors to support your learning.
Liverpool Hallmarks
We have a distinctive approach to education, the Liverpool Curriculum Framework, which focuses on research-connected teaching, active learning, and authentic assessment to ensure our students graduate as digitally fluent and confident global citizens.
Course options
Studying with us means you can tailor your degree to suit you. Here's what is available on this course.
Your experience
The partnership between the University of Liverpool music department and the Royal Liverpool Philharmonic will enable you to experience life as both a student and a working professional within the classical music industry. The Department of Music is small but friendly, so we'll be able to get to know you personally and support you every step of the way through your degree.
Watch now
Video
Music Management MA
Mike Jones, programme lead, introduces our Music Management MA course.
Virtual tour
Supporting your learning
From arrival to alumni, we're with you all the way:
Why study Music at Liverpool?
We pride ourselves on being an innovative department that embraces the full spectrum of music, from the great works of the past to emerging trends such as sound for computer games
Our staff and students come from a variety of performance and non-performance backgrounds and share interests that span classical, popular, world and film music
Long established as a classical music department, in 1988 we created the Institute of Popular Music – the world's first specialist centre for the study of Popular Music
Music placed in the top quartile for impact classified as outstanding (4*) (REF 2021)
Our recently refurbished facilities boast brand new studios, teaching spaces, and industry standard equipment. These include recording and production studios, an SSL studio, practice rooms with Yamaha pianos, a multipurpose rehearsal and performance space, iMac suites and a games research lab
In March 2022 we opened the Tung Auditorium, a new state-of-the-art performance venue seating up to 400 people, with space for a 70-piece orchestra.
Chat with our students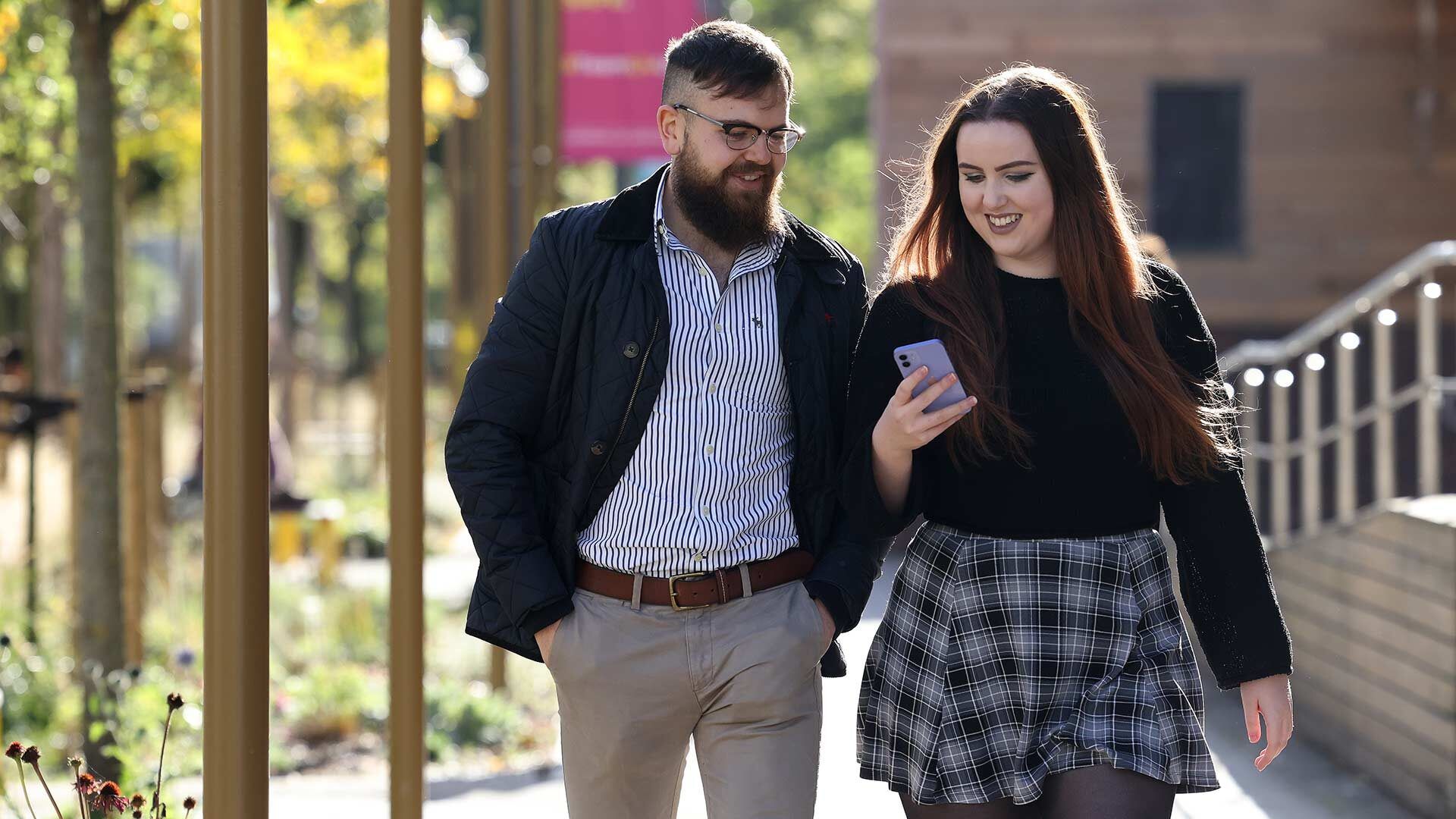 Chat with our students
Want to find out more about student life?
Chat with our student ambassadors and ask any questions you have.
Careers and employability
The MA is very much industry-focused. Members of staff for the most part have wide-ranging music industry experience and are able to draw on this in the preparation of classes. Familiarity with local and national practitioners means that classes are current and highly-informed. Where possible, guest speakers are brought in to illustrate aspects of music industry practice.
All this noted, the MA is still an academic degree in a Russell Group university and staff academic standards are equally high. All members of staff hold PhD qualifications in relevant disciplines and all are experienced PhD supervisors. Every year, a small number of graduates indicate that they would like to carry on their studies at PhD level and we see 'employability' as preparation either for industry or for academia and support students, whatever their proposed career paths might be.
Your future
Graduates from this programme have pursued careers in a wide range of areas within the music industry including:
Orchestra Management
Venue Management
Orchestra and Concerts Promotion
Orchestra and Concerts Marketing
Artistic Planning for Orchestras
Community Music engagement
Fund Raising for the Arts.
Fees and funding
Your tuition fees, funding your studies, and other costs to consider.
Tuition fees
UK fees

(applies to Channel Islands, Isle of Man and Republic of Ireland)

Full-time place, per year
£13,650
International fees
Full-time place, per year
£26,450
Fees stated are for the 2023-24 academic year.
Tuition fees cover the cost of your teaching and assessment, operating facilities such as libraries, IT equipment, and access to academic and personal support.
If you're a UK national, or have settled status in the UK, you may be eligible to apply for a Postgraduate Loan worth up to £12,167 to help with course fees and living costs. Learn more about tuition fees, funding and Postgraduate Loans.
Additional costs
We understand that budgeting for your time at university is important, and we want to make sure you understand any course-related costs that are not covered by your tuition fee. This could include buying a laptop, books, or stationery.
Find out more about the additional study costs that may apply to this course.
Scholarships and bursaries
We offer a range of scholarships and bursaries to help cover tuition fees and help with living expenses while at university.
Entry requirements
The qualifications and exam results you'll need to apply for this course.
| Your qualification | Requirements |
| --- | --- |
| Postgraduate entry requirements | A first degree award of 2:1 or higher (or its equivalent). There are no restrictions on the discipline of your first degree. |
| International qualifications | If you hold a bachelor's degree or equivalent, but don't meet our entry requirements, a Pre-Master's can help you gain a place. This specialist preparation course for postgraduate study is offered on campus at the University of Liverpool International College, in partnership with Kaplan International Pathways. Although there's no direct Pre-Master's route to this MA, completing a Pre-Master's pathway can guarantee you a place on many other postgraduate courses at The University of Liverpool. |
English language requirements
You'll need to demonstrate competence in the use of English language. International applicants who do not meet the minimum required standard of English language can complete one of our Pre-Sessional English courses to achieve the required level.
English language qualification
Requirements
IELTS
C
View our IELTS academic requirements key.
International Baccalaureate

Standard Level (Grade 5)

TOEFL iBT
88 or above with minimum scores in components as follows: Listening and Writing 19, Reading 19, Speaking 20.
INDIA Standard XII
70% or above from Central and Metro State Boards
WAEC
C4-6
Hong Kong use of English AS level
C
More about life in Liverpool
Discover more about the city and University.
Why study at Liverpool?
Liverpool bursts with diversity and creativity which makes it ideal for you to undertake your postgraduate studies and access various opportunities for you and your family.
Accommodation
To fully immerse yourself in the university experience living in halls will keep you close to campus where you can always meet new people. Find your home away from home.
Fees and Finance
Discover what expenses are covered by the cost of your tuition fees and other finance-related information you may need regarding your studies at Liverpool.
Contact us
Have a question about this course or studying with us? Our dedicated enquiries team can help.