Introducing: Colin Hammond
Posted on: 16 November 2023 by Colin Hammond in November 2023 posts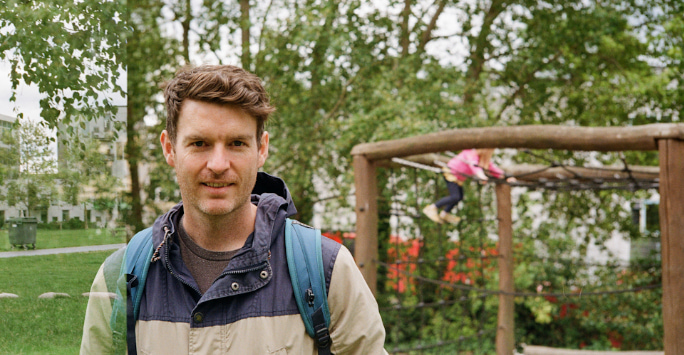 Dr Colin Hammond recently joined the Institute as a Lecturer in the Department of Molecular and Clinical Cancer Medicine. Here is a quick introduction to Colin, his first impressions and plans.
First impressions of ISMIB
ISMIB seems a very supportive and welcoming environment to work in, and I think this culture nicely reflects the friendly nature of the people of Liverpool. Academia can often feel too competitive, competing for the same pots of money, competing to publish, competing for recognition and this doesn't really align with my personality. Of course, I want to be successful, but based on my merits. Like playing golf, in science I would rather be playing against the course and not competing against others.
The great thing about ISMIB is that I have the positive impression that my colleagues want to see me succeed, which is very nice. In this respect, I have experienced senior management putting me forward for opportunities that will promote my career. Quick turn arounds for letters of support for funding applications. Colleagues joining forces on grants without a second of hesitation. Great interactions with the departmental admin and research support offices. Coffee with new colleagues to see how I am getting on. Multiple invites to Christmas parties. Not a bad start really, and I do think everyone is craving a bit more interaction since the isolation of COVID.
Most looking forward to
Making new friends and getting my research programme off the ground. I'm lucky to have a PhD studentship to recruit as part of my start-up package, and I hope to supplement this with the LIV-SRF voucher scheme in order to move my research into new translational territory. I think we all look forward to doing the research and not necessarily continually writing the grants, so having a bit of success there will be a major achievement for me. The University of Liverpool has some really exciting technologies and I am very much excited to develop my independent research career here. P.S. If you are reading this and you are on the hunt for a PhD position then you can read more about my research on my website: www.histonelab.com
What motivates you?
I think like all research scientists, I'm motivated by making novel discoveries. I like to create new technologies that can be used to provide mechanistic understanding of cellular processes. For instance, during my postdoc, I developed a structure-guided proteomics assay that led to the discovery of a new histone chaperone. I followed this up by developing functional proteomic assays that could determine how other proteins are dependent on this protein to bind histones. In a sense it's like identifying the order of events in an assembly pathway but at the same time using an unbiased proteomic-assay that brings a broader understanding of the system as a whole. We call this system the histone chaperone network. There seems to be a lot of connections to different cellular processes encoded in this network, and that's what I hope to explore further in my lab.
I'm also motivated by the fact that the processes I research are essential for cancer proliferation, and that targeting them may create a novel therapeutic approach. I think it's a shame that when you study fundamental biological mechanisms you are often met with cynicism from other scientists when you mention that you think this is important for cancer. I'm not a molecular oncologist, but I wouldn't mind collaborating with one.
Ask me about
Places to visit in Copenhagen or Scotland, football playing or watching, film photography or a round of golf – it has been a while.
Most likely to be found
In my office on the 5th floor of the Nuffield Wing. At the park with my kids. Hating doing DIY at home when I would rather be on the terraces at Blundell Park.