Liverpool 2022 Graduations: Filippo Dall'Armellina
Posted on: 29 July 2022 in July 2022 Posts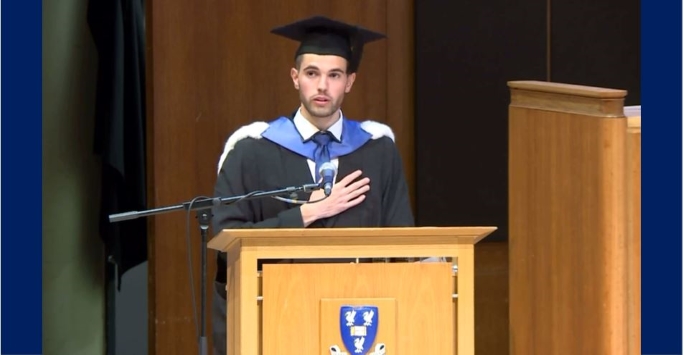 Filippo Dall'Armellina graduated in July 2022 from the School of Life Sciences. He was asked to speak on behalf of his cohort at the graduation ceremony, which was held in the Philharmonic Hall once again after a 3 year hiatus. We spoke to Fil about his time at Liverpool and his future plans.
Tell us a little bit about yourself
I'm an early career neuroscientist. It's not just what I do but also what I live for. I am a curious and passionate graduate aspiring to elucidate the elusive pathways that regulate lipid balance inside the cell and that are associated with the development of progressive neurodegenerative diseases in new-borns and children. I officially graduated from the University of Liverpool with a BSc (Hons) in Biological and Medical Sciences with a First Class. I was honoured to be awarded 1st Place Graduating Student and Best Student degree with a Year in Placement.
Following my Honours project, I sought out a research placement funded by the Wellcome Trust ISSF and recently submitted a manuscript of the work I completed. At Liverpool, I was only given a chance to contribute to the UK Covid-19 Vaccination Programme as site manager of a clinic, and, at the same time, participated to the 15th edition of the Aerospace Student Challenge with European Space Agency and Musée de l'air et de l'espace, in Paris. During my studies, I endeavoured to live up to my full potential, appreciating the opportunities I was given every day to learn and question the unknown.
The motto of our University is "Haec otia studia fovent". In English, it translates into "These days of peace foster learning". I am proud to say that I have lived my days as a student in this City with that same vocation, aspiring to appreciate the collateral beauty of science and learning. Liverpool has consolidated my talents and nurtured my intellectual curiosity over the years, and my time here also resulted in a journey of self-discovery.
Why did you pick the course that you studied?
The Biological and Medical Sciences programme is designed to cover a wide variety of topics of biomedical interest. As at the beginning of the course I had not yet decided between undertaking a career in medicine or pursuing a PhD. Enrolling in this degree clarified my decision and prepared me to confidently enter a doctoral programme. One of the benefits of studying here was that I was taught by world-leading researchers in cell signalling, cancer biology, physiology, and genetics, among other fields.
What were the main highlights of your time at Liverpool?
Liverpool offered me a place I could call my second home. During my time here, I made new friends and joined multiple societies where I learned a bit more about my true passions. For instance, the Aviation and Space Medicine of the University nurtured one of my newer interests and then led me to seek the opportunity to work on an outreach and literature-review project with the European Space Agency (ESA). Doubtlessly my favourite moment was to receive the honour to address the graduating class of 2022. Liverpool allowed my voice to be heard, even back home in Italy, where a local newspaper would like to write an article about my accomplishments.
What are you doing now/what are your plans for the future?
I've received several offers to progress to postgraduate studies across the United Kingdom at Russell Group Institutions and I am currently considering what my best course of action is. One of the options I have ahead of me is to stay at the University for another four years to complete a PhD in Biochemistry and I must say it is very appealing. Potentially, I also have my first publication in the works.
What would you tell your teenage self if you could?
I've always been hard-working. As a teenager, I was very eager to reach my goals as soon as possible. However, over the years I've also learned that patience is an excellence companion, both in life and academia. If I could tell my younger self anything, it would have to be to value patience more. Focus on your objectives but do give them time.