Writing on the Wall festival: 'Refugees in Literature, Film, Art and Media'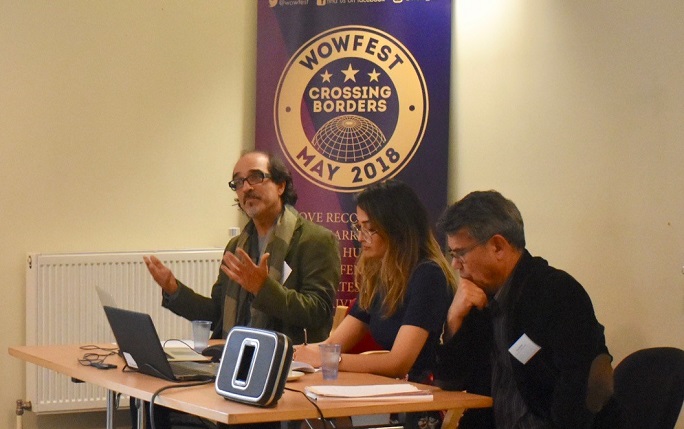 The international workshop, held on 17 May 2018 at the Kuumba Imani Millenium Centre, was a key date for the global Afghan Diaspora: Prix Goncourt-winning author and cinéaste Atiq Rahimi and A/Prof. Wali Ahmadi, former students at Lycée Esteqlal, Kabul, hitherto deprived of any reunion, met again for the first time after approximately 40 years.
The interdisciplinary event allowed a dialogue between different contributors, from artists to academic scholars, on the representation of refugees across a variety of media by vividly addressing perilous journeys, characterised by on-going uncertainty of belonging with the persistent significance of artistic interpretation.
In the post-keynote discussion, the audience engaged with Atiq Rahimi, whose responses were interpreted from French and Dari/Farsi into English by Lida Amiri. The award-winning author responded to audience questions about how being multilingual influences his writing while also addressing intriguing concerns such as: in which language does a multilingual person dream?
This interdisciplinary workshop was sponsored by the University of Liverpool, the Centre for the Study of International Slavery and the AHRC 'Translating Cultures' theme.
Visit the Writing on the Wall website for more information about the festival.
View extended event reports on the Writing on the Wall Festival and AHRC website.