Studying in Buenos Aires and Rio de Janeiro
Posted on: 14 June 2023 by Maria Lonergan in 2023 posts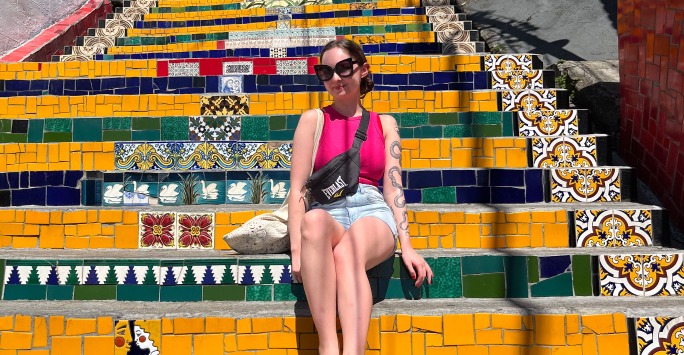 The past year has without a doubt been the most amazing year of my life! Going from having never travelled outside of Europe to spending 5 months each in both Buenos Aires and Rio de Janeiro has been an incredibly transformative experience.
Studying in Argentina and Brazil has allowed me to develop a number of skills and to learn more about the two countries than what I would merely reading about them at university. Of course, my Spanish and Portuguese have both improved substantially and I now speak the two languages with much more confidence. I gained a deeper understanding of Argentinian culture in the modules I studied at UNSAM - one of which allowed me to participate in a seminar discussing the work of pioneering female sociologists in Argentina. At PUC Rio I've learnt a lot about the history of Brazil, with tours of favelas, art galleries and historical landmarks all organised by the lecturers to complement what we've covered in class. I even got to produce a documentary as part of one of my modules!
I feel particularly lucky that I have been able to spend both study placements in Latin American countries rather than European ones as it has meant that I have been immersed in two cultures that are completely different to that of the UK (and even to one another). The laidback carioca vibe is something that I've certainly got used to over the past few months.
I've also been fortunate enough to explore Argentina and Brazil beyond the two cities I've been studying in. My travels have included visiting the amazing waterfalls of Iguazú; snorkelling in the waters of Ilha Grande; and a trip to São Paulo to attend the world's largest LGBTQ+ Pride parade – it's certainly been quite a mix! While some have been rather culturally enriching ventures, others have served as an opportunity to connect with nature. But what they all have in common is that they've been extremely fun and have allowed me to meet lots of amazing people.
Throwing myself into a completely new environment on the other side of the world is unlike anything I've ever done before and as I now reach the end of my year in Latin America with a ton of happy memories; new friends from across the globe; and a fairly impressive tan, I can honestly say it was 100% worth the initial feeling of nervousness I experienced when I first set off from the UK.
I have fallen in love with Latin America and have already made plans to come back here in the near future to travel the region more thoroughly, visiting more countries and getting acquainted with other cultures. The experiences I've had in the past year have inspired me to venture further afield in general and I hope to make as many wonderful memories as what I have during my time in Argentina and Brazil.
---