Language Stories in Liverpool — Portuguese
Posted on: 8 May 2019 in 2019 posts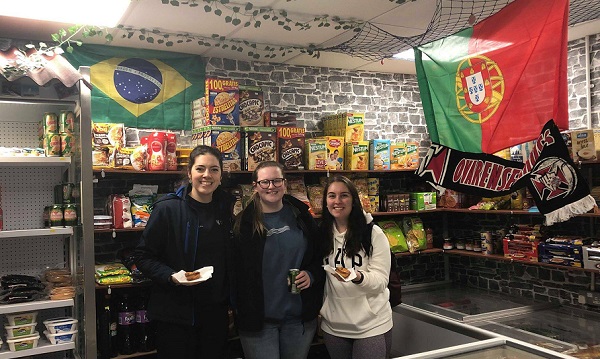 Languages Stories in Liverpool is a new project set up to highlight the broad spectrum of international languages and cultures in our great city. Sarah Blohm, Juliet Boardman, Hannah Bone, Olivia Phillips uncover Liverpool's relationship with the Portuguese culture.
What do you associate with Liverpool? Scouse, The Beatles, superlambananas... of course it's not Portuguese culture!
When we were asked to find evidence of Portuguese influence and Portuguese identity in Liverpool, we were surprised to find a community of Portuguese who try to share their culture, especially through food. Therefore, Portuguese food became the focus of our research. We already knew the chains that sell Portuguese food like Nando's and Bem Brasil, but we wanted to find and discover a new and more authentic place.
Our search started at St John's shopping centre, which is in the centre of Liverpool, and we found a Portuguese shop and coffee shop. The smell of the famous freshly baked custard cakes, the Portuguese decoration and the flag of Portugal and football led us to the continental store. There we know Ana, the owner of the store. She is Venezuelan but her parents are from Madeira.
Ana presented us to her friend who is from Porto and he explained to us a lot about Portuguese gastronomy and how this relates to culture. He came to the UK looking for work and expressed his love for Liverpool, but admitted that he misses the Portuguese cuisine since its presence is very limited here, especially in comparison to the largest cities in the UK. He said that in London for example, culture has a greater presence. It's worth adding that Cafe Porto, Mimi Coffee and The Continental Shop are the only places in Liverpool that you can visit to taste authentic Portuguese cuisine. In these places it is possible to taste traditional dishes such as custard cakes, cod cakes, roasted goat, feijoada to transmontana, pork to alentejo among many others. The waitress suggested that we take a Sumol or a Super Bock to accompany our meals so that we had a real Portuguese experience.
We are very familiar with French culture due to French food; the UK not only accepted it, but embraced it. The brioches, the baguettes, the croissants and the crooks monsieur are in almost every place, from small neighborhood bakeries to huge supermarkets. If only the pastel de nata was as popular as the pain au chocolat, we could be more aware of this culture and also learn to admire it.

VIDEO: How much do you know about Lusophonic culture?
O que você associa com Liverpool? Scouse, os Beatles, Superlambananas… Claro que não é a cultura portuguesa!
Quando nos pediram para encontrar evidências da influência lusófona e da identidade portuguesa em Liverpool, ficámos surpresas ao encontrar uma comunidade de portugueses que tentam compartilhar a sua cultura, especialmente por meio da gastronomia. Por isso, a comida portuguesa tornou-se o foco da nossa investigação. Já conhecíamos as cadeias que vendem a comida portuguesa como Nando's e Bem Brasil, mas queríamos encontrar e descobrir um lugar novo e mais autêntico.
A nossa busca começou no centro comercial St Johns, que fica no centro do Liverpool, e encontrámos uma loja e cafeteria portuguesa. O cheiro dos famosos pastéis de nata acabados de cozer, a decoração portuguesa e a bandeira de Portugal e do futebol conduziram-nos até a loja The Continental. Ali conhecemos a Ana, a proprietária da loja, ela é Venezuelana mas os seus pais são da Madeira.
Ana apresentou-nos ao seu amigo que é do Porto e ele explicou-nos muito sobre a gastronomia portuguesa e como esta se relaciona com a cultura. Veio para o Reino Unido à procura de trabalho. Ele expressou o seu amor por Liverpool, porém admitiu que tem saudades da cozinha portuguesa, dado que a sua presença é muito limitada aqui, especialmente em comparação com as cidades maiores do Reino Unido. Ele disse que em Londres por exemplo a cultura tem uma presença maior. Vale acrescentar que O Café Porto, o Café Mimi e The Continental Shop são os únicos locais em Liverpool que se podem visitar para saborear a autêntica cozinha portuguesa. Nesses locais é possível provar pratos tradicionais como pastéis de nata, pastéis de bacalhau, cabrito assado, feijoada à transmontana, carne de porco à alentejana entre muitos outros. A garçonete sugeriu que tomássemos um Sumol ou uma Super Bock para acompanhar as nossas refeições para que tivéssemos uma verdadeira experiência portuguesa.
Estamos muito familiarizados com a cultura francesa devido à comida francesa e então, o Reino Unido não somente a aceitou, mas abraçou-a. Os brioches, as baguetes, os croissants e os croques monsieur estão em quase todos os lugares; das pequenas padarias de bairro aos enormes supermercados. Se ao menos o pastel de nata humilde fosse tão popular como o pain au chocolat, podíamos estar mais cientes da cultura estrangeira como também aprendíamos a admirá-la e cobiçá-la.
Discover more
---