An Italian, a Spaniard and a Frenchman Walk Into a Bar… — An Improv Workshop for Language Teachers
Posted on: 18 September 2019 by Ana Reimão in 2019 posts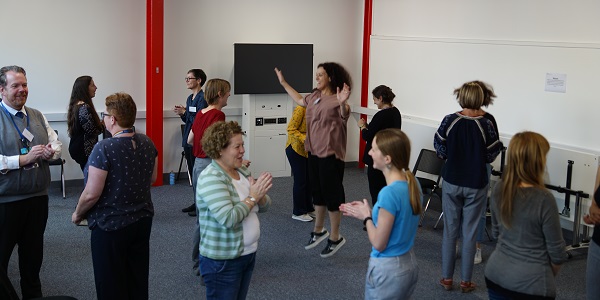 On Tuesday 10 September Ana Reimão from the University of Liverpool's Department of Modern Languages and Cultures hosted the workshop 'Improv for Language Teachers' led by Rosie Wilkinson, artistic director of Impropriety CIC. Ana provides a summary of the day and details how the workshop came about.
I've always wanted to try Improv but with an intense schedule of academic activities and a full family life there has never been a realistic opportunity to do so. However, I have occasionally watched some of the brilliant live shows by Impropriety such as the Improv Soap – eight weekly episodes exploring the hallmarks of the soap genre including melodrama and narrative continuity – or the Improvathon – a 36 hour improv fest featuring local legends and rising stars.
Academics often combine their personal interests with research and I have often felt jealous of colleagues whose research on Cuban Hip Hop granted them funded access to underground nightclubs of Havana. Conveniently for me, the brilliant Impropriety are based in Liverpool and host regular training events and classes for newbies which gave me the idea: if I can't come to improv, could improv come to me?
A quick browse of the scholarship on improvisational theatre and foreign language teaching revealed a considerable gap. In theory, the benefits of this type of class exercise are clear: language learners improve confidence by interacting in a controlled environment. However, there is also a lot that could go wrong and, even though I have conducted successful role-play in language teaching, could I learn to trouble shoot more effectively?
The answer to this question came in the form of Rosie Wilkinson. The artistic director of Impropriety was immediately on board and after a few meetings and discussions we set the date hoping that there were others out there that a) had a secret unfulfilled desire of doing improv, and b) wanted to up their game in language teaching and were not afraid to do it.
Therefore, on Tuesday, 10 September, the 'Improv for Language Teachers' workshop took place, led by Rosie and hosted by me. Rosie expertly presented the principles of Improv before we moved on to a series of hands on activities. We started with warm-up pair work that was instrumental in making a bunch of strangers feel comfortable in doing things that might otherwise be perceived as silly or ridiculous. And then, we spent the rest of the afternoon doing full group and small group games which were followed by a valuable reflection on their strengths and potential application in language learning. We also discussed role play and Rosie and other participants offered advice on how to tackle it successfully.
After the event, all 16 participants agreed that the workshop had been interesting, intellectually stimulating, well organised and that they had learnt something useful for their jobs. Further highlights included the 'stimulating discussion', 'the hands-on nature', 'the range of creative activities', 'very interactive and practical', 'supportive environment', 'learning activities to practice different skills in a language class', 'learning through doing and reflecting on it afterwards'.
Given the enthusiastic response, an Improv for Language Teachers toolkit is already in the making - watch this space! Well, it's not Havana, but I finally had a go at improv…
More
Study in the Department of Modern Languages and Cultures at the University of Liverpool
This workshop was supported by CTELL – Centre for Teaching Excellence in Language Learning
Ana Reimão is Lecturer in Portuguese and runs the Association for Teachers and Researchers of Portuguese in the UK
---