Iberian and Latin American Week 2019
Posted on: 14 October 2019 in 2019 posts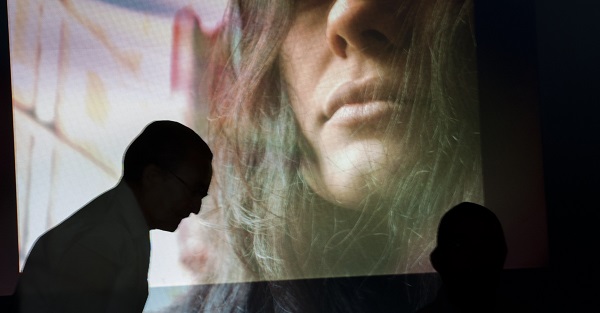 Taking place from Monday 28 October to Friday 1 November, the Iberian And Latin American Week will bring a taster of Iberian and Latin American Studies' shared knowledge and interest in the Hispanic and Lusophone world to students.
Through a host of events at the university and around the city, the week-long series of events will bring students in contact with a diverse range of practitioners, creative producers, films and music from Latin America and the Iberian Peninsula.
The list of events can be found below. Please download the Iberian and Latin American Week 2019 programme for full event details.
For more information please contact Nelson Becerra-González on nelson.becerra@liverpool.ac.uk
*Thank you to everyone who attended Iberian and Latin American Week 2019. Check out the highlights from this year's series below.*
Monday 28 October
'Interactive Flamenco Millennial' — Flamenco Workshop
University of Liverpool Management School, Seminar Room 2, 12pm - 1.30pm
'Entrañas' ('insides') — Multimodal performance/drama
South Campus Teaching Hub, Lecture Theatre 3, 2pm - 3pm
Welcome Event and live music — Talk by the Head of the Department — 'Día de los muertos': A celebration of Mexican traditions (altar and talk)
Language Lounge (12 Abercromby Square), 4pm - 6pm
'Flamenco Millennial' — Flamenco dance and music in the Cavern. FREE entry*
The Cavern (Mathew Street, Liverpool), 6pm - 7.30pm
*For free entry you only need to mention at the door that you are going to the flamenco show.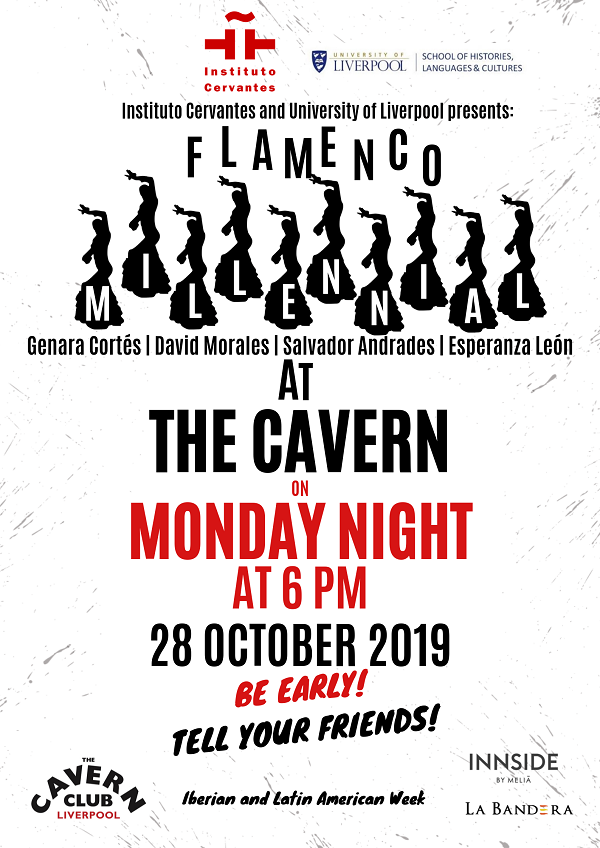 Tuesday 29 October
'El tren fantasma' (Ghost Train) — Mexican silent film with live music performed by the pianist Jose Maria Serralde.
Eleanor Rathbone Building, Lecture Theatre, 11.30am - 1pm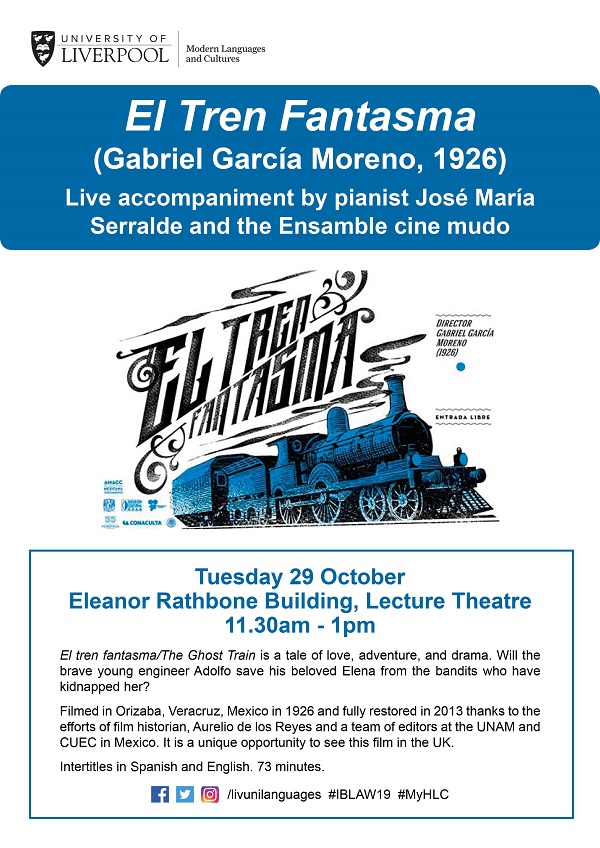 Salsa and merengue class
University of Liverpool Management School, Seminar Room 6, 3pm - 4pm
Wednesday 30 October
'Tele-bertsolaritza in Liverpool' — Short film and Skype presentation of bertsolaritza
Rendall Building, Seminar Room 10, 11am - 12pm
'Feminist Spring' - Talk and audio-visual presentation
Rendall Building, Lecture Theatre 4, 12pm - 1pm
Roger Wright's Vintage Radio Show
Language Lounge (12 Abercromby Square), 1pm - 2pm
E. Allison Peers Symposium 2019 — 'Minorities in the Hispanic World: Contemporary & Historical Contexts'
502 Central Teaching Hub, Teaching Room 4, 1pm - 5.30pm
Thursday 31 October
Poetry workshop by UnVentilador — Catalan Poetry workshop
South Campus Teaching Hub, Seminar Room 9, 10am - 11am
'El feminismo en su marcha imparable hacia la igualdad, garantía de la Democracia'
South Campus Teaching Hub, Lecture Theatre 2, 11am - 12pm
BÚNKER by UnVentilador
The Caledonia, 22 Caledonia Street, 7pm - 8pm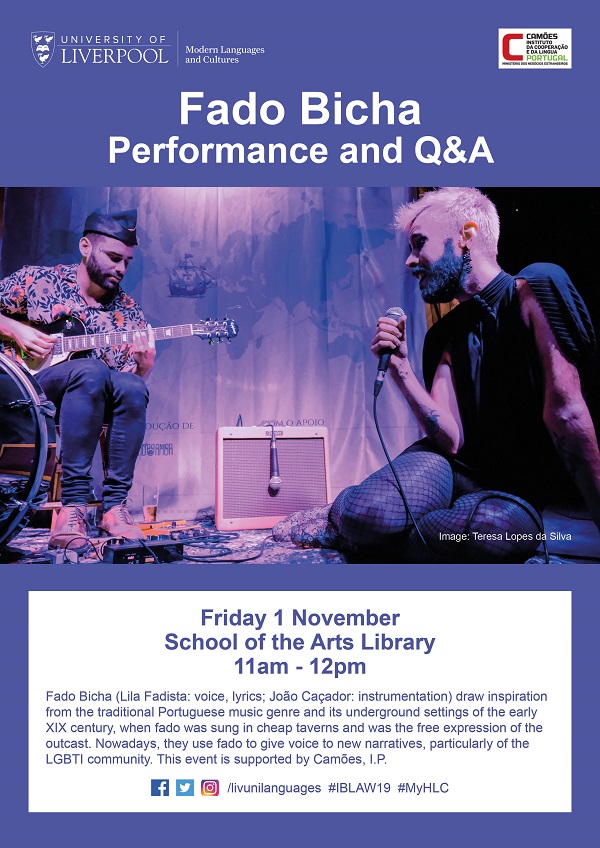 Friday 1 November
Discover more
---