Outsider Insiders: Francis Alÿs and Melanie Smith at Liverpool Biennial
Posted on: 24 October 2018 by Niamh Thornton in 2018 posts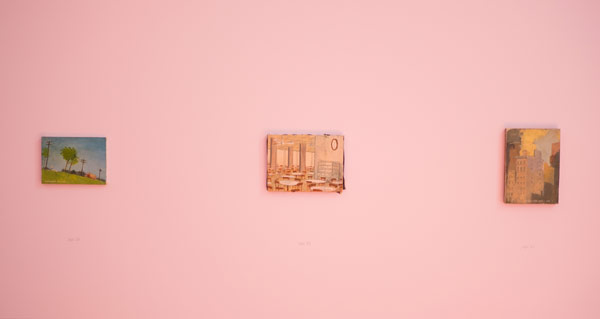 As the Liverpool Biennial draws to a close, Dr Niamh Thornton highlights the work of two artists who moved from Europe to Mexico, and considers Mexico as a place with a long tradition of welcoming outsiders.
---
"There are two artists who moved from Europe to Mexico exhibiting their work as part of Liverpool Biennial 2018: Francis Alÿs at the Victoria Gallery & Museum (here on campus) and Melanie Smith at The Bluecoat. Alÿs is from Belgium and Smith from the UK.
As a country more associated with departures than arrivals, especially with the current US President, Donald Trump's, emphasis on wall-building and keeping out migrants, this is a good moment to consider Mexico as a place which has a long tradition of being open to receiving outsiders.
There have been key periods for growth in immigration to Mexico: the 1930s, when Spain was in the throes of its Civil War, there was an open invitation to those wanting to flee the conflict; welcomes were extended to those fleeing World War II in the 1930s and 1940s; in the 1950s others escaped McCarthyism and the US fear of the 'red peril'; and so it has continued throughout the Twentieth and Twenty-first centuries.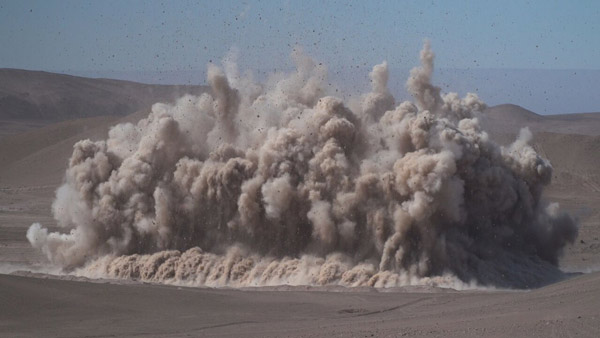 Melanie Smith, Maria Elena (film still), 2018. Photo: Julien Devaux
Mexico: welcoming artists, filmmakers and writers
Amongst these numbers were a large number of artists, filmmakers, and writers including individuals as varied as the Spanish director Luis Buñuel, US novelist and screenwriter John Steinbeck, Chilean poet Pablo Neruda, the US author and activist Audre Lorde, and the Chorley-born artist and writer Leonora Carrington. Added to this distinguished list are Alÿs and Smith. Both of whom are purported to have found in Mexico a space to find themselves as artists and leave behind the politics of home.
I am not familiar with Alÿs' work, but I had the opportunity to see Smith's work whilst in the Museu d'Art Contemporani de Barcelona (MACBA). There she had a larger retrospective and it included the recent work being exhibited at the Bluecoat.
She uses a variety of different media in her art. Her work portrays humanity set against the backdrop of large scale natural or manmade spaces. It is often dramatic, yet also affecting.
Much of her work has been carried out in Mexico, although she has also work in Peru, Brazil and, most recently, Chile. Examples of these are her audio-visual recordings of the British collector and artists Edward James' jungle space in Mexico in Xilitla: Dismantled 1 (2010) and Henry Ford's failed experiment in the Brazilian forest in Fordlandia (2014) () are expressions of the folly of individuals attempting to control and contain nature as well as subtle commentaries on colonialism.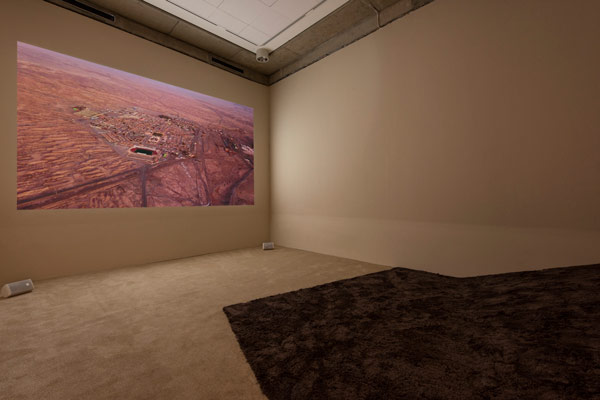 Melanie Smith, Maria Elena, 2018. Camera: Julien Devaux and Carlos Echavarria. Installation view at Bluecoat, Liverpool Biennial 2018. Photo: Thierry Bal
Smith: exploring themes of labour, nature and capitalisism
Smith's work being shown at the Bluecoat is a video installation, María Elena (2018), named after the town and salt mine owned by the Guggenheim family. María Elena is set in the Atacama Desert in Chile resonant for many reasons and has elements of the significant recurrent themes in her work: labour, nature, and the effects of late capitalist economics on the landscape and people.
To understand the significance of the Atacama Desert and as a useful companion piece, it is worth watching Patricio Guzmán's Nostalgia de la luz (Nostalgia for the Light, 2010) in which he juxtaposes the grandeur of the space and its significance for international astronomers with the terrible legacy of Augusto Pinochet's regime who imprisoned, tortured, and disappeared political prisoners during his dictatorship.
The Atacama Desert is also rich in copper and nitrates, a significant source of income for Chile in the Nineteenth and Twentieth century and a space of much human exploitation.
For these and other reasons, this work is highly evocative, captures the scale and drama of this landscape, and suggests at the particularities of this history. In her move from the UK to Mexico, it is clear that Smith has immersed herself in Mexican and Latin American culture, focused on the encounters between outsiders and established communities, and, as a consequence, creates highly nuanced and allusive work."
Discover more
---