Irish Studies students visit Western Approaches War Museum
Posted on: 10 December 2018 by Dr Lauren Arrington in 2018 posts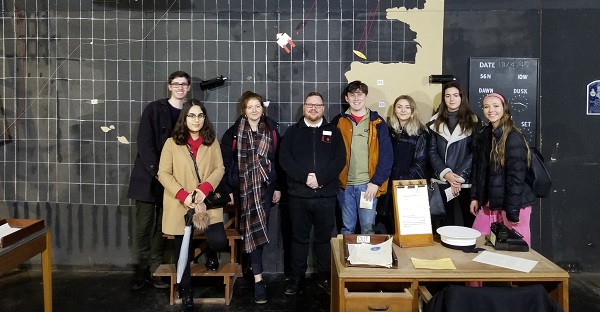 On 5 December, students in Dr. Arrington's War Writing class (IRIS326 ENGL488) visited Western Approaches, Liverpool's Second World War Museum, housed in the top-secret bunker under Derby House from which Admiral Max Horton, Commander-in-Chief of the British Navy, won the Battle of the Atlantic. One student, a native of Liverpool, commented, "I had no idea it was even here!"
Throughout the semester, final-year undergraduate students have been studying war writing of the twentieth and twenty-first centuries, focusing on war reporting, the aesthetics of empathy, the ethics of war writing, representations of wartime technology, and forced migration. Reading the work of Brian Turner, Rebecca West, Hannah Arendt, Martha Gellhorn, Mourid Barghouti, and Mohsin Hamid, students have learned how to critique different forms of war writing, including personal essays, novels, and memoirs. A major focus of the students' course is the representation of non-combatants, an aspect of war that was emphasized by our tour guide. As one student put it:
The thing that struck me most from the tour was the impact that working in an official HQ had on the people. It seems that they were sacrificing massive amounts in order to help the country, and that stress, fatigue and injury were extremely common even for 'office' workers. The woman who lost her life simply from pinning boat positions on a map [when she was knocked from a high ladder by a hasty courier] made clear the huge risks the WRENS [Women's Royal Naval Service] and WAAFs [Women's Auxiliary Air Force] experienced even whilst in the 'safe' headquarters.
One student said that the "eye-opening" visit was particularly important as a "non-British person […] to experience some part of history from another point of view." The class's experience was summed up in another student's reflection: "a humbling insight into the lives of men and women who grappled with the fatal implications of their actions."
The class visit was supported by the School of Histories, Languages, and Cultures learning and teaching fund.
Discover more
---