"I will look back on it as a watershed moment in my life" — Institute of Irish Studies MA student Ronan Gerrard interns with The London Magazine
Posted on: 25 October 2018 by Ronan Gerrard in 2018 posts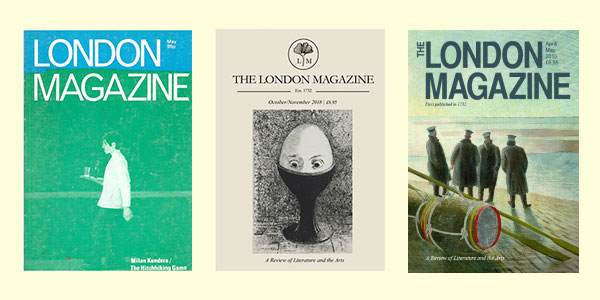 Before Ronan Gerrard graduated from the University of Liverpool with a joint degree in English and Irish Studies in summer 2018, he benefited from two weeks of work experience at Britain's oldest literary periodical, The London Magazine. In their long history stretching back as far as 1732, the magazine has boasted contributions from the Romantic poets Shelley and Keats to 20th century masters such as Ted Hughes and Sylvia Plath. Discover some of Ronan's experiences of working with the publication.
---
Since I was about to embark on an Masters programme in English literature, the internship was a valuable opportunity for me to gain an insight into the publishing world and see whether I would be suited to working in such an environment. Thanks to the Institute of Irish Studies, which organised the work experience, I feel far better equipped to make a decision on my future when my MA programme ends a year from now.
It was with trepidation that I turned up at The London Magazine's offices in Kensington, fresh from the 5.30am train south, with a few nerves and my suitcase of carefully pressed and packed shirts rattling along beside me. The staff couldn't have been more welcoming and friendly, and I was quickly put to work on updating the social media posts and researching any literary events that had occurred during that week in history.
Ronan talks about his time in the Institute of Irish Studies
During my first week, I met the editor Steven O'Brien, who very kindly supported my placement, and I joined in group meetings to discuss future publications and cover designs. I gained experience in proof-reading submissions for publication, and I spent thrilling hours trawling through the archives for long-hidden treasure to enlighten a new generation. I was delighted to find never-before published poems by Rin Ishigaki and Peter Bland, as well as short stories from Arturo Vivante and Vis Nathan (all still available to read on The London Magazine website). I was thrilled to be given free rein to choose my personal favourites, and was excited to come across famous names in the early stages of their careers.
I made use of my free time in the capital, visiting the theatre, catching great productions of Othello featuring Mark Rylance at The Globe, The Importance of Being Earnest at the Vaudeville theatre, where Wilde staged some of his plays, as well as Aristocrats by Brian Friel at Donmar Warehouse, which was my personal favourite. I also took the opportunity of visiting Keats' House in Hampstead and a trip to Highgate Cemetery, and I enjoyed spotting the blue plaques dotted around the city.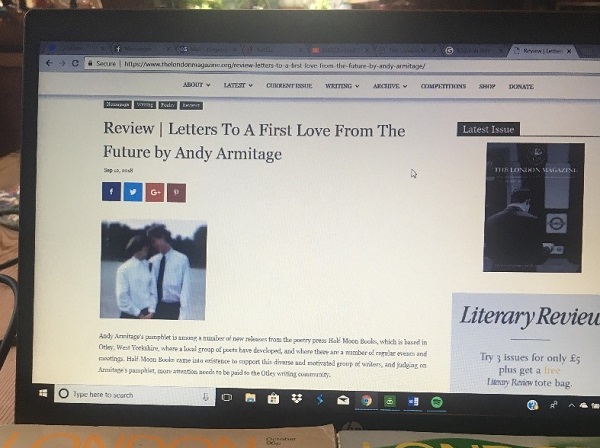 Read Ronan's review of Letters to a First Love from the Future by Andy Armitage
In my second week, I was lucky enough to be given the opportunity to write. My colleague Robert Greer, in support of small publishing companies, gave me a pamphlet by Andy Armitage of Half Moon Books to review for the website. I later received an email from the author thanking me for an 'awesome' review, and I was conscious that the wide publication of The London Magazine and its publicity would benefit his success. It felt really good to be part of this.
As I packed up my now crumpled shirts and dirty laundry to head back North, I reflected on what a difference the two weeks had made to my aspirations and outlook. There are new possibilities for my future career, new contacts and opportunities to help me build it, and a renewed love of writing in all its forms. It was an amazing and enriching experience, and I think I will look back on it as a watershed moment in my life.
Discover more
---