How do people across the world celebrate St Patrick's Day?
Posted on: 17 March 2017 by Anna Walsh in 2017 posts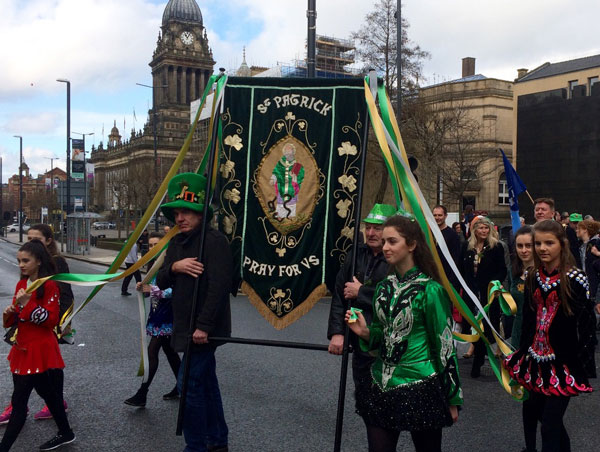 Dubai. Montserrat. Croatia. Taiwan. Canada. Huddersfield.

A diverse list, united by a common factor: at some point during the week around 17 March, each of these places will somehow celebrate the feast day of St Patrick.
As Bill Clinton famously quoted at a St Patrick's Day dinner in 1995, 'Ireland's greatest export is its people.' Ireland is well-known as an emigrant nation: up to 70 million people worldwide claim Irish heritage, dwarfing the population of Ireland itself at least tenfold. Public displays of Irish identity, like the celebration of St Patrick's Day, therefore take place across the world.
Dubai, one of the more recent sites of Irish migration, has a series of celebratory St Patrick's events in its 'Irish village'. In Montserrat, the day actually commemorates a slave rebellion on St. Patrick's Day, 1768, against Irish planters.
Sent into exile by Cromwell, there, the Irish had become oppressors themselves. The slaves planned an attack for when the Irish would be celebrating; their efforts for freedom were quashed but they are remembered. The events now stretch into a full week, incorporating some elements of Irish St Patrick's Day tradition alongside a salutation of national character.
The Irish Village in Dubai
Researching St Patrick's Day
The research I'm doing as part of my Irish Studies PhD is about Irish migrants in Leeds and includes looking at how St Patrick's Day is commemorated in the UK.
Celebrating St Patrick's Day as a public event fell from favour in England during the Troubles, but Irish community groups began to raise interest in the spectacle once again at the end of the 1990s, when the Northern Irish peace process was under way. Birmingham renewed its St Patrick's Parade in 1996, and Leeds followed in 1999.

Watching the parade in Leeds
'Leeds Going Irish'
The Leeds parade now attracts around 5000 revellers, and kitsch emblems of 'Irishness' such as leprechauns, shamrocks and actual donkeys intermingle with Leeds' civic symbols: the owls on the Civic Hall and the Leeds Rhinos mascot, Ronnie the Rhino.
Cronin and Adair claim that increasingly through the 20th century, St Patrick's parades became more commercial and secular, losing some of their nationalist and religious elements in the process.
Certainly, the emphasis in UK parades today is supposedly on inclusivity; Leeds' parade, 'Leeds Going Irish', sets out to encourage all interested Leodensians to 'go Irish' for the day. Liverpool, with its significant Irish influence, will of course play host to a number of St Patrick's Day related events this weekend.
Speaking to migrants from the 1960s, as part of my research, it seems that the celebrations haven't always been so vibrant. For Irish men working on the sites, St Patrick's was still a working day - but depending on the employer, work may have finished at 1pm, with celebrations following in the pub. These celebrations, then as now, were not restricted to Irish people – when one foreman stopped a colleague from Lincolnshire from leaving work, protesting, 'why are you leaving; you're not Irish!', he replied: 'I am today!'
---