Humanising Historians: Jessica White
Posted on: 10 September 2023 by Jessica White in 2023 posts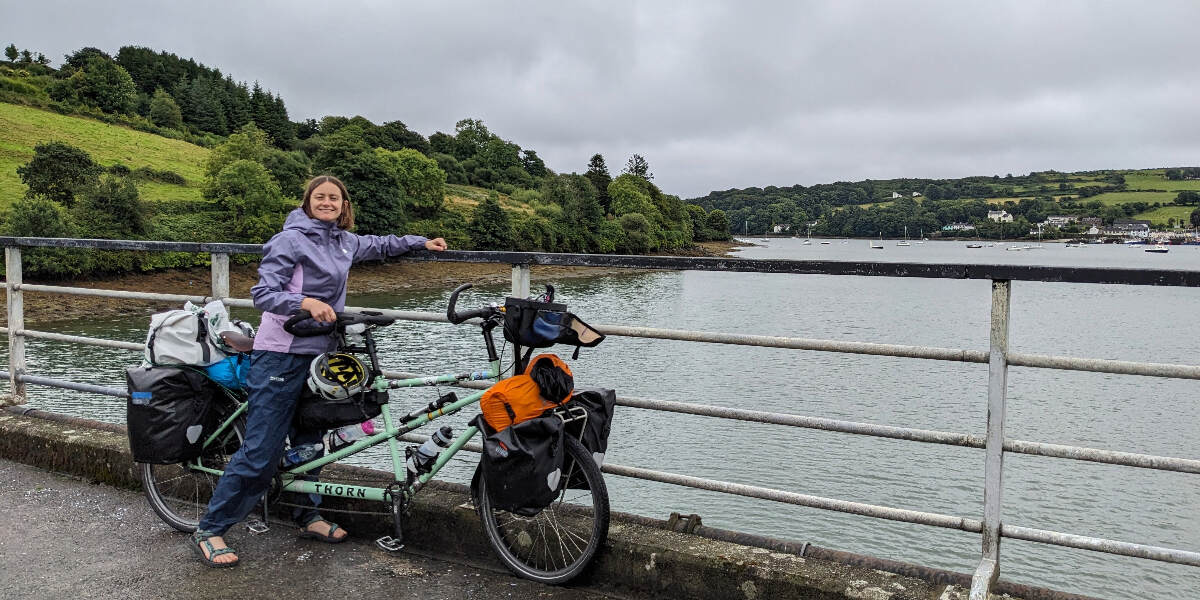 In this month's Humanising Historians blog, Jessica White discusses how her love for History grew, alongside her passions for all things cycling, travelling and which reality TV show she is really enjoying at the moment!
How did you end up in Liverpool?
I grew up in London, but I moved to Manchester five years ago and have stayed there since. I've moved around a little bit. I went to Leeds to do my BA in History and French, where I did my third year in Montpellier in the south of France. I moved back to London when I graduated, where I unsuccessfully tried my hand at creative production (managing projects for advertising products, like posters and catalogues) for two years before doing my MA at UCL. Finally, after another year away from academia, I moved to Manchester to do my PhD. I found that being in the North West allowed me to be a lot closer to nature – something I never had in London – and it was a lot cheaper! While I am unashamedly in love with London - it is my home and the home of millions of others – it will always be there, and I can enjoy it from afar!
Why do you like history?
Funnily enough, I despised school growing up until I got to university, but I always liked history. I grew up going to a lot of museums on the weekends and during the school holidays and I think they were a source of escapism for me. I saw the past as a way for me to immerse myself in an environment that was so far removed from my day-to-day life in my state comprehensive school in north London. I also found history a useful way to understand the present; after doing British history at A-level, I came to understand how parliament works, why Ireland is split, and why people adore the Royal Family. When I got to university, I realised there was a lot more to history than the Russian Revolution or Gladstone and Disraeli. I was overwhelmed by what I could study. I could look at saints in Medieval Europe or the New Woman in Victorian Britain. I became interested in social history and the history of ordinary people. Slowly, I saw history as the extremely politicised subject that it is, rather than a neutral and objective account of the past. After meeting some incredible historians at Leeds and UCL, I found that the history of race and gender in particular tugged at my heart in very personal and political way. From studying history, and the history of history, I now fundamentally believe in the power of the subject to be political, to transform opinions, and in turn transform society.
Who inspires you?
I find a lot of inspiration from people from within and outside of academia, but I tend to be drawn to female figures. The two fields I specialise in – race and gender - owe so much to female scholars outside of history. I draw a lot of my sustenance from scholars like bell hooks and Adrienne Rich. hooks in particular straddles that excellent balance of being intellectually rigorous, while also being so accessible. She works on such a vast array of subjects, and I can apply her writing to both my professional and personal life, from Teaching to Transgress to her Love trilogy. I think she is one of a kind and I have yet to find another scholar whose work stays with me as much as hers does. Other women I admire include the screenwriter Nora Ephron, who wrote When Harry Met Sally (my favourite film) and Sleepless in Seattle, as well as authors like Rita Mae Brown (I love her book Six of One). I feel as though both women, while extremely privileged as white women, had to confront a lot of misogyny, homophobia, and chauvinism in their industries. And yet, both managed to create and produce incredible works of fiction that speak to some of the complexities of modern womanhood.
What are you currently reading and why?
I have always been a voracious reader and I try to exclusively read books unrelated to history outside of my working hours. I also juggle about three books at a time! Unsurprisingly, I tend to be drawn to books by or about women, and generally, I read contemporary fiction. I'm currently reading Seating Arrangements by Maggie Shipstead (and listening to The School for Good Mothers by Jessamine Chan as an audiobook on my commute!), but I recently adored Big Swiss and Trust. Both are completely unrelated but the prose in both was captivating and gripping. I do read a lot of non-fiction as well, often as audiobooks. At the moment, I'm listening to Arguing for a Better World. I like to read (or listen to) books about psychology and the mind, or memoirs about people travelling. My boyfriend and I love bike touring and have cycled to Oslo and around Ireland on our tandem bike, so I loved reading This Road I Ride, about a woman who cycled across the world. I also recently finished The Spanish Steps, lent to me by my colleague Roland Clark, which is a hilarious memoir about a man who does the Camino de Santiago de Compostela with a donkey. I've always wanted to do the Camino, so I'm now determined to do it on my bike one day!
What do you like to do to switch off as a hobby - if you have any?
Anything that gets my blood pumping allows me to switch off. I love running. Although I'm not as fast as I used to be, I love being able to lace up my shoes and go for a plod around Manchester before I start work. I also enjoy cycling (I love riding my pink single-speed bike around Manchester), but I don't dress up in lycra every weekend! For the past two years, I've been getting into bouldering, which I would recommend to anyone and everyone. It's a great way to socialise and get stronger, while at the same time figuring out puzzles.
What kind of TV programmes interest you and why? Any guilty pleasures?
The real way I like to unwind is by putting on any reality TV show centred on people trying to 'find love'. There is something so captivating about the ongoing obsession that humans have with finding 'the one'. I'm mesmerised by the lengths people go to, and the bizarre experiments they take part in, to fall in love (and to get famous). Get me talking about The Ultimatum or Love is Blind, and I probably won't stop. I also tend to watch anything that is part of the zeitgeist, so recently I've enjoyed watching The Bear, Dave, and White Lotus. I also watch a lot of YouTube, usually about people bike-touring. Greg McMahon's ongoing trip from Alaska to Argentina is a must-watch for anyone who dreams of downing tools one day and getting on their bike.
Finally, what about music?
I genuinely have an eclectic taste in music. My favourite genres range from UK 00s indie (I'm listening to a lot of The Cribs at the moment), to garage, to disco. My favourite album of all time is Silent Alarm by Bloc Party, but my favourite songwriter is probably Paul Simon. I'll always lament the day my mum took my older sister see Simon & Garfunkel's last concert in Regents Park c. 2004 and not me, and I love this feature of 'Bleecker Street' in Mad Men Series 4.
---