Books to read for the celebration of LGBTQ+ History Month
Posted on: 8 February 2022 by Vivien Kasa in 2022 posts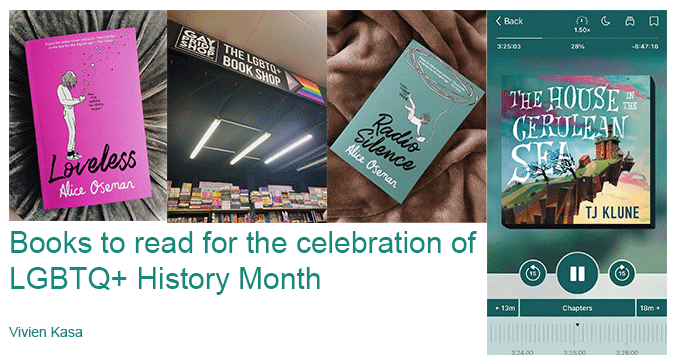 If you are like me and love celebrating LGBTQ+ History Month by reading stories that include queer identities, I have a list of fiction stories to recommend. However, it's important to also read non-fiction and own voices stories and I highly recommend doing that too.
When I think about Queer representation in literature, I always think about Alice Oseman's contemporary Young Adult work, in particular Radio Silence and Loveless. She captures the insecurities, fears, and complex feelings of teenagers in such an authentic and heartfelt way. Once you pick up her books, you can't put them down until you finish them. Radio Silence follows the story of two teenagers, Frances and Aled, and it details their friendship and the passion of stories they share. It engages with themes of identity, diversity, vulnerability, and friendship. Oseman created my all-time favourite fictional character in Radio Silence, Aled, who created this magical podcast that he could escape into. As a reader, it was enjoyable to see Aled's character grow from this shy, introverted person who was hiding his talent of storytelling, to an open, confident, and proud artist who knows his identity. It was the first book that introduced me to the identity of demisexual and I think it's a beautiful read that I highly recommend to everyone!
Loveless follows the story of a young adult, Georgia, who discovers her identity while at university. Following Georgia's journey made me find out about some terms such as aromantic and asexual at the same time she was finding out what those mean. It was fascinating to see how her character finally felt some freedom when she found out who she really is. I love Oseman's emphasise on true love not being limited to only romance, as she portrays friendships as true loves as well.
A book I recently read (listened to) and I absolutely loved was The House in the Cerulean Sea by T. J. Klune. You can access this book as an audiobook through Libby by signing up with your university library card and I highly recommend it! The House in the Cerulean Sea is a magical book that makes you fall in love with the care the characters share with each other. It's about finding an unlikely family in an unexpected place. It follows Linus Baker, a case worker at the Department in Charge of Magical Youth, and his journey of falling deeply in love with this family and finding a place in which he finally belongs. I couldn't stop smiling at all their interactions and escaping into this world for a few hours was one of the best decisions I've made in 2021.
Other recommendations I have for the LGBTQ+ History Month are: The Black Flamingo by Dean Atta (YA poetry, gay representation), Dress Codes for Small Town by Courtney C. Stevens (YA contemporary, queer representation), The Color Purple by Alice Walker (Classic, lesbian representation) and Elatsoe by Darcie Little Badger (YA Fantasy, asexual representation).
For this month I'm going to try to read the following books: Transgender by Susan Stryker (available as an audiobook through Libby), On Earth We're Briefly Gorgeous by Ocean Vuong, and Ace: What Asexuality Reveals About Desire, Society, and the Meaning of Sex by Angela Chan.
Enjoy the reading!
---