Decolonising Bluecoat: A Collaborative Project
Posted on: 16 March 2022 by Michelle Girvan in 2022 posts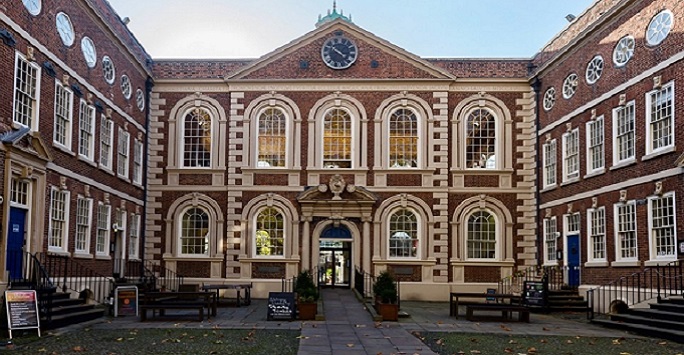 PhD researcher Michelle Girvan tells us about her work with the Bluecoat, Liverpool's oldest inner-city building, to investigate the building's complex connections with global trade, slavery and empire.
---
In 2017, Bluecoat — Liverpool's oldest building in the former UNESCO World Heritage Site — celebrated its tercentenary. Today, the historic site is a space dedicated to the arts; however, Bluecoat was originally built as a charity school for indigent and orphaned children during the eighteenth century, just as Liverpool began its rise to significance as a global port. Subsequently, the Grade I listed building, and its wealth of untapped archival material, offers a rare insight into the city's early urban and commercial expansion, civic-mindedness and humanitarian impulse.
Yet, Bluecoat's 300th anniversary was not only a celebration of the institution's integral role in Liverpool's past and present, it also sparked renewed investigation into the building's complex interconnections with global trade, slavery and empire. A series of dynamic public exhibitions, live performances and art installations began to shed light upon 'echoes of Bluecoat's heritage in the present' (Bluecoat website). More recently, I myself began an AHRC-funded Collaborative Doctoral Award (CDA) PhD with the University of Liverpool and Bluecoat in order to further investigate the building's complex mercantile, philanthropic and colonial legacies.
The CDA encouraged a close partnership with Bluecoat, allowing me to become personally involved in the 'protection and preservation of the building's cultural and historical significance' and the 'presentation and interpretation of the site's historic assets' (Bluecoat Conservation Plan, 2002). These two key objectives were particularly underscored following the Black Lives Matter movement, which reinforced the urgency of institutions like Bluecoat, and researchers, such as myself, to address the colonial legacies and racial inequalities rooted in Britain's architectural, industrial and historical landscape. Together, we began to ask increasingly pertinent and critical questions of Bluecoat's surviving architecture and historical record. One result was a short article that I recently wrote for the Bluecoat website, in which I examine the connections of the school's founder and leading patron — master mariner and merchant Bryan Blundell — to the trans-Atlantic slave trade. Through my analysis of Blundell, I was then able to critically assess the accuracy of Bluecoat's formerly ascribed identity as a monument to charity and piety.
Indeed, my partnership with Bluecoat, the University of Liverpool and the NWCDTP ensures that my recent research findings, alongside my broader PhD thesis, will continue to have a societal, cultural and academic impact. Most significantly, my role as eighteenth-century specialist to Bluecoat's NLHF-supported participation project, Echoes and Origins, and membership of its advisory 'think tank', are underpinning the art centre's assessment of how the building's original purpose and cultural legacy are intimately interwoven with the lives and experiences of people in the city today. A powerful 'Colonial Legacies' exhibition will be launching at Bluecoat on 23 March 2022, which I have had the great privilege of assisting to develop and curate. Supported by my research, this exhibition and a wider programme of events will offer new insights into the former charity school's relationship with maritime trade and commercial wealth, as well as British colonial ambition and oppression.
While there is still much to be achieved, together we are continuing to decolonise and re-contextualise Bluecoat's rich heritage to demonstrate that this much-loved historic site, situated in the heart of Liverpool, embodies a far more complex and multifaceted identity, story of origin and colonial heritage than previously realised.
Michelle Girvan is a PhD student in the Department of History
Discover More
Find out more about the Department of History
---