My scholarship to study Data Science and AI - Kyra Davies
Posted on: 11 January 2021 in Blog posts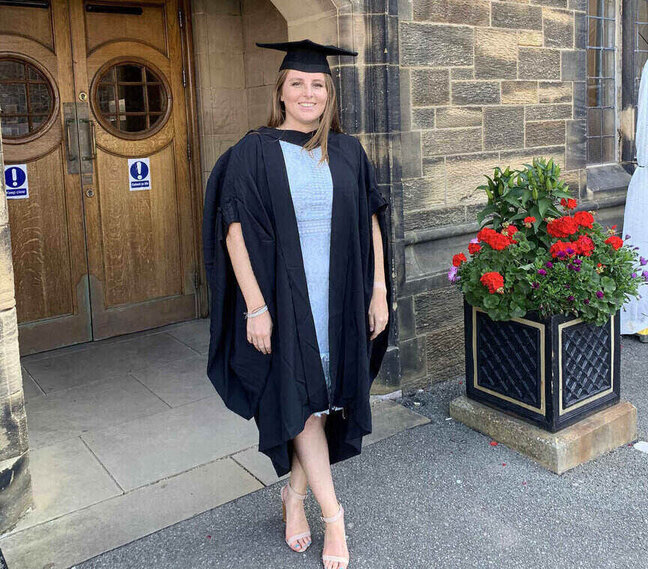 Image of Kyra Davies
The Department of Computer Science has secured funding from the UK Office For Students to offer eight scholarships of £10,000 each to students from under-represented groups studying the Data Science and AI MSc.
We asked one of the students, Kyra Davies, to write about her experience of getting the scholarship and studying this exciting course.
My scholarship to study Data Science and AI
Hi, my name is Kyra and I'm currently studying Data Science and Artificial Intelligence (AI) with a year in Industry. So far, I am thoroughly enjoying the course, especially the programming part.
Coming from a small village in Wales, Computer Science wasn't a subject I came across during my high school years. I can remember taking part in an engineering project, working alongside 7 other students (all male), and the majority of them had taken Computer Science as an A-Level in a college nearby. It was not a subject I was ever aware of but by this point I was already half way through my A-Levels. I found Information technology unchallenging at GCSE level, and since there was no challenge I didn't take it up at A-level.
Fast forward to my final year of my undergraduate degree in Accounting & Finance. I eventually came across Artificial Intelligence and as I had an interest in technology I chose to research a topic for my dissertation combining both my interests, accounting and technology. It was through the research in AI that I realised I would like to work with technology in the future and possibly further my studies within that area. However, another undergrad wasn't financially possible, and I wasn't aware of any AI courses that would take on a non-stem student.
Following my undergraduate degree, I began working at an Accountants' office as a trainee accountant. I enjoyed working with the clients and solving their issues, however, I didn't find the job itself very challenging. Just out of interest I decided to look into technology-based postgraduate courses to see if I would reach entry requirements. I then discovered the University of Liverpool's Data Science & AI course. There were a few courses that were similar to this one in the University of Liverpool, however, whenever I had visited Liverpool I felt at home, so there was no competition. I knew from reading the course's syllabus that I would be challenged, and I would be stepping out of my comfort zone, so in February 2020 I applied without hesitation.
When I got an offer for a place on the course I was surprised since I didn't have any qualifications or experience relating to computer science. I have 2 A-Levels, Mathematics and Physical Education along with a Welsh Baccalaureate qualification. But this is exactly what the course is looking for since it is made for individuals without any experience in Computer Science.
After accepting a place on the course, I received an email regarding the Office for Students Scholarship, as there were 8 scholarships available to students that met the criteria. I met the criteria because I am a female with learning difficulties, and I was lucky enough to be awarded the scholarship. This helped me a great deal, especially being able to study without having to worry about the financial aspects of being a Masters student. The scholarship has enabled me to continue to live and study in Liverpool without having to work during term time, meaning I can spend more time on my studies rather than in a part-time job.
I'm currently 3 months into the course and I would recommend it to anyone who, like me is from a non-stem background and enjoys a challenge. The modules I have taken this semester are programming fundamentals, Mathematics and Statists for AI, Database and Information Systems, and Research Methods. The modules seem to complement each other. This is helpful as there is a lot to learn in a short amount of time. The assignments are not what I'm used to, as there is little written work. however that is not to say that there is less work to be done! A lot of my time is spent writing code, which takes time as a beginner. The assignments are mostly based on coding using Python or using SQL. I've only needed to use Harvard referencing for one assignment this semester which is one of the reasons I love the course. Coming from an accountancy degree, I always thought that assignments meant thousands of words on a certain topic, this is not the case in this course.
I am also in the process of applying for placements, and every other week there are lectures on how to increase your employability skills, and information on how to apply for placements. There are also drop-in sessions where you can receive guidance through your applications.
As I am approaching the beginning of semester two I'm looking forward to more challenges and starting to think about my final project. Hopefully, I will secure a placement in the data science industry and start a career in something I thoroughly enjoy. Which wouldn't have been possible for me without this course at the University of Liverpool.
To find out more about our Data Science and AI MSc visit here.
For more information on our PGT courses visit here.
---