Orthoptics (Pre-registration)
Return to top
Course overview
Enrol on our two-year, accelerated Orthoptics MSc programme to kickstart a rewarding, varied career in what is an interesting and challenging healthcare industry.
Introduction
If you are interested in working in healthcare, have an interest in eyes and vision or simply want a challenging, rewarding and varied career, consider this two year accelerated MSc programme in Orthoptics.
You will undertake seven modules over two years which are broadly categorised into three main themes: 'Orthoptic Clinical Practice and Theory', 'Ophthalmology and Optics' and 'Research Methods in Healthcare Practice'. Clinical education forms a key component of the programme and this will be delivered by giving students the opportunity to learn whilst on clinical placement and also using a high fidelity clinical simulation experience at the University. The programme will ensure that upon graduation you are able to deliver outstanding patient care by using evidence based practice and continue to grow as an Orthoptist.
This course will provide you with an authentic experience integrating academic knowledge and clinical skills. Students will learn via a mix of home online learning, on campus teaching and clinical placement during specifically identified blocks of time for intensive practical clinical training. At the end of the two year programme you will be eligible to register with the Health Care Professions Council and practice under the protected title 'Orthoptist'.
Who is this course for?
This course is for you if you are interested in working in healthcare and have an interest in eyes and vision. You must have a good understanding of the profession and an awareness of the procedures undertaken.
What you'll learn
An appreciation of different healthcare themes
Numeracy skills
Report writing skills
Critical thinking and research skills
The ability to diagnose and manage different eye complaints
Course content
Discover what you'll learn, what you'll study, and how you'll be taught and assessed.
Year one
In year one, you will be introduced to the fundamental professional theory that underpins the industry. You will also develop primary clinical skills that will serve you throughout your academic and professional journey in Orthoptics.
Modules specifically relate to vital general academic skills like research as well as core subject themes including Neuro-orthoptics and Ophthalmology.
Compulsory modules
Orthoptic Clinical Practice and Theory I (ORTH421)

Credits: 45 / Semester: whole session

This module is for graduate level entry, and forms part of the Orthoptics MSc (pre registration). Through a series of lectures, tutorials, clinical skills and clinical placements, this module develops the theory of orthoptic investigation and management to the investigation and management of concomitant and incomitant strabismus. The module delivers the fundamental skills and underpinning theoretical knowledge for orthoptic clinical practice. The assessment of this module will be a combination of practical assessments, a written examination, a clinical placement and a reflective portfolio.
Ophthalmology and Optics I (ORTH420)

Credits: 20 / Semester: semester 2

This module is the first Ophthalmology and Optics module of the Post-Graduate Pre-Registration Masters programme providing students with an introduction to the anatomy and physiology of the eye, head and neck and provides knowledge of common ophthalmic conditions. This module will also equip students with the necessary knowledge related to the use of medicines in ophthalmic practice, prior to learning about the application of medicines under exemptions within the scope of orthoptic practice in ORTH421, Orthoptic clinical practice and theory, which is part of this Masters programme. On successful completion of the programme, graduates will have eligibility to apply for an annotated registration with the regulator (Health and Care Professions Council), enabling their practice to incorporate supply, delivery and administration of selected medicines.

This module introduces students to common ophthalmic conditions and the relevant anatomy and physiology. On successful completion of this module, students will also have developed skills in using the slit lamp biomicroscope. The theoretical content will be delivered via interactive tutorials, which are underpinned by asynchronous learning activities delivered via the University's online learning platform. All teaching is designed to ensure active learning opportunities throughout the module (UoL Hallmarks, Education Strategy Vision for 2026), with application to the clinical care of patients attending the eye clinic.

The module is assessed via a practical examination, which takes place on campus and designed to ensure an authentic assessment related to their clinical practice (UoL Hallmarks, Education Strategy Vision for 2026). It is comprised of a written examination of the content related to ophthalmic conditions and an online written exam on the content related to the use of medicines, all of which must be passed in order for the student to pass the module.
Neurology and Neuro-Orthoptics (ORTH422)

Credits: 10 / Semester: semester 2

The module will provide students with clinically relevant and applicable knowledge of neurological conditions and relevant neuroanatomy and an overview of neuro-ophthalmic diseases. During the module students will gain an in-depth knowledge of neuroanatomy with specific attention paid to structures involved in or related to vision and eye movements and any surrounding structures and their functions. This neuroanatomical knowledge will then be directly related to neurological conditions seen in orthoptic clinical practice and the ophthalmic clinical consequences of neurological disease processes. The module will be delivered through a combination of asynchronous e-lectures and synchronous interactive tutorials and seminars. The module is assessed via a 60-minute written examination where the student will be required to detail a range of neurological and neuro-ophthalmic conditions, related medical investigations and diagnostic signs as well as potential clinical consequences and related neuroanatomy.
Research Methods in Healthcare Practice (HEAL417)

Credits: 15 / Semester: semester 1

This module will enable students to develop a research proposal for either a review of evidence, empirical project, clinical audit or service evaluation that will contribute to the development of evidence-based healthcare practice.

The module is aimed at graduates from a range of different disciplines/subjects who have a range of knowledge and experience of research methods at undergraduate level and are looking to develop their research knowledge and skills further and prepare for a masters level research project in their own area of clinical practice e.g. diagnostic radiography, mental health nursing, occupational therapy or physiotherapy. The likely range of research skills in students from different undergraduate programmes is recognised and this module is designed to raise them all to the appropriate master level in the subject.
At the end of this module, students will be able to understand and appropriately critique the elements of 'the research journey' from conception of research question, through development of a proposal. They will be both consumers and producers of research who will meet the requirements of the standard of proficiency, for each profession, as laid down by the Health and Care Professions Council and the requirements of each professional body for evidence based practice.
The proposal produced in this module will then be undertaken as the students' dissertation in the final year of their pre-registration master programme.

The syllabus for this module is aligned to the Curriculum 2021 Hallmarks and demonstrates active learning and authentic assessment, designed to create students with greater confidence to understand research evidence, contribute to that evidence and be able to develop research in their own area of professional practice.

The module delivery will use a blended approach with face to face and online delivery supported with synchronous and asynchronous lectures, quizzes and profession specific interactive discussion boards and tutorials.

The assessments for this module will be a Research Proposal. The assessments can be tailored to focus on the student's area of interest and area of speciality and will include consideration of the ethical requirements of the selected project.
Programme details and modules listed are illustrative only and subject to change.
Year two
In the second year of your studies, your theoretic understanding of Orthoptics will evolve with the introduction of more sophisticated academic themes and subjects.
You will be given the opportunity to expand your clinical skills into more advanced areas of practice, and will demonstrate your knowledge of the industry through a dissertation module in which will you will be expected to explore a key aspect of your profession in considerable detail.
Compulsory modules
Dissertation: Healthcare Practice (HEAL418)

Credits: 45 / Semester: whole session

This module comprises the dissertation for the preregistration healthcare programmers. It will enable students to undertake a piece of empirical research, a service evaluation/audit or a review of evidence in their chosen field of interest.
Ophthalmology and Optics II (ORTH423)

Credits: 20 / Semester: whole session

This module is the second Ophthalmology and Optics module of the programme.

On successful completion of this module students will have developed the ability to refract patients and perform ophthalmological examinations using the slit lamp biomicrosope. Students will have also developed knowledge of interdisciplinary working and be able to critically evaluate relevant policy in relation to the development and enhancement of orthoptic roles.

The module will be delivered via practical clinical sessions on campus to learn how to refract and undertake ophthalmological examinations relevant to optometric, ophthalmological, and extended or advanced orthoptic roles.

The theoretical content will be delivered via interactive tutorials which are underpinned by asynchronous learning activities delivered via the University's online learning platform.

The module is assessed via a practical examination which takes place on campus and an assignment in the form of a personal development plan. The Assessment Strategy has been guided by the UoL hallmarks and attributes outlined in the Education Strategy Vision for 2026 (C2021).
ORTHOPTIC CLINICAL PRACTICE AND THEORY II (ORTH424)

Credits: 30 / Semester: whole session

This module develops the content delivered in year one relating to the investigation and management of concomitant and incomitant strabismus and amblyopia. On successful completion of the module students will be able to evaluate the investigation and management options for all orthoptic conditions in a clinical setting. The delivery of the module combines e-lectures, seminars, clinical placement and virtual placement resources in order to provide students with the necessary evidence based theoretical knowledge and clinical experience to work as an autonomous practitioner. The assessment strategy reflects both the theoretical and practical content embedded within the module with a written exam, a practical exam and clinical placement assessment being used to assess whether students have met the learning outcomes of the module.
Programme details and modules listed are illustrative only and subject to change.
How you'll learn
Learning and teaching  will be delivered using a hybrid model. Students will have blocks of on campus and online teaching.
The online blocks can range from 1-5 weeks where teaching and learning will be delivered online using asynchronous and synchronous activities. The 'on campus' blocks range from 2-7 weeks where students will engage with face-face teaching to consolidate their online learning and have the opportunity to integrate theory and practice. The simulation weeks will also be delivered on campus.
The learning and teaching strategy aligns with S2026 and meets the Liverpool Curriculum hallmarks and attributes. The students will experience the Liverpool hallmarks: 'Research-connected teaching', 'Active learning' and 'Authentic assessment'.
Through these learning opportunities the students will develop graduate attributes: confidence, digital fluency and global citizenship. Students will be required to interact with a number of digital platforms, for example, the University VLE, Microsoft Teams, recorded clinical skills, innovative Virtual Reality technology, Endnote and formative assessments tools like Kahoot to enhance their digital fluency and active learning.
The programme is culturally rich using inclusive teaching methods, having the opportunity to learn with and from individuals from diverse backgrounds and to interact with groups of people from all backgrounds. These hallmarks will enable students to develop into confident independent orthoptists who are autonomous, self-aware and capable of undertaking evidence based practice.
In year one of the programme, students will have the opportunity to attend a clinical placement site anywhere in the UK for 10 weeks (2x blocks of 4 weeks and 1 block of 2 weeks).
In year two, students will attend clinical placement for 11 weeks (1 block of 3 weeks and 2x blocks of 4 weeks) gaining valuable clinical experience to consolidate their knowledge.
How you're assessed
The assessment strategy for this programme aligns with the 'Authentic assessment' hallmark of the Liverpool Curriculum Framework where students will undertake assessment tasks across the two years that is reflective of the skills and knowledge required to practice as an orthoptist.
These include a range of different assessment methods requiring the student to demonstrate active learning and assesses their ability to demonstrate an integrated application of academic knowledge and practical skills relevant to orthoptics. Assessments include Online quizzes, written and practical examination and portfolios. These are scheduled appropriately throughout the 2-year programme. The research modules involve the student writing a project proposal at the end of year one and a journal article at the end of year two.
Liverpool Hallmarks
We have a distinctive approach to education, the Liverpool Curriculum Framework, which focuses on research-connected teaching, active learning, and authentic assessment to ensure our students graduate as digitally fluent and confident global citizens.
Course options
Studying with us means you can tailor your degree to suit you. Here's what is available on this course.
Your experience
The School of Health Sciences has been at the forefront of healthcare education and training for over 100 years. We place particular emphasis on cross-School education and research activities, and the diversity of disciplines we specialise in has created a stimulating environment which enriches our student's academic experience.
Virtual tour
Supporting your learning
From arrival to alumni, we're with you all the way:
An exciting place to study
Major centre for education and research in health sciences
State-of-the-art facilities
Opportunities for in-depth study and development of advanced clinical skills
Flexible programmes for postgraduate study
Active research environment
Provides specialist training with taught and clinical placement components.
Chat with our students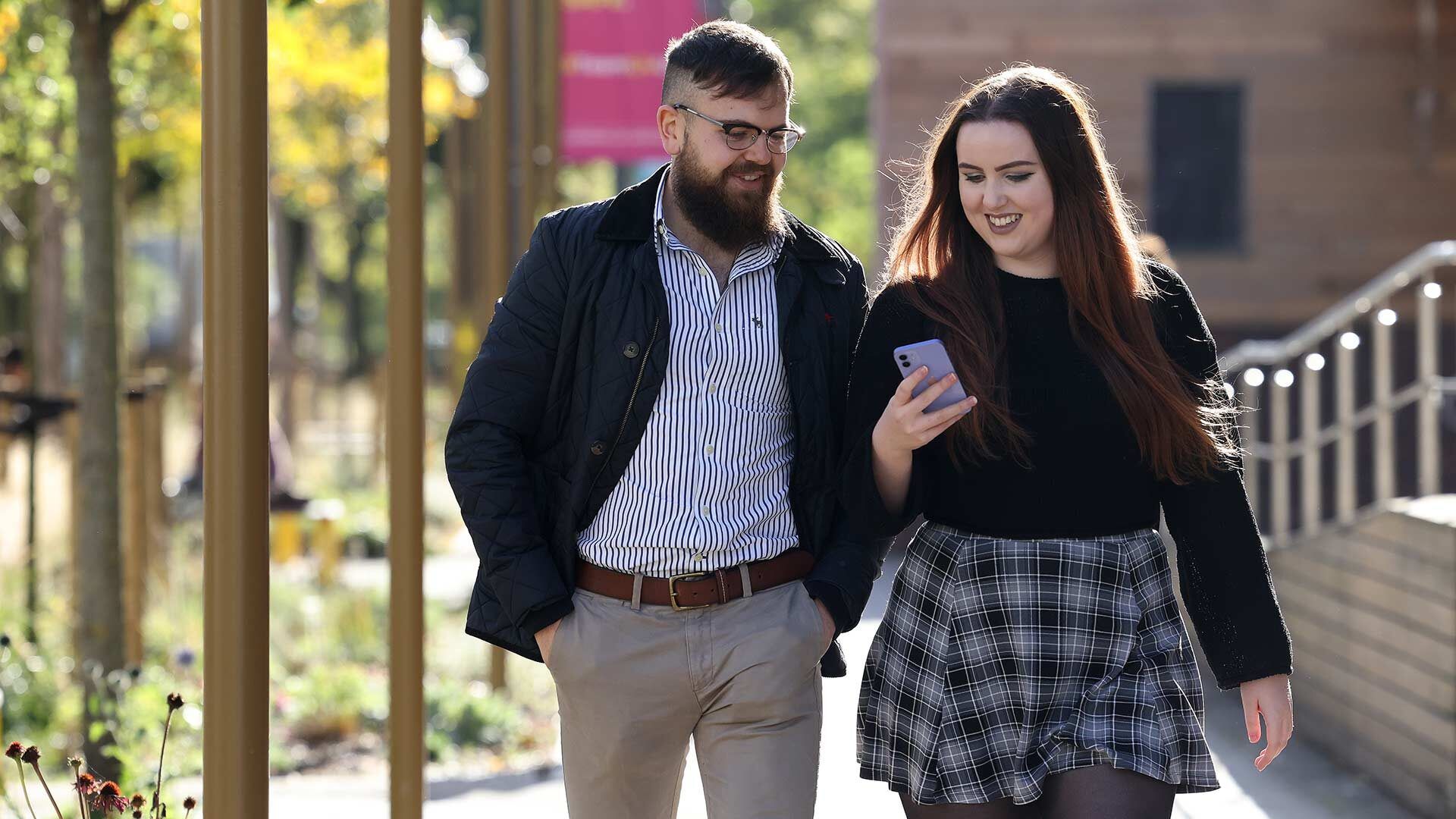 Chat with our students
Want to find out more about student life?
Chat with our student ambassadors and ask any questions you have.
Careers and employability
Graduates in Orthoptics are key to the National Health Service healthcare workforce as this field is a highlighted skill shortage area within the NHS.
Your future
Qualified orthoptists have the opportunity to develop into 'specialist' and 'advanced' professionals who can become consultant orthoptists and team and department managers.
Furthermore, upon graduation, this degree will allow individuals to pursue a range of general graduate and research careers in health sciences or the wider healthcare industry.
Employment opportunities are available nationally and internationally.
Fees and funding
Your tuition fees, funding your studies, and other costs to consider.
Tuition fees
UK fees

(applies to Channel Islands, Isle of Man and Republic of Ireland)

Full-time place, per year
£9,250
International fees
Full-time place, per year
£25,450
Fees stated are for the 2024-25 academic year.
Tuition fees cover the cost of your teaching and assessment, operating facilities such as libraries, IT equipment, and access to academic and personal support.
If you're a UK national, or have settled status in the UK, you may be eligible to apply for a Postgraduate Loan worth up to £12,167 to help with course fees and living costs. Learn more about tuition fees, funding and Postgraduate Loans.
Additional costs
We understand that budgeting for your time at university is important, and we want to make sure you understand any course-related costs that are not covered by your tuition fee. This could include buying a laptop, books, or stationery.
Find out more about the additional study costs that may apply to this course.
Scholarships and bursaries
We offer a range of scholarships and bursaries to help cover tuition fees and help with living expenses while at university.
Entry requirements
The qualifications and exam results you'll need to apply for this course.
Your qualification
Requirements
Postgraduate entry requirements

You will normally need a 2:2 honours degree, or above, or equivalent. While science subjects are preferred, we will consider graduates from a range of disciplines.

Applicants with a non-science degree will be considered with supporting information outlining relevant recent experience or further study. Each application will be assessed on its own merits.

You must demonstrate a good understanding of the orthoptist profession, including an awareness of the procedures undertaken. You are encouraged to arrange a clinical observational visit to an orthoptic department in support of your application.

An interview forms part of the selection process. The interview follows the values-based recruitment (VBR) process and you will be expected to demonstrate the relevance of the NHS' values and pertinent skills required within the orthoptic role.

International qualifications

If you hold a bachelor's degree or equivalent, but don't meet our entry requirements, a Pre-Master's can help you gain a place. This specialist preparation course for postgraduate study is offered on campus at the University of Liverpool International College, in partnership with Kaplan International Pathways. Although there's no direct Pre-Master's route to this MSc, completing a Pre-Master's pathway can guarantee you a place on many other postgraduate courses at The University of Liverpool.
English language requirements
You'll need to demonstrate competence in the use of English language. International applicants who do not meet the minimum required standard of English language can complete one of our Pre-Sessional English courses to achieve the required level.
| English language qualification | Requirements |
| --- | --- |
More about life in Liverpool
Discover more about the city and University.
Why study at Liverpool?
Liverpool bursts with diversity and creativity which makes it ideal for you to undertake your postgraduate studies and access various opportunities for you and your family.
Accommodation
To fully immerse yourself in the university experience living in halls will keep you close to campus where you can always meet new people. Find your home away from home.
Fees and Finance
Discover what expenses are covered by the cost of your tuition fees and other finance-related information you may need regarding your studies at Liverpool.
Contact us
Have a question about this course or studying with us? Our dedicated enquiries team can help.