My First Paper - Shwan Ahmed
Posted on: 26 October 2022 by Shwan Ahmed in October 2022 Posts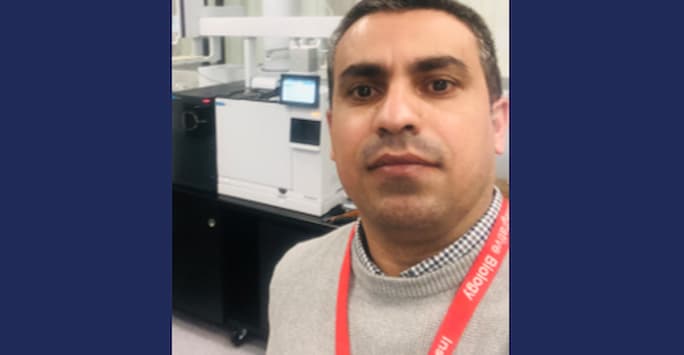 This week we continue our 'My First Paper' Campaign, showcasing researchers and their research - with Shwan Ahmed a second year PhD student at the Centre of Metabolomics Research (CMR).
Your name and your area of research.
My name is Shwan Ahmed and use metabolomics to study infectious diseases as a second-year PhD student in Roy Goodacre's group at the Centre for Metabolomics Research (CMR).
What was the title of your first paper and who was it submitted to?
The title is 'Simultaneous Raman and Infrared spectroscopy: a novel combination for studying bacterial infections at the single cell level' and was submitted to Chemical Science, published by the Royal Society of Chemistry. You can find the paper here.
How would you explain what this paper was about to your grandparents?
Sepsis is a life-threatening medical emergency that refers to the host's reaction (the body's systemic immunological) to an infectious process that can result in organ failure and death. Rapid and accurate identification of bacteria causing the infection, as well as knowledge of the pathogen's antibiotic susceptibility, play a critical role in reducing the morbidity and mortality rates related to sepsis as well as preventing the emergence of resistant strains during treatment.
We report for the first time the use of an emerging technology that provides infrared signatures via optical photothermal infrared spectroscopy (O-PTIR) and Raman signal simultaneously from 12 bacterial strains isolated from humans in order to demonstrate the advantages of combining both methods in one single technology to study pathogenic bacteria commonly associated with bloodstream infections.
What was the most significant thing for you about that paper?
Our findings showed significant similarity and high reproducibility in the infrared signatures obtained by all three approaches including similar discrimination patterns when subjected to clustering algorithms.
What advice would you give to others about submitting their first paper?
You have gone through your list of journals, investigated all of your criteria, and identified the journal that is the best fit for your paper and its objectives. It is now your turn to submit. Stay positive and don't let negative feedback or rejections discourage you.