Spotlight: Dr Sarah Barnett – Mesothelioma research at the Egg Facility
Posted on: 10 July 2023 by Nicola Frost in July 2023 posts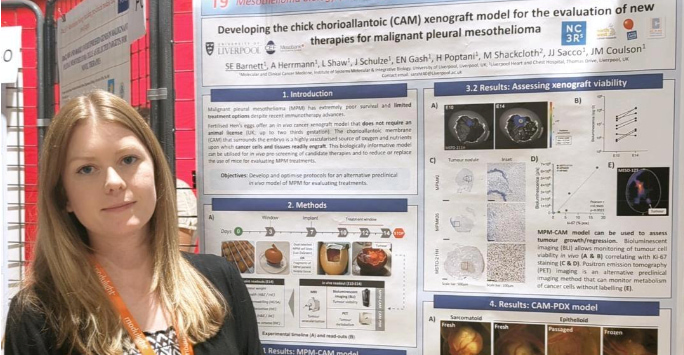 This edition of Spotlight focuses on Dr Sarah Barnett, Facility Manager of the University's innovative Egg Facility (CEF), who is helping to spearhead advancements in mesothelioma research.
Background
Mesothelioma, a devastating form of cancer linked to asbestos exposure, continues to pose a significant threat to workers even decades after the material was abolished.
Heavy exposure to asbestos fibres during manufacturing, demolition, and renovation projects is the leading cause of mesothelioma among those who worked in construction, ship building, motor, railroad, and many other industries.
Despite strict regulations surrounding asbestos removal, the incidence of mesothelioma is still high as the disease typically takes 20 to 60 years to develop after exposure.
Chemotherapy and immunotherapeutic drugs show limited benefit in many patients because mesothelioma may result from several different genetic mutations. Therefore, it is crucial to understand its mechanisms and find new effective treatments.
Developing new treatments
Dr Sarah Barnett graduated with a first-class degree in Biochemistry from the University of Liverpool in 2011 and went on to complete a PhD at Liverpool in the field of cell signalling and cell imaging in 2015.
The major focus of her recent postdoctoral research has been on BAP1, a tumour suppressor protein which is inactivated in half of all mesotheliomas and is thought to account for poor patient response to currently available cancer therapies.
Supported by funding from NC3Rs, Sarah and Professor Judy Coulson developed protocols for a novel model of mesothelioma using fertilised Hen's eggs to test promising new treatments. Cell lines or tiny samples of donated mesothelioma tissue can be grown in this model, supported by a blood supply from the egg. New and existing drug combinations can then be screened to help identify the best treatments for each individual patient.
Fertilised hens' eggs are a rapid and cost-effective in vivo model that could reduce or replace the use of mice in many areas of scientific research, ranging from angiogenesis to drug toxicity. Together Sarah and Prof Coulson run the Egg Facility (CEF), part of Liverpool Shared Research Facilities, which provides expertise, training and access to equipment for such experiments.
Patient involvement and public engagement
Patient involvement and public engagement plays a vital role in the mesothelioma research being carried out at the facility. Sarah and Judy recently hosted a visit by John Flanagan, support officer, and members of the Merseyside Asbestos Victim Support Group (MAVSG), a voluntary organisation and registered charity set up to change and improve access to information, treatment and financial support to asbestos victims and their families.
The visitors were introduced to the team and shown the laboratories. They had the opportunity to discuss the research and were shown how the use of the pre-clinical models can speed up the testing of individualised drug combinations and predict patient response.