A Sustainable Liverpool Welcome
Posted on: 6 September 2023 in Issue 6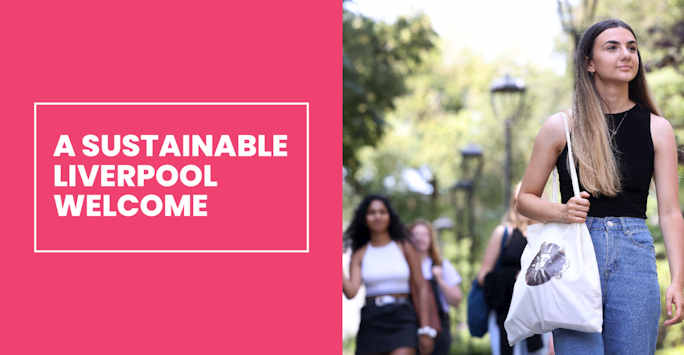 At the University of Liverpool, we are building sustainability into everything we do, but we believe that creating a community of sustainability advocates is undoubtedly our biggest opportunity to make a difference.
If you're starting with us this semester, welcome to #TeamLivUni! We want sustainability to be a fundamental part of your student experience so we have developed a range of opportunities to encourage you to be proactive in helping us achieve our sustainability goals.
Our sustainable campus
The University is actively taking steps to look at its impact on climate change and wider sustainable development. As a signatory of the SDG Accord, we have pledged to put the UN Sustainable Development Goals (SDGs) at the heart of all of our activities across research, teaching and campus operations. We have developed an ambitious Sustainability Strategy and new Climate plan, setting out our ambitions, principles, and commitments in relation to addressing the climate crisis and outlining how we are going to move forward in developing our pathway to achieving net zero by 2035.
Get involved
We will only achieve our sustainability aspirations through collaboration and innovation, and we have a wide range of opportunities for you to get involved in, such as volunteering, development opportunities, events, campaigns, and initiatives. Here are our top 10 ways in which you can get involved in sustainability during your time at the University.
1. Welcome Week Fair
A great place to start is to come and meet the sustainability team in person at the Liverpool Welcome on Tuesday 19th September 2023, 10am – 4pm on University Square. We will be welcoming you to the University and celebrating Global Goals Week, and will be on hand to answer any questions you may have. There may even be some freebies available in return for your sustainability pledges!
2. Visit the Sustainability Student Hub
The Sustainability Student Hub is a central point of reference, to find resources on sustainability related societies, volunteering, career development opportunities, COP28 activities, lifestyle choices, and social networks. The Hub is home to the award winning Sustainability in Action module, created by students for students. The online course introduces you to the United Nations Sustainable Development Goals (UN SDGS), and upon successful completion of a series of short assessments, you will receive HEAR accreditation; something valued by employers and will appear on your final degree certificate! Participate in the module and learn how to be more sustainable through fun activities and engaging content. You can find this module through your Canvas courses tab or on your Canvas dashboard. If you are interested in becoming a Volunteer Network Leader, register your interest via the form on the Student Sustainability Hub on Canvas. Click through to the 'About the Student Sustainability Network' section. Follow @studentsustainabilitylivuni on Instagram for updates, including details of Welcome Week activities such as a walking tour scavenger hunt and Blue Planet marathon!
View this post on Instagram
3. Sustainability Week
The University and Guild of Students host regular sustainability events throughout the year, with upcoming activities planned for COP28 in December 2023 and Earth Day in April 2024, and each year we host our annual Sustainability Week, a week of free events and activities for students and staff. These include recycling workshops, zero waste food making, swap shops, film screenings, cycle maintenance, falconry displays and guided tours of the Energy Centre, sustainable labs, the MIF and the Spine Building. See what we got up to during Sustainability Week 2023 and look out for updates on the next Sustainability Week due to take place in Spring 2024.
4. Weekly gardening sessions
Get to know our on campus green spaces with the Guild of Students on Wednesday 27 September 2023, 2pm - 4pm. Join the Guild's Sustainability Team for an introduction and tour of the green spaces across campus such as our vegetable garden and Guild wall planters. After the tour we'll head to the Oliver Lodge garden where we will be building a bug hotel to provide a safe habitat for insects over the winter. Gardening gloves will be provided! Sowing the Seeds of Sustainability is primarily based around initiatives to grow food at the University. Around campus you may have seen some of their biodiversity planters. These 'Bioscope NatureArks' and wild pod planters, containing wet and dry habitats provide support for wildlife including bees and hedgehogs. You can become a volunteer at the weekly gardening sessions every Wednesday at the brand-new food growing space next to the Oliver Lodge Building. It is a great opportunity to experience planting, harvesting and general maintenance of the campus gardens and reduce the University's carbon footprint. Follow @sowingtheseedslivuni on Instagram for updates on food growing and other nature-based activities.
View this post on Instagram
5. 2030 SDGs Game Workshop
Join the fun, interactive thought-provoking multi-player facilitated SDG card game, which simulates what the world could look like in 2030. The 2030 SDGs Game highlights the importance of balancing the three pillars of People, Planet and Prosperity and brings sustainability to life. Come and participate in the 2030 SDGs Game workshop in Welcome Week in order to understand relevance of the SDGs, explore the power of your actions and how you can contribute to a more balanced world, find out about the university's 'Student Sustainability Network', and meet other students interested in sustainability. Whether you have no prior knowledge of the Sustainable Development Goals or you are an SDG expert, anyone can play this game. Friday 22st September 1pm - 3pm in the Careers & Employability seminar room – basement of the Alsop Building.
6. On your bike
Sustainable travel methods can help you save money, they are also key to reaching our net-zero target. You can hire a bike from the Guild for a full academic year for just £60 or one semester for £40. Bikes can be securely stored in the free cycle pods across campus. The University and the Guild work closely with Peloton, a local bike co-op to offer bike maintenance sessions, beginners' bike events, city bike tours and Joy Ride bike events. Get into sustainable travel habits and join the Welcome Week cycle events throughout the week and get some much-needed fresh air and discover the best cycle routes. With bikes provided, there's really no excuse not to explore Liverpool at its finest. Download the MyLiverpool app or visit the Welcome 2023 webpages for ride schedule.
7. Hedgehog friendly campus scheme
The Hedgehog friendly campus scheme is a national initiative across several universities to raise awareness for the plight of hedgehogs and formulate practical steps to improve their habitats across a variety of campuses. Visit the webpages for tips on how you can get involved with the work taking place on campus and check out the collection of great activities.
8. Sign up as a Guild Schools Volunteer
Guild Schools allows you to deliver workshops to Primary and Secondary school pupils, through Science in Schools, Sustainability in Schools & Societies in Schools. Running across Merseyside throughout the academic year, Guild Schools is an excellent opportunity for both students and pupils to develop skills, share knowledge, and experience something new. What's more, it's completely free for both the student volunteers and the schools to take part in Guild Schools sessions themselves. Sign up as a Guild Schools Volunteer here.
9. Contribute to our blog
Sustainable Liverpool is the University's sustainability blog; highlighting how we are working to make the University more sustainable. We bring you the latest news and celebrate the ingenuity of staff, students, and partners, so if you would like to contribute to the newsletter by sharing your sustainability related events, projects, or activities, we would love to hear from you. Please complete this online form or email sustainability@liverpool.ac.uk.
10. Sustainability Toolkit
We have developed a bespoke Sustainability Toolkit with top tips on the simple ways you can reduce your own carbon footprint and things you can do to lead a more sustainable lifestyle. You could use it alongside the Sustainability in Action module and volunteering opportunities to become a sustainability expert in no time!
Find out more
For a full list of activities to get involved in during your time at Liverpool, such as Leave Liverpool Tidy, swap shops, student switch off, internships, student societies, student campaigns and much more, visit our get involved pages.
For more information about our commitments and activities visit Sustainability or follow us on Instagram, Twitter, Facebook and LinkedIn to keep up to date with the latest news. If you want to know more about our work, please email sustainability@liverpool.ac.uk