How the University is working towards the UN Sustainable Development Goals (UN SDGs)
Posted on: 29 April 2022 in Issue 1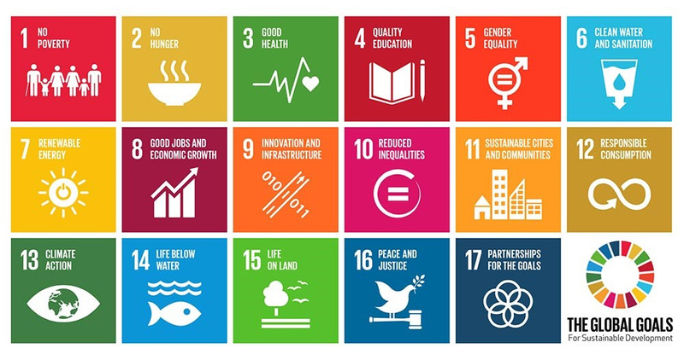 The University of Liverpool is ranked first place in the world for #SDG17: Partnerships in the 2022 THE Impact Rankings, but what are the SDGs and why are they important?
The United Nations Sustainable Development Goals or SDGs are a global framework designed to help guide governments, businesses, and society to work together to build a better, sustainable future for all. There are 17 interconnected goals, each addressing global challenges such as poverty, climate change, peace and justice.
The SDGs were established by world leaders in 2015 as part of the 2030 Agenda for Sustainable Development to end poverty, fight inequality and act against climate change. In 2020, the University of Liverpool - and the Liverpool Guild of Students - signed the SDG Accord, signalling our commitment to putting the Goals at the heart of all the University's activities.
The University has embedded the SDGs as a unifying framework across the institution and we are continuing to align research, education, civic engagement and professional services activities.
Our commitment in action
Here are some examples of how the University is engaging with the UN SDGs. Click on any of the 17 goals to discover more on how our research, teaching and campus operations support these goals.
Goal 1: No poverty: End poverty in all its forms everywhere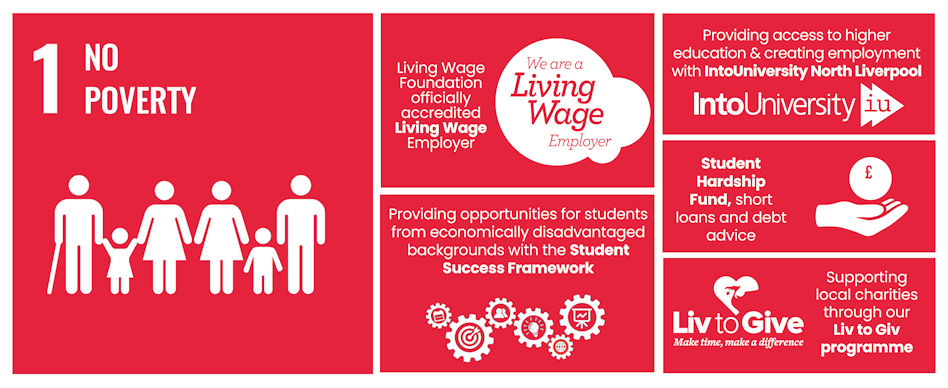 By studying modules such as 'Living with environmental change' and 'Understanding social exclusion', students are able to explore the causes and potential solutions of poverty. In terms of research, we are examining the root causes of poverty and potential solutions through projects such as Liverpool Beyond the Brink - The Re-Making of a Post-Imperial City and N8 Agrifood funded pump priming projects. As an accredited Living Wage Employer, the University is one of almost 10,000 UK businesses who believe their staff deserve a wage which meets every day needs. Staff volunteering and our Liv to Giv programme provides vital support for local charities. Students are supported too through bursaries, hardship funds, and financialadvice [link], while widening participation initiatives encourage more young people to access higher education. As a key anchor institution, we are also helping create local jobs and employment, for example via IntoUniversity North Liverpool.
Goal 12: Responsible consumption and production: Ensure sustainable consumption and production patterns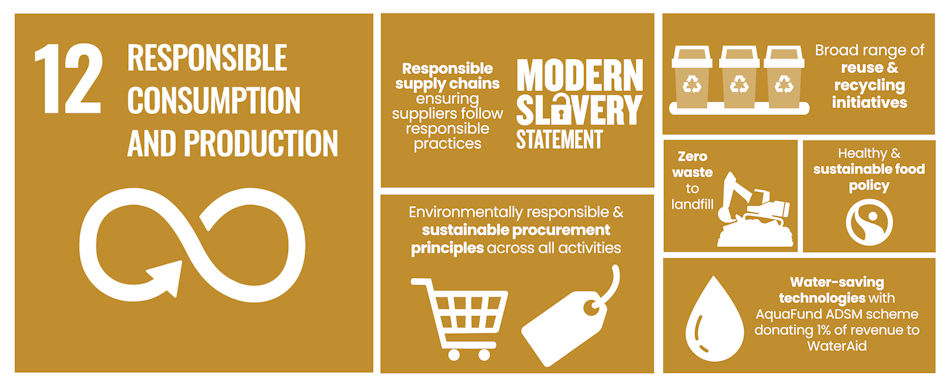 Innovative modules have been developed to enable students to explore this topic in more detail, examining themes such as consumer behaviour, and environmental sustainability. Our research is helping identify novel solutions, to responsible production such as how the Liverpool City Region can support regeneration without negatively impacting on the natural world, and how we can boost food security and increase resilience, to reduce inequality. The University is striving to transform our own operations through adopting more sustainable procurement practices, an ethical investment policy, encouraging reuse and recycling initiatives across the University, all of which contribute to a circular economy.
Goal 15: Life on land: Sustainably manage forests, combat desertification, halt and reverse land degradation, halt biodiversity loss
Alongside teaching modules designed to inspire students, the University is working to manage and enhance the diverse range of habitats found on campus. We have already adopted a relaxed mowing schedule to support wildflower and pollinators, and we are a gold accredited member of the Hedgehog friendly campus scheme. The University has also pledged to plant 1,000 trees on campus, while Ness Botanic Gardens, is host to a wide variety of amphibians, birds, insects, mammals and reptiles, producing a diverse system of ecological niches.
Tracking our performance
The Times Higher Education Impact Rankings are the only global performance tables that assess universities against the UN SDGs. The University made its first submission to in 2021, being ranked 72nd out of 1,115 institutions.
The 2022 THE Impact Rankings were published at the end of April and the University has increased its score by 1.3% giving us an overall score of 89.1/100. This places us 88th out of 1,406 universities, which means our overall ranking has dropped slightly from 72nd however this is due to a far greater number of institutions participating in the rankings this year rather than an absolute drop in performance. We are now in the top 6.3% of universities in the world, 8th in the Russell Group and 19th in the UK.
In specific measures assessing work towards the UN SDGs, the University was ranked first out of 1,438 institutions for the Partnership for the Goals SDG, scoring 100%. The University also scored 90.2% for the Peace, Justice and Strong Institutions SDG and was ranked fifth in the world for this measure.
We want to know how your team or department is striving to be more sustainable and embody the aims of the UN SDGs. Share your examples.