Kitty's Launderette
Posted on: 12 April 2022 by Kerrie McGiveron in 2022 posts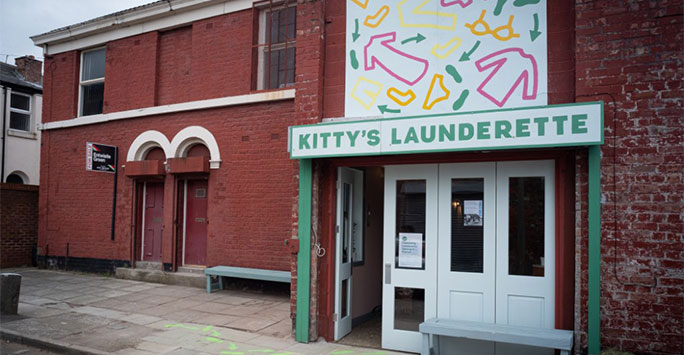 We're all trying to live a bit more sustainably. We're conscious of being frugal, aware of being green and understand the pitfalls of mass consumerism and the damage it can cause to the environment.
The past couple of years have also ironically helped us to understand the importance of being social and connecting with other people, beating isolation, thinking about mental health as well as physical health and staying positive. I am always on the look-out for local businesses who align with my day-to-day 'codes' – I care about the environment and I care about people, and I think that it is important that the businesses and services I use to also reflect some of these values. One of these businesses is Kitty's Launderette, a business and worker community co-operative situated on a cosy corner of Everton, Liverpool.
The launderette, named after Liverpool legend Kitty Wilkinson, opened its doors to the community in May 2019. Funded by community donors and community business Power to Change Big Lottery funding, the launderette promised 'affordable washing and drying facilities to residents, while also re-imagining the warm, underused space of the launderette'. These two key aims are reflected in the functionality of the building, the people involved in running it, and the launderette itself. First of all, the launderette provides an eco- friendly washing, drying and ironing service. It is affordable and works much-like an old school wash house, with people helping people in the space. As well as this, the launderette uses modern environmentally friendly washing machines, as well as detergents which are better for the environment. In recent times during isolation and covid, the launderette offered a free washing service for key workers during the height of the pandemic.
The second way that the launderette is important for the community is its social impact. As well as being a fully functioning and modern launderette, it is also a social space, bringing together the community and providing a hub for social interaction. Offering tea and coffee, as well as free Wifi, the space is cosy, warm and welcoming. If you pay a visit to the launderette, you will often find local residents having a chat over drinks as their washing spins in the machine. Kitty's Launderette also holds regular socials and events in the space, which are welcoming and open to all. Recent events held at the launderette include story-telling sessions for children, a quiz night, a film night and live music by local artists. Furthermore, Kitty's are also open to suggestions for other activities and events which could be held in the space.
Overall Kitty's Launderette is an example of a forward-thinking, eco-friendly and socially productive business, providing a valuable and essential service as well as being the heart of a community.
Kitty's Launderette is at 77 Grasmere St, Liverpool L5 6RH. You can access their website, follow them on Facebook, Twitter and Instagram.
---