Explore the history of urban dog mess at the Plop Up Dog Poo Family Fun Day
Posted on: 14 September 2018 by Chris Pearson in 2018 posts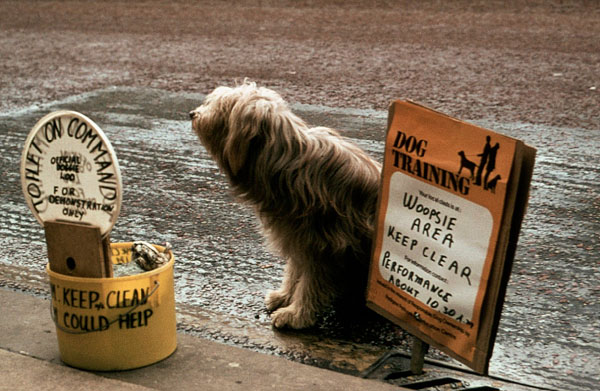 Dog mess is a messy and infuriating presence on our streets. Awareness raising campaigns and fining and have made some progress in encouraging dog owners to do the responsible thing and scoop the poop. But dog mess continues to pose difficult management issues for councils who receive thousands of complaints each year about the 3,000 tons that hit British streets daily.
At the same time, it poses a public health risk for communities, especially through the spread of Toxocariasis, and particularly threatens the health of children by inhibiting their access to parks and play areas. More symbolically it acts as stinking evidence of incivility and irresponsibility. But the history behind the dog mess on our pavements allows us to think about humans' changing relationships with dogs in the modern city, as well as the histories of public sanitation and health. Tackling the problem also lets us consider ways of creating happier and healthier communities.
As an historian of urban dogs, including the mess they leave behind, I've teamed up with the National Poo Museum to host a free Plop Up Dog Poo Family Fun Day at Lark Lane Community Centre, Liverpool, from 11am to 4pm on Saturday 27 October 2018. Through fun and interactive games, pooetry readings, a dog poo poster competition, and exhibits, this free event will get you thinking about the messy world of dog poo and how we can make Liverpool's streets cleaner.
Aimed at both adults and children, it will feature a short exhibition on the history of dog mess, a display of the National Poo Museum's poo spheres, and a range of interactive activities for children, including a dog poo-themed snakes and ladders game, dog poo craft and a poster-drawing competition. You will also get a chance to suggest ways of tackling dog mess on our dog mess tree, take part in a pooetry workshop with Matt Black and share the quirks of your pooch with our 'photo booth of secrets'.
For an unusual and fun half-term Saturday, please plop along and see us.
Discover more
---