An experience to remember - PhD research at University of Georgia
Posted on: 8 December 2017 by Richard Smith in 2017 posts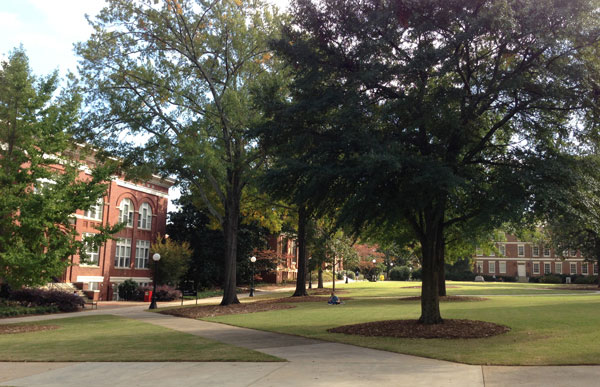 Early in 2017, I was awarded a University of Georgia (UGA) Franklin College – University of Liverpool Short-Term International Research Fellowship. So a few months later, I found myself in Athens, Georgia, enjoying a week of beautiful fall weather and the generous hospitality of the southern United States.


---
After a 90 minute drive through rolling wooded hills, the airport taxi dropped me off on UGA's Health Sciences Campus. Until 2010, this was the home of the US Navy Supply Corps School, and postgraduates are lodged in houses on the former military base. Although regular free shuttles connect with the main campus, it's only a pleasant half hour stroll away.
The first time I went to the main campus, with its red brick buildings adorned with classical columns surrounded by lawns and autumnal trees, so redolent of traditional US universities, it was oddly deserted. I later discovered this was due to the 'World's Largest Outdoor Cocktail Party,' which is how they refer to the annual college (American) football game between the University of Florida Gators and the University of Georgia Bulldogs.
It's always played in Florida, and the university's Fall Break is just before the game, recognising the reality that no one would be at university anyway. The Bulldogs' stadium is at the heart of the campus, and sells out its over 90,000 seats every game: the Dawgs are big in Athens GA.
I spent my week talking to staff and students in the Department of History and LACSII, the Latin American and Caribbean Studies Institute, a cross-faculty body with 150 affiliated academics that promotes research, education and outreach relevant to Latin America, the Caribbean and Latinos within the USA.
As well as discussing research relevant to my studies, I was interested to learn about PORTAL, which works to improve access to basic services like healthcare, education, public transportation, language services and legal aid for the Latino community. As far as my research is concerned – I work on twentieth century Chilean history, politics and religion - I had very interesting conversations with academics working on Argentina, Mexico and Brazil, which provided me with excellent comparative cases.

My welcoming host, Prof Oscar Chamosa

I also spent a useful day in the impressive and imposing Richard B. Russell Library for Political Research and Studies (as it was Halloween, the librarian was dressed as a shark), gave and attended undergraduate classes and delivered a lecture to the staff and students of the department.
The good people of UGA, and especially my host Professor Oscar Chamosa and Laurie Kane of History and Derek Bentley and Bryan Pitts of LACSII, could not have been more friendly and welcoming. They were both generous with their time, introducing me to good Georgia cooking and insisting that I sample some of the many, fantastic, and often quite strong, craft beers!
Find out more
---