'Asylum Squad' - exploring religion and mental illness
Posted on: 15 November 2016 by Lisa in 2016 posts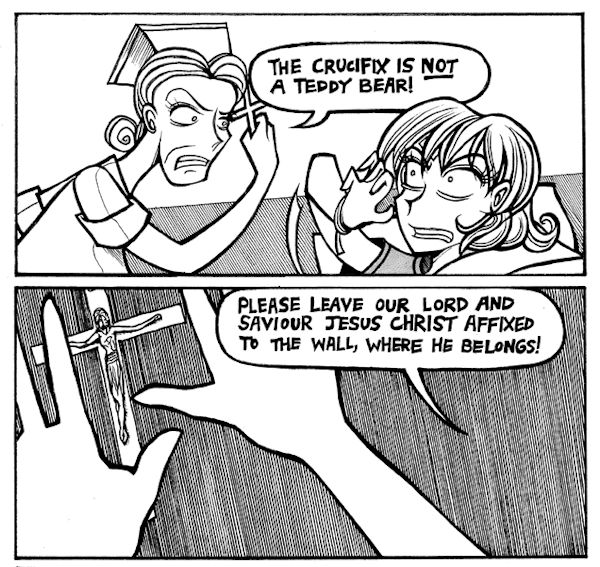 The Victoria Gallery and Museum's 'Phantom Limb' exhibition focuses on medicine, memory and the treatment process. It features around 20 works by nine artists, most of whom work from their own personal experiences of operations and illnesses.

Historian, Dr Roland Clark, has been working with theologian Simon Podmore, looking at how religion and the medical world fit together. Roland tells us more about this complex subject, which they will be exploring in their workshop on Wednesday 16 November:
"In Sarfin's popular webcomic, 'Asylum Squad', the heroine Liz Madder goes to sleep clutching a crucifix that she found on the wall in her room at St Dymphna's Psychiatric hospital. Liz is convinced that she is possessed, but her psychiatrist says she has schizophrenia. As Sarfin explains, having a 'spiritual crisis' might involve similar symptoms to schizophrenia but it is not the same thing.
In Sarfin's comic, which is on display at the Victoria Gallery as part of the 'Phantom Limb' exhibition, the nurses are not interested in listening to Liz's interpretations of her problem. They prefer to pump drugs into her, limit her access to the outside world, and restrict her access to alcohol and cigarettes. When the nurse finds Liz sleeping with the crucifix, she snatches it from her with the words, 'Please leave our Lord and Saviour Jesus Christ affixed to the wall, where He belongs!'
Simon Podmore and I became interested in the relationship between mental illness and religion for very different reasons. Working as a theologian, Simon writes about spiritual trials and the dark night of the soul, whereas my work as a historian has me researching visionaries and mystics in the 1930s. Despite being separated dramatically by time and space, psychiatrists have wondered about the mental health of the sorts of people we write about.
During our workshop, which will be held in the exhibition space this Wednesday, we will speak from personal experience and based on our own research. We will explore the tendency of medical professionals to leave God 'on the wall' and to marginalize spiritual issues when treating mental illness. This is an interactive workshop, and we hope that audience members will be able to contribute their own perspectives on how religion and the medical profession fit together and on where God's place should be in diagnosing, treating, and healing the 'sick'."
---