Researching the slave trade in Liverpool
Posted on: 21 October 2016 by Lisa in 2016 posts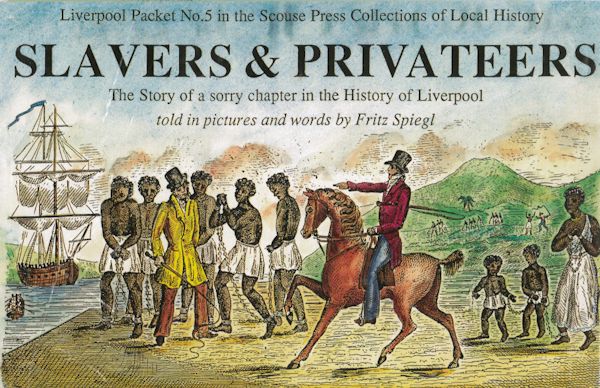 For Black History Month, we take a look at some of the stories behind the slave trade in Liverpool with PhD student Nicholas Fuqua:
"Liverpool is a fascinating place to study the relationship between slavery and the built environment, having both a wealth of resources, such as the Liverpool Record Office, the Merseyside Maritime Archives and Library and the International Slavery Museum, and the expertise of the Centre for the Study of International Slavery and the Urban and Architectural History Group.
When I first came to Liverpool to begin my History PhD and told locals what I was studying: the city's involvement in the transatlantic slave trade and the related built environment, there was usually one of two responses. One was that slaves were never brought back here and the other was that slaves were indeed brought back but were chained up near the docks on the "slave rings". After I began researching the slave trade, I came to the conclusion that both of these statements were problematic.
Enslaved Africans were indeed brought back to the city, and I found no evidence that enslaved people were ever chained up at the waterfront; the "rings" of this urban legend were installed after the end of the transatlantic slave trade and used for other purposes. I realized that preconceptions about the enslaved black presence in Liverpool might be a block to understanding the full picture of Liverpool's involvement in the slave trade.
So what was the reality of the Black presence in Liverpool during the 18th century?
Location of the Merchant's Coffee House at the churchyard of St. Nicholas Church near George's Dock, Liverpool.
My research took me to the Liverpool Record Office, which has a very valuable series of eighteenth-century Liverpool newspapers on microfilm. Advertisements on their pages indicate that slaves were indeed brought back and sold in Liverpool during the 18th century. These advertisements for slave sales peaked during the 1750s and 60s, at the same time that enslaved black servants began appearing in portraits and paintings of the elite. Black servants, mostly young men, were considered popular "accessories" for wealthy families. Advertisements listed skills such as waiting at table, horse grooming and even hair dressing. Locations for their sale included the Merchant's Coffee House, which once stood near George's Dock(now the site of the Three Graces), offices at or near the Exchange (now the Town Hall), and various warehouses throughout the city.
My investigation into the presence of black people in Liverpool through contemporary newspapers revealed the spaces and places in which they were sold. This enables us to gain a clearer understanding of their presence in the historic landscape of the city and provides factual evidence in place of urban legends. It also shows that Liverpool has had a significant Black presence for longer than previously recognised, revealing the historical diversity of this major port city."
---