Return to top
Course overview
This programme is subject to University approval and due for launch in September 2023.
The MA English Language offers you the opportunity to study in depth the range of topics, themes and frameworks that underpin the contemporary discipline of English Language. In addition to coverage through taught modules of the broader field, you will undertake your own research project, within your chosen specialist topic, through the Dissertation component.
Introduction
The programme offers a distinctive set of modules in English Language, all of which have a strongly 'applied' dimension in that they focus on how language is used in a range of real contexts of use. It develops methods and techniques for undertaking research into English language and students can apply these skills to investigate subjects and topics of their choice. The programme includes modules which develop specific skills in language analysis, such as functional linguistics and corpus linguistics. By contrast, other modules focus on major themes in English language study, including the history and development of linguistics as a discipline. The programme also includes a module which examines the relationship between language and identity and which investigates the representation of different voices and experiences through language. It is hoped that some students will consider progression from this new Masters course into PhD level work.
A placement module will be offered in the second semester through an expanding range of partners.
The MA is available both full-time (one year) and part-time (two years) to enable you to study at your own pace.
Course content
Discover what you'll learn, what you'll study, and how you'll be taught and assessed.
Studying this course part-time
International students may be able to study this course on a part-time basis but this is dependent on visa regulations. Please visit the Government website for more information about student visas.
If you're able to study part-time, you'll study the same modules as the full-time master's degree over a longer period, usually 24 months. You can make studying work for you by arranging your personal schedule around lectures and seminars which take place during the day. After you complete all the taught modules, you will complete your final dissertation or project and will celebrate your achievements at graduation the following term.
Studying part-time means you can study alongside work or any other life commitments. You will study the same modules as the full-time master's degree over a longer period, usually 24 months. You can make studying work for you by arranging your personal schedule around lectures and seminars which take place during the day. After you complete all the taught modules, you will complete your final dissertation or project and will celebrate your achievements at graduation the following term.
Semester one
Please note: programme and module details are illustrative and subject to change.
You will take five compulsory modules, plus a mandatory dissertation. Your remaining credits will be made up of three optional modules, which may include an optional work experience placement.
Compulsory modules
Analysing Language: Tradition and Technique (ENGL698)

Credits: 15 / Semester: semester 1

This module delivers a comprehensive overview of the major traditions of linguistic analysis and offers students a thorough grounding in the methods used for exploring language in different contexts. Coverage ranges from the earlier philological and structuralist approaches through to the myriad conceptualisations of language as discourse that characterise the contemporary field. The module introduces students both to the key figures and the key developments in the field of language and linguistics – Grice, Austin, Searle and many others. It also incorporates developments that intersect with the work of critical theorists and social philosophers like Gadamer, Foucault and Habermas. Students will come to understand how language and linguistics has emerged and developed as a discipline and also how their own work can be situated and positioned against this broad research background.
RESEARCH SKILLS FOR ENGLISH LANGUAGE (ENGL699)

Credits: 15 / Semester: semester 1

This module offers bespoke research skills training for MRes/MA students in English Language. In bi-weekly synchronous sessions, we will cover topics such as research design, ethics, data collection/analysis, and presenting/disseminating research. Some of the later sessions will be student-led, i.e. (groups of) students will be asked to select the reading, prepare a seminar sheet, and lead the discussion. Topics for these sessions will be decided by the students (in consultation with the tutor(s)). By the end of the semester, students will be able to work on their own projects independently, based on the research skills that they have acquired.
Optional modules
Fundamentals of Strategic Communication B (COMM517)

Credits: 15 / Semester: semester 1

This module introduces students to the study strategic communication by discussing its fundamental theories and concepts. Case studies will be presented and discussed which refer to strategic communication practices with a particular focus on crisis communication, issue and reputation management.
Since strategic communication is a multidisciplinary area of study, the module will deal with theories and models originating from different academic traditions such as (strategic) management, discourse studies (including semiotics, pragmatics and rhetoric), public relations, corporate communication, marketing and advertising.
Research Methods for Strategic Communication (COMM523)

Credits: 15 / Semester: semester 1

The module gives MSc Strategic Communication students the set of methodological concepts and skills necessary for undertaking scientific research in the field of communication sciences, with special attention to the analysis and evaluation of strategic communication. The module is intended to prepare students for the dissertation and to support them in the different research projects and activities undertaken during the academic year.
Social Media Research Methods (COMM755)

Credits: 15 / Semester: semester 1

This module provides research methods training for students on the MA programme in Media, Data and Society. It gives an overview of the foundations of research design and of both survey-based and computational approaches to social media research. Successful students will gain both the skills needed to understand published research and the confidence to conduct their own. The teaching will be workshop-based, combining lecture content and hands-on practice. Assessment is by a combination of written exam and a short piece of social media analysis coursework. No previous experience of survey research methods or computer programming is assumed.
Strategic Communication in Practice: Professional Perspectives (COMM522)

Credits: 15 / Semester: whole session

The module consists of a series of seminars held by communication professional experts in different industries but working in the field of strategic communication, ranging from finance and investor relations, to government, third sector institutions and media organisations. Students will have the opportunity to benefit from the experience of these professional experts to advance their knowledge of the practice of strategic communication and enhance their awareness of key challenges and debates in their industries.
Programme details and modules listed are illustrative only and subject to change.
Semester two
Compulsory modules
Corpus Linguistics for Language Research and Teaching (ENGL685)

Credits: 15 / Semester: semester 2

This module aims to provide students with theoretical knowledge and practical experience in the field of Corpus Linguistics which are relevant to language teaching and research. Students will learn about the insights into language theory and use which have been offered by corpus research so far, and will have the opportunity to conduct work on their own data using different software applications.
Functional Linguistics (ENGL696)

Credits: 15 / Semester: semester 1

This module introduces students to Functional Linguistics (FL) which is the framework of language pioneered by the internationally-renowned linguist M.A.K. Halliday. Used by linguists the world over, the Hallidayan paradigm has found much favour as a method of inquiry among grammarians, discourse analysists, critical linguists and applied linguists – scholars who are united by their common interest in the functional manifestation of language as a 'social semiotic'. Halliday's own conceptualisation of how language works is simple; namely, that the system that is language takes its shape from the function it serves. The module takes students through this systemic-functional module and explores its three key functions: the experiential function, which expresses the meaning of the clause, the interpersonal function, which shows how a clause is organised as an interactive event, and the textual function, which explains the information-building and text-building properties of a text. The module also covers Appraisal Theory which is a development within FL that explains how we express our attitude to texts and other interactants, whether intensely, positively, negatively, uncertainly, and so on. By studying in-depth the core concepts and categories of FL, students will acquire a coherent and serviceable analytic model for language analysis. This model can be applied to a range of styles, registers, genres and discourse types.
Language and Identity (ENGL697)

Credits: 15 / Semester: semester 2

Language is both a fundamental aspect of our identity and a powerful device to discursively shape our own and other people's identities. Identity is understood both at the social level, where it coincides with identification with certain social groups, and at the personal level, where it connects to the development and maintenance of a (healthy) sense of self. Far from being rigid containers, more of often than not identities are fluid and hybrid: they can be disrupted, contested, re-shaped. Moreover, identities are always intersectional, involving multiple dimensions (e.g. gender and social class and ethnicity, for instance). Through research-led teaching, this module examines the interplay of language and identity from a variety of angles (sex/gender, geopolitical, professional etc) and in a variety of contexts, such as education, the workplace and migration settings. Conversational, discursive and literary data form the rich basis for data-driven reflection, which connects scholarship with real-world problems of equality, diversity and social justice.
Optional modules
Argumentation in Media and Strategic Communication (COMM520)

Credits: 15 / Semester: semester 2

Argumentation is a communicative activity in which reasons are given to justify an opinion and persuade an audience to accept it. As such, argumentation plays a decisive role in media discourse, corporate and political discourse and all other forms of strategic communication. Good argumentation promotes strategic decision-making processes, help building sustainable and ethical persuasion, enhance public trust in organisations, political institutions and news media.
While argumentation is naturally oriented at reasonable and ethical persuasion, public influence is often pursued via fallacious and unsound arguments or even non-argumentative tactics of manipulation (e.g. fake news, power, ideology, violence) creating serious threats to democracy, economic stability and prosperity, social justice and citizens' trust.
This module aims at providing students with conceptual and analytical instruments from argumentation theory and rhetoric which will enhance their ability to critically examine business, public and media discourses and to understand issues of persuasion and trust in strategic communication and media discourse.
Work Experience Placement (ENGL795)

Credits: 15 / Semester: semester 2

This module is an opportunity for you to undertake a placement in a setting which matches your writing and possible career/industry interests, develop materials and/or undertake tasks within a practical or vocational context, apply creative and/or academic knowledge from your degree, and develop your personal and employability skills within a working environment.
Programme details and modules listed are illustrative only and subject to change.
Final project
Compulsory modules
Dissertation (ENGL702)

Credits: 60 / Semester: summer

The final dissertation, comprising a 14,000-15,000-word thesis on a subject devised by the student and agreed with their supervisor, is written over the summer. Some students take this opportunity to explore in more depth a theme, idea, or author studied in one of the taught strands; others strike out in a wholly new direction. This module is a culmination of previous modules studied on the MA, in which students, under the supervision of a tutor, bring to bear the skills, knowledge and confidence they have developed over the course of the Master's programme.
Programme details and modules listed are illustrative only and subject to change.
How you'll learn
Teaching is delivered through a combination of seminars and tutorials held on campus. Depending on which module options you choose, there may be lectures and separate seminar sessions scheduled, but all classes will take place on campus in person. Class sizes for master's programmes in the Department of English tend to be small, and a typical class in English will include between eight to ten students.
How you're assessed
You will be assessed by a combination of formative and summative coursework. This will take a number of different forms, including essays, essay plans, research proposals, and a dissertation. In addition, students will be assessed by presentations in certain modules. Other assessment formats may apply also depending on the options modules taken.
Liverpool Hallmarks
We have a distinctive approach to education, the Liverpool Curriculum Framework, which focuses on research-connected teaching, active learning, and authentic assessment to ensure our students graduate as digitally fluent and confident global citizens.
Your experience
Watch now
Video
MA English Language
Professor Paul Simpson introduces the English Language MA course.
Supporting your learning
From arrival to alumni, we're with you all the way:
An exciting place to study English
We are internationally renowned for advancing the study of language, literature, and creative writing and have a strong research ethos
Our programmes offer opportunities to study creative writing and literature from a wide range of periods, as well as a range of approaches to understanding the way in which the English language works
We have a reputation for radical thinking, as exemplified by our success rate in the BBC and Arts and Humanities Council's 'New Generation Thinkers' scheme. In total, five members our academic staff have been selected since the scheme was established in 2010
We are committed to small group teaching. This encourages a more rewarding learning experience, where ideas are shared and explored with peers and tutors
Ranked 10th in sector for research impact classified as outstanding (4*) (REF 2021)
We are host to Europe's largest collection of science fiction materials which includes the John Wyndham Archive and home to the annual Liverpool Literary Festival.
Chat with our students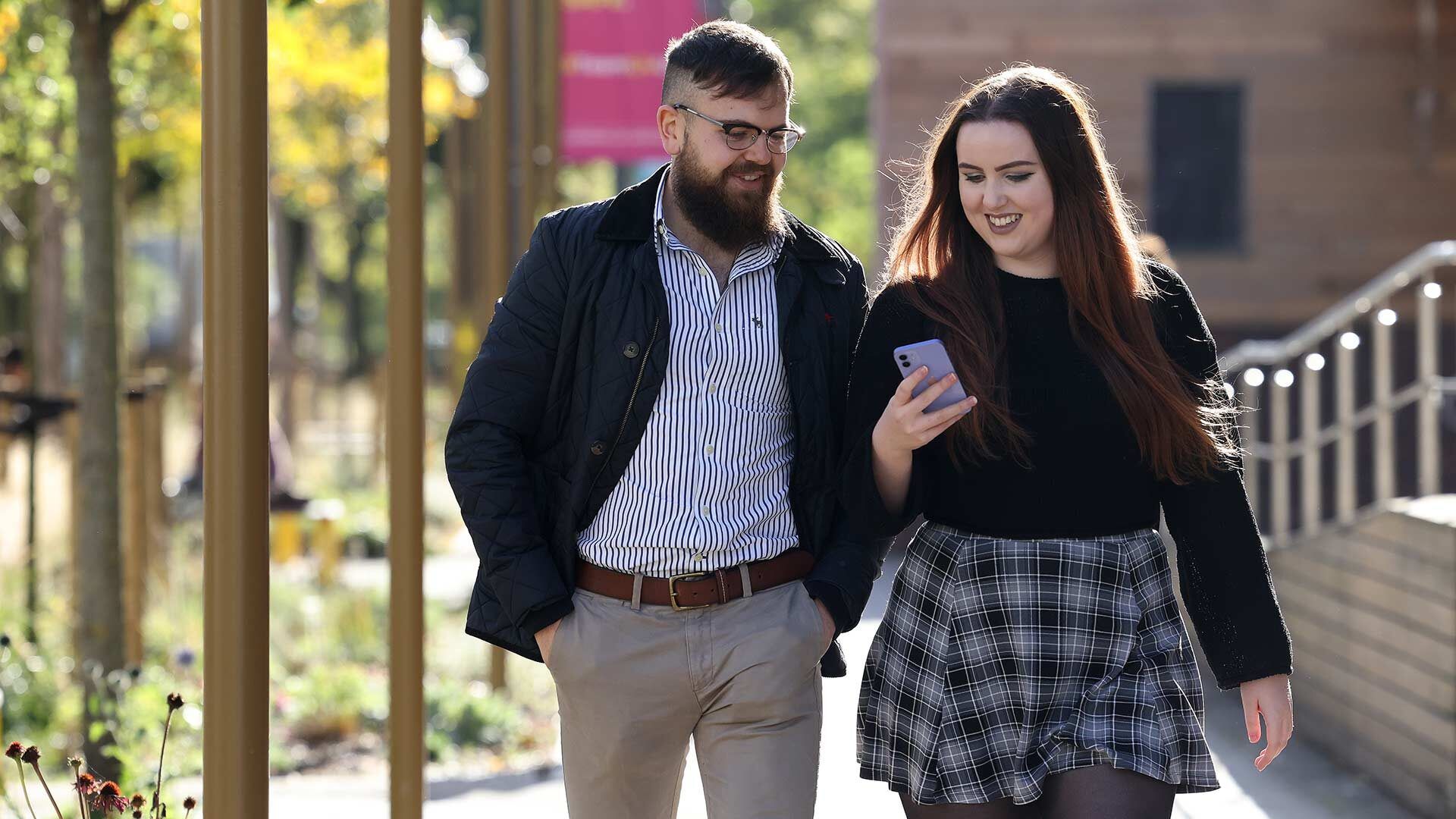 Chat with our students
Want to find out more about student life?
Chat with our student ambassadors and ask any questions you have.
Careers and employability
There is an emphasis throughout the programme on the development of written and oral presentation skills as well working independently and in collaboration – all transferable skills that employers value.
Your future
Through the work placement module, you will have the opportunity to gain industry knowledge and build a network of contacts.
Fees and funding
Your tuition fees, funding your studies, and other costs to consider.
Tuition fees
UK fees

(applies to Channel Islands, Isle of Man and Republic of Ireland)

Full-time place, per year
£10,800
Part-time place, per year
£5,400
International fees
Full-time place, per year
£22,400
Part-time place, per year
£11,200
Fees stated are for the 2024-25 academic year.
Tuition fees cover the cost of your teaching and assessment, operating facilities such as libraries, IT equipment, and access to academic and personal support.
If you're a UK national, or have settled status in the UK, you may be eligible to apply for a Postgraduate Loan worth up to £12,167 to help with course fees and living costs. Learn more about paying for your studies..
Additional costs
We understand that budgeting for your time at university is important, and we want to make sure you understand any course-related costs that are not covered by your tuition fee. This could include buying a laptop, books, or stationery.
Find out more about the additional study costs that may apply to this course.
Scholarships and bursaries
We offer a range of scholarships and bursaries to provide tuition fee discounts and help with living expenses while at university.
Entry requirements
The qualifications and exam results you'll need to apply for this course.
Your qualification
Requirements
Postgraduate entry requirements

You will normally need a 2:1 honours degree, or above, or equivalent. This degree should be in a relevant subject, for example English, English language or linguistics.

If your degree is in another humanities or social sciences subject, for example history, your application may be considered if you are also in possession of a postgraduate diploma in language study. An interview may form part of the selection process in these circumstances.

International qualifications

If you hold a bachelor's degree or equivalent, but don't meet our entry requirements, a Pre-Master's can help you gain a place. This specialist preparation course for postgraduate study is offered on campus at the University of Liverpool International College, in partnership with Kaplan International Pathways. Although there's no direct Pre-Master's route to this MA, completing a Pre-Master's pathway can guarantee you a place on many other postgraduate courses at The University of Liverpool.
English language requirements
You'll need to demonstrate competence in the use of English language. International applicants who do not meet the minimum required standard of English language can complete one of our Pre-Sessional English courses to achieve the required level.
English language qualification
Requirements
IELTS
C
View our IELTS academic requirements key.
International Baccalaureate

Higher Level (Grade 5)

TOEFL iBT
88 or above with minimum scores in components as follows: Listening and Writing 19, Reading 19, Speaking 20.
INDIA Standard XII
National Curriculum (CBSE/ISC) - 75% and above in English. Accepted State Boards - 80% and above in English.
WAEC
C4-6
Hong Kong use of English AS level
B
More about life in Liverpool
Discover more about the city and University.
Why study at Liverpool?
Liverpool bursts with diversity and creativity which makes it ideal for you to undertake your postgraduate studies and access various opportunities for you and your family.
Accommodation
To fully immerse yourself in the university experience living in halls will keep you close to campus where you can always meet new people. Find your home away from home.
Fees and Finance
Discover what expenses are covered by the cost of your tuition fees and other finance-related information you may need regarding your studies at Liverpool.
Contact us
Have a question about this course or studying with us? Our dedicated enquiries team can help.