Data Science and Communication
Return to top
Course overview
The MSc in Data Science and Communication is designed for students who have an interest in the way data and data processing are shaping our communication practices as society becomes increasingly digitised. Whether you want to investigate how Big Data impacts our daily decision-making practices or learn how to create innovative communication chatbots, this MSc will provide you with the necessary means to successfully navigate the Networked Society.
Introduction
The programme offers state-of-the-art empirical, technical and theoretical training. You will have the opportunity to learn cutting edge computational techniques to study social behaviours at scale, alongside a deep grounding in the principles of communication studies and the social sciences.
Substantial training will also be devoted to quantitative methods aimed at harnessing big data, especially when it comes to social and news media. You will learn the underpinnings of emerging communication technologies ranging from computer mediated communications to human computer interaction.
Course content
Discover what you'll learn, what you'll study, and how you'll be taught and assessed.
Studying this course part-time
International students may be able to study this course on a part-time basis but this is dependent on visa regulations. Please visit the Government website for more information about student visas.
If you're able to study part-time, you'll study the same modules as the full-time master's degree over a longer period, usually 24 months. You can make studying work for you by arranging your personal schedule around lectures and seminars which take place during the day. After you complete all the taught modules, you will complete your final dissertation or project and will celebrate your achievements at graduation the following term.
Studying part-time means you can study alongside work or any other life commitments. You will study the same modules as the full-time master's degree over a longer period, usually 24 months. You can make studying work for you by arranging your personal schedule around lectures and seminars which take place during the day. After you complete all the taught modules, you will complete your final dissertation or project and will celebrate your achievements at graduation the following term.
Semester one
You will study four compulsory modules, including a dissertation; and three optional modules (one in Semester one, and two in Semester two).
Compulsory modules
Introduction to Data Science A (COMM741)

Credits: 30 / Semester: semester 1

This module introduces major data science techniques and their role in communication. The full data lifecycle is considered, with a focus on data collection, processing, analysis and visualisation. The emphasis of the module is to develop technical skills in coding and its application within data science, but the wider context of how data are generated and used in communication and media is also considered. The main assessment is a piece of coursework, where students describe and apply the methods covered in the module. There is also an in-class test. By the end of the module, students will have a level of knowledge in coding appropriate to select and use data science methods to investigate and solve problems in communication.
Introduction to computational social science methods (COMM742)

Credits: 15 / Semester: semester 1

This module will provide students with skills to understand and apply the building blocks of computational social science. Students will be introduced to cutting edge methods to design, develop and interpret quantitative surveys, as well as to cutting edge methods for collecting and analysing large datasets from digital sources at different levels of granularity.
At the end of the module, students will be able to match techniques to answer research questions such as "What are peoples' attitudes towards news media and what social factors significantly influence those attitudes?"- , – "How does disinformation spread?" , " What hot topics were debated on social media in the last month?". The module will be taught following "active learning" methodologies where empirical activities as well as group discussions will play a key role.
Optional modules
Big data and society B: foundations, politics, and policy (COMM752)

Credits: 15 / Semester: semester 1

This module will be of particular interest to students interested in big data and how it is collected and used in modern society; in the politics and policy questions around social media; and in the interactions between media, platforms, and citizens. It will introduce students to the study of online media and platforms, with a particular focus on 'big' social trace data. As well as developing their understanding of how Internet-based media systems work, students will learn about the strengths and weaknesses of using big data for social science research, and engage with key online political communication policy questions.
Database and Information Systems (COMP518)

Credits: 15 / Semester: semester 1

This module focuses on how databases are used in modern information systems. They are at the heart of almost all systems, such as supermarket checkouts, online banking, home rentals, and much more. One of the most successful data definition and manipulation languages is SQL, which will be covered in detail. The module will also introduce some of the fundamental concepts in computer science, as well as the mathematical underpinnings of relational databases and the techniques used to support concurrency and reliability in large information systems.
Fundamentals of Strategic Communication B (COMM517)

Credits: 15 / Semester: semester 1

This module introduces students to the study strategic communication by discussing its fundamental theories and concepts. Case studies will be presented and discussed which refer to strategic communication practices with a particular focus on crisis communication, issue and reputation management.
Since strategic communication is a multidisciplinary area of study, the module will deal with theories and models originating from different academic traditions such as (strategic) management, discourse studies (including semiotics, pragmatics and rhetoric), public relations, corporate communication, marketing and advertising.
Media and Politics: Theories and Cases B (COMM765)

Credits: 15 / Semester: semester 1

The module examines a range of interconnected issues concerning the politics/media relationship. It offers a critical overview of the ways in which the media have been studied and discussed in relation to political processes and explores the key aspects of contemporary theory and research in politics and media. Part one is devoted to theories and debates about the politics and media relationship. It examines different ways of making sense of the relationship between the state, the public, and the media and questions surrounding media power and media audiences. Part two focuses on specific cases and controversies in the media-politics relations. It explores the changing relationships, representational forms, power dynamics, and impacts of media performance in selected forms of contemporary 'conflict'.
Screen Cultures B (COMM744)

Credits: 15 / Semester: semester 1

Screen Cultures B introduces students to the diversity of cultural contexts and histories that have shaped the formal, industrial, institutional, and political meanings of cinema. The module examines both dominant/institutional and marginal/alternative screen cultures in relation to the formation of screen industries, histories, movements, and cultural identities.
Screen cultures are both an effect of production and reception. The module explores how screen cultures emerge and function, the formal and stylistic aspects that shape screen cultures, and the overlap between industries and audiences in the production of specific institutional, historical, critical, and audience-defined screen cultures. Screen Cultures A will introduce students to advanced film theory, industry and production studies, and film history alongside advanced formal analysis.

The Screen Cultures B syllabus is organized in two distinct blocks.

Block one: dominant and institutional screen cultures

The first block reflects the institutional or dominant screen cultures that are likely familiar to most audiences. These cultures are often understood through lay terms such as mainstream, popular, Hollywood, or art cinema. Their production and reception are defined by an understanding of screen cultures as an effect of industrial organizations and institutional practices.

Block two: marginal and alternative screen cultures

The second block of Screen Cultures A attends to the alternative and marginal screen cultures that have emerged beyond and outside of those dominant cinemas explored in block one. These screen cultures may be less familiar but have been central to particular audiences, political contexts, and sites of exhibition. Many of the screen cultures in this block seek to challenge the hegemony of those case studies from the first block.

In structuring the module in such a way, Screen Cultures B delivers a comprehensive overview of key debates surrounding screen cultures, especially cinema cultures, while also ensuring that it is inclusive given also its strong focus on diversity and alternative and marginal cultures.
Understanding Media Change B (COMM757)

Credits: 15 / Semester: semester 1

To understand contemporary media and its place in social and cultural life we need to understand past media, not only as historical origins or predecessors of the new, but in order to understand how change is produced, experienced and negotiated. This module will consider processes of 'remediation', 'transmediality' 'intermediality' , as well as the recurrence of past ideas, forms and sensibilities in the present; arguments about planned obsolescence, newness and innovation; critiques of progress and theories of technological and media change; ideas of maintenance, residual and emergent media. The module will introduce you to key theoretical and historiographic approaches, from German media theory and 'media archaeology,' to Benjaminian, phenomenological and everyday life approaches. 'Media' includes both communication and storage media and as extending beyond the practices and technologies we might normally consider (computer based media, film, television, radio, photography, video games and so on) to include neglected and 'grey' media associated with everyday experience (databases, telephony, fax, photocopying, photobooths, etc). The module is both concept and topic-driven with lectures and seminars focussing on key theoretical texts, and testing out concepts on a range of different media examples.
Programme details and modules listed are illustrative only and subject to change.
Semester two
Compulsory modules
Artificial Intelligence and Communication A (COMM766)

Credits: 30 / Semester: semester 2

This module will provide students with skills to understand, analyse and master the role played by Artificial Intelligence in Communication. It will introduce students to core notions to identify what components of our daily communication practices are affected by AI, how the reshaping of the communication processes happens through different technologies and how we can check their evolutions being aware of their potential risks and opportunities. At the end of the module students will be able to answer questions such as: who are we communicating with when we write online? How are (chat)bots and conversational agents changing our interactions? Why social and new digital media are affecting news consumption habits? The module will be taught following "active learning" methodologies.
Optional modules
Argumentation in Media and Strategic Communication (COMM520)

Credits: 15 / Semester: semester 2

Argumentation is a communicative activity in which reasons are given to justify an opinion and persuade an audience to accept it. As such, argumentation plays a decisive role in media discourse, corporate and political discourse and all other forms of strategic communication. Good argumentation promotes strategic decision-making processes, help building sustainable and ethical persuasion, enhance public trust in organisations, political institutions and news media.
While argumentation is naturally oriented at reasonable and ethical persuasion, public influence is often pursued via fallacious and unsound arguments or even non-argumentative tactics of manipulation (e.g. fake news, power, ideology, violence) creating serious threats to democracy, economic stability and prosperity, social justice and citizens' trust.
This module aims at providing students with conceptual and analytical instruments from argumentation theory and rhetoric which will enhance their ability to critically examine business, public and media discourses and to understand issues of persuasion and trust in strategic communication and media discourse.
Big data and society D: algorithms and platforms (COMM754)

Credits: 15 / Semester: semester 2

In addition to learning about the algorithms that influence the development of online social systems, students will critically address key questions around the political and economic consequences of online platforms. The course emphasises a hands-on approach to studying algorithms in practice, developing students' programming skills to implement and explore their effects.
Branding Strategy and Communication (COMM521)

Credits: 15 / Semester: semester 2

Branding is now pervasive in society. Communicating a positive image and building a good reputation to create a strong brand, have become key objectives not only for global private corporations selling products, but also for countries, cities, regions and even neighbourhoods (place branding); public, cultural and religious institutions (corporate branding); and individual celebrities (self-branding). The module examines branding in its multiple instantiations, as a set of socio-cultural communicative practices and processes, which rely on very fundamental socio-cultural dynamics. In the module, we will consider the complex process of brand management from the definition of a brand and branding strategy to the elaboration of brand narratives, taking into account the increasingly digitalised media landscape and the participatory, two-way communication context where organisations and individuals operate. Thorough the module we seek to understand how identity, public opinion, reputation, and branding are negotiated at the intersection between top-down corporate communication and more grassroots or networked forms of expression. The module combines insights from business studies, social psychology, anthropology and cultural studies, introducing students to branding from a critical strategic communication perspective, focusing on power struggles, contradictions and dialogic relations. Besides offering students a good overview of key concepts and tools for strategically managing brand communication, the module includes a critical reflection on key issues and debates relating to the societal and ethical implications of branding practices, especially in relation to the prominence of promotional cultures in today's democratic societies.
Data Visualisation (COMM740)

Credits: 15 / Semester: semester 2

This module builds on the skills developed in the Introduction to Data Science module to explore more advanced data visualisation techniques. Methods covered include multidimensional plots, geospatial maps, animations and interactivity. The focus of the module will be on using data relevant to communication and media, but consideration will also be given to critiquing and applying visualisation methods more generally. The module is assessed by coursework, where students will demonstrate the skills developed on the module by collecting and visualising data in an area of their choosing. By the end of the module, students will be able to select and apply visualisation techniques suitable for a range of data.
Digital Media Audiences (COMM739)

Credits: 15 / Semester: semester 2

This module will examine digital media from the audience's perspective. It will consider contemporary debates on the changing audience's practices and the attention economy. Students will be introduced to the notions of the audience as a user and as a producer of media in the digital age. The module will focus on digital news audiences as well as the audience of entertainment platforms (like Netflix and Spotify). Different audience research methods like tracking data, surveys and focus groups will also be discussed.
Global Journalism and Politics (COMM748)

Credits: 15 / Semester: semester 2

This module will offer a cross-national comparative perspective on the state of journalism around the world, journalists' perceptions of their role in society and the contextual factors that influence journalistic roles and performance. Only 14% of people in the world live in counties with free media so it is important to appreciate that the news media might play different roles based on the nature of the political system, the respective media systems and the relevant cultural and societal differences. The extent to which the news media can act as the fourth estate is to a large extent determined by these contextual factors but also by audiences' expectations about the role of journalists in their society. A range of case studies will be used throughout the module.
Media Practices and Everyday Life B (COMM759)

Credits: 15 / Semester: semester 2

This module takes as its central starting point the idea of media as forms of social and cultural practice. That is, it is concerned with the way media forms and digital (and non-digital) media technologies shape our everyday experiences of the world, whether in terms of our sense of self and identity, the everyday rhythms that structure our lives, the way we move through or apprehend the everyday spaces we variously inhabit, or the sensory, affective and material impacts of media on our embodied sense of being-in-the-world. By placing its focus on media practices and the everyday, the module draws from recent debates in so-called 'non-media-centric media studies' and related perspectives from anthropology, cultural studies and cultural geography which examine not so much the meaning invested in the content of media texts as the performative question of what it is we do with media, and what it, correspondingly, does with us. In a contemporary world where the mediatisation of everyday life seemingly extends to every sphere of routine activity (such that at times we hardly recognise its presence at all), the project of scrutinising and critically reflecting on the relationship between media practices and everyday life has never been more urgent.
Redefining Television (COMM750)

Credits: 15 / Semester: semester 2

This module will focus on the immense changes that have occurred in the field of television with a view to understand the nature, role and function of the medium in the 21st century. Focusing on industrial, institutional, representational and textual issues it will engage with questions such as: the changing nature of television studies as a discipline; its changing role from home to mobile entertainment; the impact of VOD and on-demand services; the ways form and consumption of tv are changing; formats and transnational production; reboot, remake and cult television; and issues of representation as part of changes in TV formats, production and consumption.
Screen Industries B (COMM746)

Credits: 15 / Semester: semester 2

Screen Industries B examines the industrial logic of particular media industries that produce entertainment reaching audiences through the mediation of screens. The module focuses primarily on the film and television industries with references to the video game industry. Organised around 4 blocks – Key concepts, People, Structures and Power – the module investigates the relationships between technologies, economics, policies, politics and the social and cultural contexts that shape these media industries and their products. Using examples from various geographical contexts and drawing on a variety of theoretical and methodological perspectives, Screen Industries B provides a pathway through which students can understand and appreciate the complex and multi-faceted nature of some of the key contemporary media industries.

The first block will introduce some of the key debates in the field of screen industries, commencing from the way in which digital technology has impacted film and television and the extent which they are now referred to as 'legacy' media before focusing on the ways in which they developed industrially. The emphasis will be primarily on cinema as the first medium to be organized on an industrial scale but in looking at the contemporary converged landscape it will be clear that television is also an important medium to understand its organization and operations.

The second block will take media convergence as a given and will investigate the deep structures that underpin media industries today. Starting from the migration of filmmakers to tv, it will explore the emergence of an indie television as it's being practiced primarily by people who started their careers in film, before moving to immersive media systems and exploring questions around networking and streaming as these pertain to film, television as well as games. It will end with an examination of franchise entertainment, arguably the most obvious of example of converged media.

The third block will look primarily at issues related to people working in the screen industries, looking at three case studies that explore alternative and often competing systems of people-management in media industries: established structures that make up international star systems, the role of unofficial channels of reputation-making and gossip in determining value and control of individuals, and labour management such as issues relating to the unionisation of media sectors.

The module will end with a block on screen industries and power with a focus on contrasting approaches derived from policy management. It will start by examining the impact of regulation, intellectual property and media law on media production and then move onto examining how media and cultural policy work together with an emphasis on improving structural diversity in screen industries, a key issue in recent years.
Media and Politics: Economy and Society B (COMM763)

Credits: 15 / Semester: semester 2

This module explores the relationships between politics, economics, and mainstream media. The traditional, 20th century business models of news media have collapsed, prompting news organisations to make redundancies and to consider new ways of financing their activities. As a result, significant concerns have been raised about their sustainability as well as the wider role that news media (should) play in democratic societies. Furthermore, social media platforms and search engines have become the new gatekeepers, directing attention to news (and the knowledge, understandings, and attitudes shaped by news consumption) based on algorithms and audience members' self-selection into disparate groups. In this module we will be looking at the ways in which media content across a variety of platforms and channels is being shaped by economic considerations and neoliberal ideology and how this creates tension, and sometimes outright contradiction, with the public and democratic role of mass media (including social media platforms) in open societies.
Programme details and modules listed are illustrative only and subject to change.
Final project
Compulsory modules
Dissertation (COMM716)

Credits: 60 / Semester: summer

The dissertation is a self-contained piece of individual and original research, offering the student the chance to study in depth a topic that interests them guided by a member of the Department's academic staff as their supervisor. Teaching and learning takes place through one-to-one tutorials. The key aims of the module are: to enable the student to construct an extended and original research project on an appropriate topic which is clear and realistic in scope and seeks to make a distinct contribution to the student's chosen field; to develop independent research skills; and to develop professional standards for the presentation of research material. It will usually be related to a topic covered in the student's Masters programme and can be tailored so that the research is relevant to a future career. Research for the dissertation will usually be standard academic qualitative or quantitative research, but depending on your programme (and with permission of your programme leader,) you may also be able to produce a more practical investigation in collaboration with an organisation, involving a consultancy project or a placement experience, or engage with more experimental methodologies. Meetings with supervisors are organized by the student and fortnightly meetings are recommended, although the number of meetings will vary, depending on your individual requirements and dissertation topic.
Programme details and modules listed are illustrative only and subject to change.
How you'll learn
Teaching is delivered through weekly workshops held on campus. These usually last for 2-3 hours per module per week. Depending on which module options are taken, there may be lectures and separate seminar sessions scheduled.
Class sizes for master's programmes in the Department of Communication and Media tend to be small, but numbers can vary depending on what option modules are selected. A typical class in Data Science and Communication will include between 10-20 students.
How you're assessed
You will mainly be assessed by coursework. This will take a number of different forms, including a research proposal, annotated computer code, portfolio of visualisations.
In addition, students will be assessed by in class tests in certain modules. Other assessment formats may apply also depending on the options modules taken.
Liverpool Hallmarks
We have a distinctive approach to education, the Liverpool Curriculum Framework, which focuses on research-connected teaching, active learning, and authentic assessment to ensure our students graduate as digitally fluent and confident global citizens.
Your experience
This programme is delivered by the Department of Communication and Media. The department is a close-knit community of dedicated, innovative teachers and researchers that extend a warm welcome to postgraduate taught and research students. You will benefit from a personalised approach which treats you as an individual and encourages you to become involved in the life of the department.
Watch now
Video
Data Science and Communication MA
Join our MSc in Data Science and Communication to discover how data is used for communication in the age of AI.
Virtual tour
Supporting your learning
From arrival to alumni, we're with you all the way:
Why study Communication and Media at Liverpool?
We have a long-standing reputation for innovative research in media, cultural and communication studies
The interest in contemporary communication is at the heart of our enterprise, though always with a focus on how the media deploy their affordances to communicative and social effect
There is a strong family-ethos within the department. Personal interaction with our students is at the heart of what we do
We have exciting partnerships with industry, arts and key creative venues both in the city and internationally and they collaborate with us as part of the programme offer
Ranked 4th in the sector for outstanding (4*) research impact, with 100% of our impact classified as either outstanding (4*) or very considerable (REF 2021)
Our programmes address a wide range of questions about the modern media industry, news, communication and social interaction in a lively and creative environment
Our internationally-acclaimed research is casting innovative light on many aspects of the discipline and engaging with the very latest topics, such as social media, populism, artificial intelligence, global media events, fake news and online harassment.
Chat with our students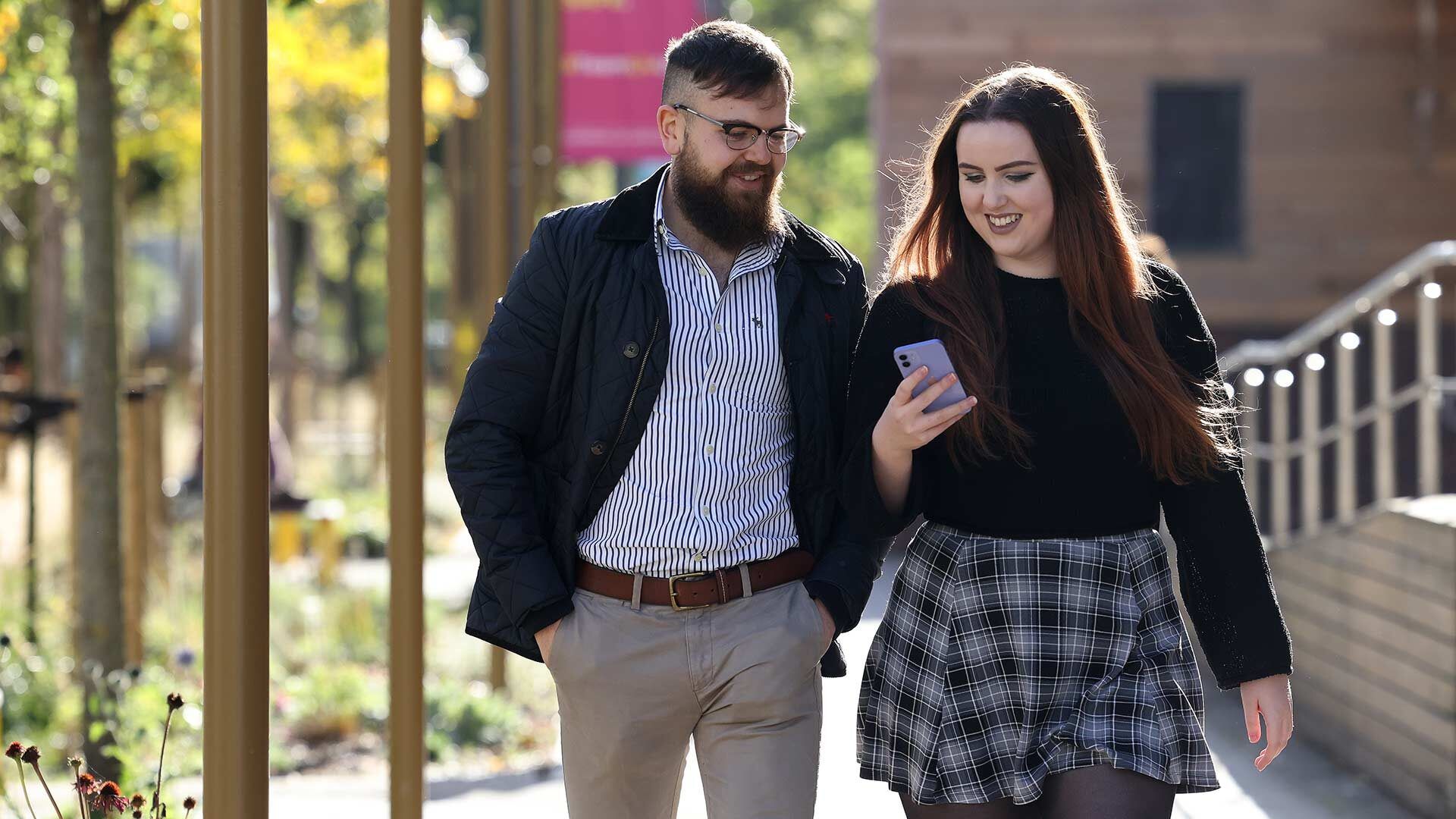 Chat with our students
Want to find out more about student life?
Chat with our student ambassadors and ask any questions you have.
Careers and employability
This course will provide you with key skills which are in high demand both in the private and the third sector. There is a constant growth in the number of jobs that specifically call for an expertise in Data Science applied to communication environments.
The interdisciplinary professional skills you will develop will make you highly qualifiedto pursue a career in a wide range of sectors dealing with Big Data and Society, ranging from data analysis and data management to natural language processing and communication diffusion.
Your future
Examples of relevant careers include, but are not limited to:
Computational social scientists
Digital communication managers
Product/project managers for AI/digital products
Counsellors for digital strategies.
Such professional figures are required by a wide range of stakeholders including, among others, AI companies (from start-ups to multinational corporations), news media agencies, public health, and cyber security institutions.
In addition, the programme's focus on cutting edge methodologies for data analysis in response to social science issues will allow students to become pioneers in solving novel problems arising in the Networked Society, tackling, for instance, misinformation as well as challenges both in human-computer interaction and computer-mediated communication. This MSc programme offers multiple opportunities in the fast-changing digital media sector.
Graduates wishing to continue academic studies will find a supportive and nurturing research environment that prepares them well for doctoral-level research activities. Career pathways that follow this route include employment in higher education (teaching and/or research), or teaching at secondary and further education levels.
Fees and funding
Your tuition fees, funding your studies, and other costs to consider.
Tuition fees
UK fees

(applies to Channel Islands, Isle of Man and Republic of Ireland)

Full-time place, per year
£10,800
Part-time place, per year
£5,400
International fees
Full-time place, per year
£22,400
Part-time place, per year
£11,200
Fees stated are for the 2024-25 academic year.
Tuition fees cover the cost of your teaching and assessment, operating facilities such as libraries, IT equipment, and access to academic and personal support.
If you're a UK national, or have settled status in the UK, you may be eligible to apply for a Postgraduate Loan worth up to £12,167 to help with course fees and living costs. Learn more about paying for your studies..
Additional costs
We understand that budgeting for your time at university is important, and we want to make sure you understand any course-related costs that are not covered by your tuition fee. This could include buying a laptop, books, or stationery.
Find out more about the additional study costs that may apply to this course.
Scholarships and bursaries
We offer a range of scholarships and bursaries to provide tuition fee discounts and help with living expenses while at university.
Entry requirements
The qualifications and exam results you'll need to apply for this course.
Your qualification
Requirements
Postgraduate entry requirements

You will normally need a 2:1 honours degree, or above, or equivalent. This degree should be in communication studies, social sciences or humanities subjects, or a technical discipline such as computer science or information technology.

Applicants with a degree in another subject, who also have appropriate professional experience, will be considered on an individual basis.

On receipt of your application, we'll discuss a possible research topic with you, either in person or via email. This will help us to match you to a suitable dissertation supervisor and aid your choice of optional modules.

International qualifications

If you hold a bachelor's degree or equivalent, but don't meet our entry requirements, you could be eligible for a Pre-Master's course. This is offered on campus at the University of Liverpool International College, in partnership with Kaplan International Pathways. It's a specialist preparation course for postgraduate study, and when you pass the Pre-Master's at the required level with good attendance, you're guaranteed entry to a University of Liverpool master's degree.
English language requirements
You'll need to demonstrate competence in the use of English language. International applicants who do not meet the minimum required standard of English language can complete one of our Pre-Sessional English courses to achieve the required level.
English language qualification
Requirements
IELTS
D
View our IELTS academic requirements key.
International Baccalaureate

Standard Level (Grade 5)

TOEFL iBT
88 or above with minimum scores in components as follows: Listening 19, Writing 21, Reading 19, Speaking 20.
INDIA Standard XII
National Curriculum (CBSE/ISC) - 75% and above in English. Accepted State Boards - 80% and above in English.
WAEC
C4-6
Hong Kong use of English AS level
C
More about life in Liverpool
Discover more about the city and University.
Why study at Liverpool?
Liverpool bursts with diversity and creativity which makes it ideal for you to undertake your postgraduate studies and access various opportunities for you and your family.
Accommodation
To fully immerse yourself in the university experience living in halls will keep you close to campus where you can always meet new people. Find your home away from home.
Fees and Finance
Discover what expenses are covered by the cost of your tuition fees and other finance-related information you may need regarding your studies at Liverpool.
Contact us
Have a question about this course or studying with us? Our dedicated enquiries team can help.
If you have any questions about the course content, please get in touch with the programme director.