Data Science and Artificial Intelligence with a Year in Industry
Return to top
Course overview
Discover how tech companies gather and use data and explore both the databases that power our daily lives and the data languages underpinning them on this MSc. You'll receive a thorough grounding in mathematics and statistics, data mining, artificial intelligence and the fundamentals of programming, then go on to complete an extended industrial placement in a real-world environment.
Introduction
With organisations increasingly reliant on data science and artificial intelligence (AI), understanding how to analyse, validate and interpret data can significantly enhance your employability.
If you're a graduate in a subject that's not related to computer science, this MSc will complement your first degree and prepare you to meet the high demand for professionals in data science and AI technologies.
With the roots of data science embedded in mathematics, we'll start year one by introducing you to linear algebra, differential calculus, probability theory and statistics. This will prepare you for working with data mining algorithms and experimenting using real-world data.
You'll receive an overview of how to design and create software, including an intensive introduction to programming, and explore key topics in AI. We'll also provide a thorough grounding in how to plan and conduct research.
Further opportunities to specialise and enhance your knowledge of big data, web programming, bio-inspired algorithms and modern information systems are available through a range of optional modules.
In year two, you'll undertake an industrial project in a real-world environment as part of an extended placement opportunity.
Who is this course for?
This MSc is suitable if your first degree was in a subject not related to computer science and you are seeking career opportunities in data science and artificial intelligence.
What you'll learn
How to design and create software using a modern programming language
Essential mathematical concepts and techniques in linear algebra, differential calculus, probability theory and statistics
Key topics in artificial intelligence, including machine learning, deep learning, natural language processing (NLP) and computer vision
How to develop web applications
The role of artificial intelligence in communication
Data mining techniques and challenges using real-world datasets
Application of visualisation methods to data mining
Research skills in computer science
Bio-inspired algorithms for optimisation and machine learning
How big data is collected and used in modern society
The role of structured query language, SQL, in information systems.
Accreditation
This course is pending accreditation by BCS, The Chartered Institute for IT.
Course content
Discover what you'll learn, what you'll study, and how you'll be taught and assessed.
Year one
Compulsory modules
Research Methods in Computer Science (COMP516)

Credits: 15 / Semester: semester 1

In this module the students will learn and practise all the necessary skills needed to conduct independent research in computer science, including literature search, project management, presentation techniques, peer reviewing, writing skills and critical review of texts. They will also learn about the professional, legal, social and ethical framework of the IT industry. The module covers, e.g., planning and scheduling projects and drawing Gantt charts. Students shall also conduct a research project (including research, paper, literature review, or MSc project proposal, …) and use tools like EndNote and Zotero bibliography manager within MS Word and Latex.
Programming Fundamentals (COMP517)

Credits: 15 / Semester: semester 1

The aim of COMP517 is to help you to learn how to design and create software. Central to this will be an understanding of and practical experience with a modern programming language, but you will also be made aware of the importance of using sound software engineering techniques to develop high quality programs. As with many endeavours (swimming, chess-playing, story-writing) programming is a skill that must be learned and improved upon by constant practice. In this module, therefore, the emphasis will be on self-study. Although lectures will be used to introduce the various topics, you will be expected to spend the majority of your time in reading the corresponding textbook chapters, attempting numerous exercises, and completing the specified assignments.
Maths and Statistics for AI and Data Science (COMP533)

Credits: 15 / Semester: semester 1

Computer Science in general, and data Science in particular, has its roots in Mathematics. This module is designed to bring you up to speed with the necessary mathematical and statistical underpinning required to study Data Science and AI.
Data Mining and Visualisation (COMP527)

Credits: 15 / Semester: semester 2

The module covers a range of topics and techniques for analyzing data. Students will learn about different types of data mining problems, including classification, clustering, association pattern mining, and social network analysis, as well as algorithms to solve them.

Students will program selected data mining algorithms from scratch using Python. This hands-on approach will allow them to gain a deeper understanding of how the algorithms work and how they can be applied to real-world datasets. They will experiment with different datasets to see how the algorithms perform and learn how to interpret the results.
Applied Artificial Intelligence (COMP534)

Credits: 15 / Semester: semester 2

This module gives an introduction to key areas of Artificial Intelligence (AI), including Machine Learning, Deep Learning, Natural Language Processing (NLP) and Computer Vision.
It discusses fundamental problems in these areas and covers common methods to solve them.
Students will develop the practical skills necessary to build AI applications using data from different domains.
Optional modules
Database and Information Systems (COMP518)

Credits: 15 / Semester: semester 1

This module focuses on how databases are used in modern information systems. They are at the heart of almost all systems, such as supermarket checkouts, online banking, home rentals, and much more. One of the most successful data definition and manipulation languages is SQL, which will be covered in detail. The module will also introduce some of the fundamental concepts in computer science, as well as the mathematical underpinnings of relational databases and the techniques used to support concurrency and reliability in large information systems.
Big data and society B: foundations, politics, and policy (COMM752)

Credits: 15 / Semester: semester 1

This module will be of particular interest to students interested in big data and how it is collected and used in modern society; in the politics and policy questions around social media; and in the interactions between media, platforms, and citizens. It will introduce students to the study of online media and platforms, with a particular focus on 'big' social trace data. As well as developing their understanding of how Internet-based media systems work, students will learn about the strengths and weaknesses of using big data for social science research, and engage with key online political communication policy questions.
Web Programming (COMP519)

Credits: 15 / Semester: semester 2

Masters level introductory web programming module covering such topics as HTML, Cascading Style Sheets, CGI programming, and PHP/SQL programming.
Artificial Intelligence and Communication B (COMM718)

Credits: 15 / Semester: semester 2

This module will provide students with skills to understand, analyse and master the role played by Artificial Intelligence in Communication. It will introduce students to core notions to identify what components of our daily communication practices are affected by AI, how the reshaping of the communication processes happens through different technologies and how we can check their evolutions being aware of their potential risks and opportunities. At the end of the module students will be able to answer questions such as: who are we communicating with when we write online? How are (chat)bots and conversational agents changing our interactions? Why social and new digital media are affecting news consumption habits? The module will be taught following "active learning" methodologies.
Machine Learning and BioInspired Optimisation (COMP532)

Credits: 15 / Semester: semester 2

This module teaches you about bio-inspired algorithms for optimisation and machine learning. The algorithms are based on reinforcement learning, DNA computing, brain or neural network models, immune systems, the evolutionary version of game theory, and social insect swarm behaviour such as ant colonies and bee colonies. These techniques are extremely useful for searching very large solution spaces (optimisation) and they can be used to design agents or robots that have to interact and operate in dynamic unknown environments (e.g. a Mars rover, a swarm of robots or network of satellites). The idea of learning optimal behaviour, rather than designing, algorithms and controllers is especially appealing in AI.  ​
Computational Intelligence (COMP575)

Credits: 15 / Semester: semester 2

​Biologically inspired optimisation and introduction to neural networks for artificial intelligence.
Programme details and modules listed are illustrative only and subject to change.
Year two
Compulsory modules
MSc Placement Experience (COMP598)

Credits: 60 / Semester: whole session

​This module contains the elements of the Computer Science PGT programmes with a second year industrial placement for the 2 year MSc programmes that are generic to all underlying work experience.  The technical elements of the placement are contained in a different module, which is COMP599 MSc Industrial Project.
MSc Industrial Project (COMP599)

Credits: 60 / Semester: whole session

​This module is a major part of the 2 year MSc programmes with a year in industry.  It is worth 60 credits.  The project takes place in the year 2 during the placement period, typically from September to the following May for a minimum of 26 weeks.  An earlier starting date is allowed, but subject to agreement between the University and the placement provider.  The module will be assessed by means of: An interim report, An oral presentation, and A final dissertation.  The student will be supervised by a university academic as well as an industrial supervisor. This module is aimed at developing the student's ability to undertake an industrial project in a real world environment successfully and with limited supervision.  The student is expected to apply the knowledge acquired from the taught components of the programme and to gain significant knowledge and skills in industry.  As a consequence, the expectation is that students' employability prospects will be greatly enhanced.
Programme details and modules listed are illustrative only and subject to change.
How you'll learn
Teaching on the first year of this programme comprises formal lectures, small group tutorials and practical sessions in computer laboratories. You will also take part in one or more group projects. In your second year, you'll undertake an industrial project in a real-world environment.
How you're assessed
Modules in the first year of the course are assessed through a combination of examinations and coursework. The examinations take place at the end of each semester and typically take the form of an in-person written assignment, usually to be completed in a couple of hours. You'll be assigned coursework across the length of each semester. This typically takes the form of class tests, programming assignments or small projects.
The second year of the course is assessed through a portfolio of evidence from your industrial placement and a major project undertaken in your placement setting.
Liverpool Hallmarks
We have a distinctive approach to education, the Liverpool Curriculum Framework, which focuses on research-connected teaching, active learning, and authentic assessment to ensure our students graduate as digitally fluent and confident global citizens.
Course options
Studying with us means you can tailor your degree to suit you. Here's what is available on this course.
Your experience
The Department of Computer Science is housed in a grade II listed building which has been extensively refurbished for 21st century needs and challenges and provides state-of-the art equipment and high-speed communication links.
Watch now
Video
An introduction to data science and artificial intelligence
Watch now
Video
A tour of the Computer Science department and facilities
Dr Terry Payne talks you through what you can expect studying Computer Science at the University of Liverpool and shows you some of the facilities and equipment you will be using.
Virtual tour
Supporting your learning
From arrival to alumni, we're with you all the way:
An exciting place to study Computer Science
You will be taught by some of the best researchers in the field. In the most recent Research Excellence Framework, the research output of our department was ranked 5th in the UK. This research expertise shows through in our teaching
We teach in state-of-the-art PC and Mac laboratories running a variety of different operating systems, as well as iOS and Android tablets to encourage creativity and innovation within a stimulating environment in which to work and study
Our programmes are continually updated to reflect new technologies and trends.
What students say...
I like the curriculum, which is super friendly for students who may not have a strong computer science background. Learning data science and artificial intelligence at a top-ranked university for computer sciences is a coveted opportunity for me.
Chat with our students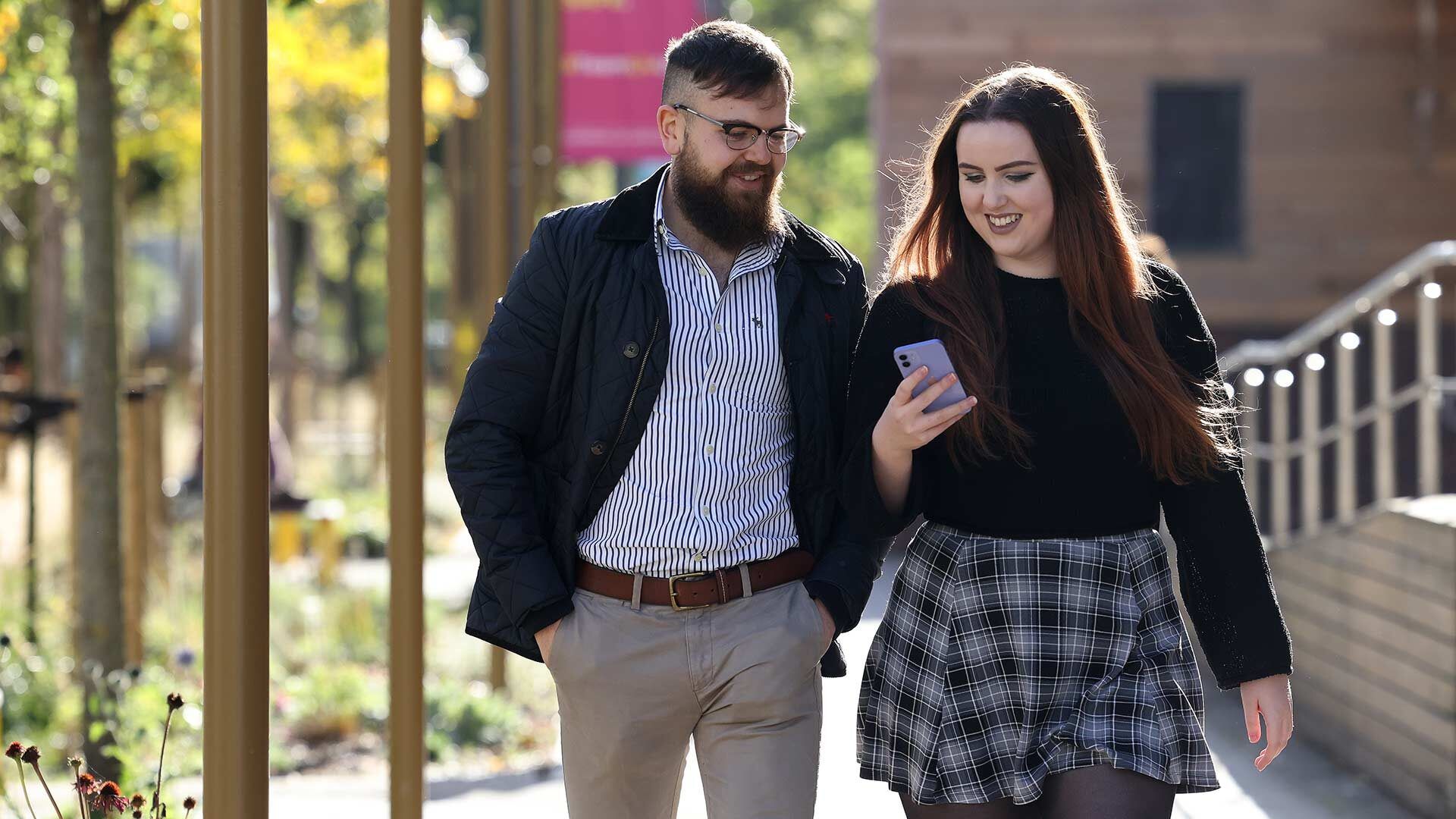 Chat with our students
Want to find out more about student life?
Chat with our student ambassadors and ask any questions you have.
Careers and employability
Data science and artificial intelligence driven technologies are becoming integral parts of our lives and changing the ways people do business.
Nearly every organisation uses data science and artificial intelligence to refine and streamline their business practices. The significant opportunities afforded by the application of data science and artificial intelligence across so many different sectors, from IT and healthcare to government agencies, mean that professionals in this area are in high demand, with job opportunities far outstripping supply.
This MSc addresses this skills gap by preparing you for an exciting career in data science and artificial intelligence. This includes interdisciplinary opportunities tailored to your individual expertise, achieved by coupling knowledge of data science and artificial intelligence with the knowledge that you acquired from your first degree.
Your future
You'll be well placed on graduation to secure a variety of roles, including:
Data analyst
Data scientist
Data engineer
Database manager or administrator
Machine learning practitioner
Data architect
Statistician
Business analyst
IT consultant.
Your expertise working with data will also provide ideal preparation for potential PhD study.
Fees and funding
Your tuition fees, funding your studies, and other costs to consider.
Tuition fees
UK fees

(applies to Channel Islands, Isle of Man and Republic of Ireland)

Full-time place, per year
£12,400
Year in industry fee
£2,500
International fees
Full-time place, per year
£28,800
Year in industry fee
£5,800
Fees stated are for the 2024-25 academic year.
Tuition fees cover the cost of your teaching and assessment, operating facilities such as libraries, IT equipment, and access to academic and personal support.
If you're a UK national, or have settled status in the UK, you may be eligible to apply for a Postgraduate Loan worth up to £12,167 to help with course fees and living costs. Learn more about paying for your studies..
Additional costs
We understand that budgeting for your time at university is important, and we want to make sure you understand any course-related costs that are not covered by your tuition fee. This could include buying a laptop, books, or stationery.
Find out more about the additional study costs that may apply to this course.
Scholarships and bursaries
We offer a range of scholarships and bursaries to provide tuition fee discounts and help with living expenses while at university.
Entry requirements
The qualifications and exam results you'll need to apply for this course.
| Your qualification | Requirements |
| --- | --- |
| Postgraduate entry requirements | You will normally need a high 2:1 honours degree (65%), or above, or equivalent. This degree should be in a subject that's not related to computer science. |
| International qualifications | If you hold a bachelor's degree or equivalent, but don't meet our entry requirements, you could be eligible for a Pre-Master's course. This is offered on campus at the University of Liverpool International College, in partnership with Kaplan International Pathways. It's a specialist preparation course for postgraduate study, and when you pass the Pre-Master's at the required level with good attendance, you're guaranteed entry to a University of Liverpool master's degree. |
English language requirements
You'll need to demonstrate competence in the use of English language. International applicants who do not meet the minimum required standard of English language can complete one of our Pre-Sessional English courses to achieve the required level.
English language qualification
Requirements
IELTS
B
View our IELTS academic requirements key.
International Baccalaureate

Standard Level 5

TOEFL iBT
88 or above with minimum scores in components as follows: Listening and Writing 17, Reading 17, Speaking 19.
INDIA Standard XII
National Curriculum (CBSE/ISC) - 75% and above in English. Accepted State Boards - 80% and above in English.
WAEC
C4-6
Hong Kong use of English AS level
C
More about life in Liverpool
Discover more about the city and University.
Why study at Liverpool?
Liverpool bursts with diversity and creativity which makes it ideal for you to undertake your postgraduate studies and access various opportunities for you and your family.
Accommodation
To fully immerse yourself in the university experience living in halls will keep you close to campus where you can always meet new people. Find your home away from home.
Fees and Finance
Discover what expenses are covered by the cost of your tuition fees and other finance-related information you may need regarding your studies at Liverpool.
Contact us
Have a question about this course or studying with us? Our dedicated enquiries team can help.
Dr Ullrich Hustadt