Return to top
Course overview
The Communication and Media MRes allows you to undertake a one year full-time or two year part-time research project in Communication and Media. You will receive training in research skills and supervision from one or more academic specialists in their subject area.
Introduction
The programme provides excellent preparation for you if you're intending to undertake a PhD in the Arts, Humanities and Social Sciences, but is also a good choice if you wish to pursue a research project for purposes of professional development or personal interest.
You will become part of a community of active researchers conducting interdisciplinary research on topics including: digital and social media; political communication and journalism; media history and theory; film and screen; strategic communication; cultural studies and cultural anthropology; photography; computer games; television and magazines; global entertainment, and global events. As a research student you will be encouraged to pursue your own research interests in collaboration with an academic supervisor.
Who is this course for?
This programme is designed for those considering careers in, for example, media, journalism, publishing and management.
What you'll learn
Develop independent research skills
Expertise gained through close one-to-one engagement with a research specialist
The ability to draw on and critically evaluate a range of appropriate research resources to an advanced level
Knowledge developed as part of an interdisciplinary teaching and research environment
Course content
Discover what you'll learn, what you'll study, and how you'll be taught and assessed.
Studying this course part-time
International students may be able to study this course on a part-time basis but this is dependent on visa regulations. Please visit the Government website for more information about student visas.
If you're able to study part-time, you'll study the same modules as the full-time master's degree over a longer period, usually 24 months. You can make studying work for you by arranging your personal schedule around lectures and seminars which take place during the day. After you complete all the taught modules, you will complete your final dissertation or project and will celebrate your achievements at graduation the following term.
Studying part-time means you can study alongside work or any other life commitments. You will study the same modules as the full-time master's degree over a longer period, usually 24 months. You can make studying work for you by arranging your personal schedule around lectures and seminars which take place during the day. After you complete all the taught modules, you will complete your final dissertation or project and will celebrate your achievements at graduation the following term.
Semester one
You will take ONE only of the following modules: COMM747, COMM523, COMM760, COMM749, COMM742, or COMM755. This will be determined by your research proposal and you will be allocated the module most appropriate to your subject of study.
Compulsory modules
Research Resources (COMM701)

Credits: 15 / Semester: semester 1

Research Resources is a preparatory module that allows students to develop a body of research materials relevant to their dissertation project. With guidance from the supervisor(s), students will identify the key primary and secondary sources that will inform their work. They will develop detailed knowledge of the existing scholarship and debates in their field, while also beginning to identify the contribution that will be made by their own work. 

By the end of the module, students will have produced a detailed critical bibliography of key primary and secondary sources that will provide the critical foundation for your dissertation project.
Optional modules
Research Methods in Media & Politics (COMM747)

Credits: 15 / Semester: semester 1

This module is designed to prepare students for their dissertation research. It begins by introducing them to the fundamental aspects of research in the field of media and communication studies, looking at how to find and critique existing knowledge in the field, research project design, and ethical considerations.

Students will then be introduced to a number of approaches in the field of political communication research such as media content analysis, frame analysis, survey design, interview techniques, focus group research, as well as the basics of statistical data analysis and data visualisation. By the end of the module, students will be in a position to present and submit their own dissertation proposals.
Research Methods for Strategic Communication (COMM523)

Credits: 15 / Semester: semester 1

The module gives MSc Strategic Communication students the set of methodological concepts and skills necessary for undertaking scientific research in the field of communication sciences, with special attention to the analysis and evaluation of strategic communication. The module is intended to prepare students for the dissertation and to support them in the different research projects and activities undertaken during the academic year.
Researching Culture and Everyday Life (COMM760)

Credits: 15 / Semester: semester 1

Researching Culture and Everyday Life provides an introduction to a range of research methods and critical-creative approaches designed to equip students with the relevant skills and methodological tools required for studying media, culture and everyday life. The module is organised around three main blocks. The first, consisting of four lectures, introduces students to the fundamentals of research design, philosophy and ethics. Looking ahead to the final assessment, practical guidance and skills in designing and developing a research project proposal will also be provided. The first block of lectures is delivered as part of wider postgraduate methods training in the Department of Communication Media, and sessions are accordingly shared with students studying on parallel masters programmes. The second and third block of lectures focus on research methods frameworks and approaches that are specific to the Media, Culture and Everyday Life programme. These include ethnographic and autoethnographic methods, the role of archives in cultural research, working with sensory and affective approaches to research practice, visual methods, microhistorical approaches, 'messy' and creative/experimental research methods.
Researching Screen (COMM749)

Credits: 15 / Semester: semester 1

Researching Screen is a research methods module aiming to demonstrate both the fundamental principles of academic research design and the ideas and philosophies that underpin it as well as showcase certain philosophical, theoretical, methodological and analytical approaches that have been utilised in the study of screen media. The module is organised in 3 blocks.

The first block includes sessions that that are broadly about research design across the academic spectrum and delivered to all PGT students in the Department. It will include important introductory sessions and will be delivered by staff across the various research clusters in the department.

Block two and three are subject specific and focus exclusively on research approaches that have been informed by theories, philosophies and disciplinary traditions associated with the field of the arts, humanities and cultural studies. These include approaches that are centred on the study of the visual image as text (semiotics, narrative, style) on relevant contexts around industrial and cultural aspects of screen media (political economy to cultural approaches to industry research), on media specific models of analysis (games and television) and on audiences and fans.

Blocks two and three will be delivered by a number of colleagues in the Screen and Film Studies research cluster who will demonstrate research methods based on their own expertise.
Introduction to computational social science methods (COMM742)

Credits: 15 / Semester: semester 1

This module will provide students with skills to understand and apply the building blocks of computational social science. Students will be introduced to cutting edge methods to design, develop and interpret quantitative surveys, as well as to cutting edge methods for collecting and analysing large datasets from digital sources at different levels of granularity.
At the end of the module, students will be able to match techniques to answer research questions such as "What are peoples' attitudes towards news media and what social factors significantly influence those attitudes?"- , – "How does disinformation spread?" , " What hot topics were debated on social media in the last month?". The module will be taught following "active learning" methodologies where empirical activities as well as group discussions will play a key role.
Programme details and modules listed are illustrative only and subject to change.
Semester two
Compulsory modules
Feasibility Study (COMM702)

Credits: 30 / Semester: semester 2

This module allows students to develop a substantial piece of written work that will demonstrate and clarify the aims and scope of their project. By the end of the module, students will have defined their key research questions and begun to develop key points of their analysis and argument. Though the module is in some respects continuous with COMM704 and can be thought of as the beginning of students' work on their dissertation, it is also intended to provide substantial feedback on the development of their research project and plans. Students will work with their supervisor(s) to define their key questions, clarify the scope and purposes of their project, and identify any possible challenges. At the end of the module, students will submit a substantial piece of written work that will demonstrate the aims and feasibility of their project. Material used in this assessment can be included in their final dissertation and might take the form of a sample chapter.
Programme details and modules listed are illustrative only and subject to change.
Final project
Compulsory modules
Dissertation (COMM704)

Credits: 120 / Semester: whole session

On this module, students will undertake a piece of original research in their chosen field. With guidance from an academic supervisor (or supervisory team) students will produce a dissertation of between 30,000 and 35,000 words (or equivalent) based on their independent research. This module is a core component of the MRes Communication and Media programme and as such its syllabus will vary according to the individual research project and will be determined by the student with guidance from the academic supervisor(s).
Programme details and modules listed are illustrative only and subject to change.
How you'll learn
Teaching on MRes Communication and Media is delivered through regular supervisory meetings with academic staff with subject-area expertise matched to students' specific areas of research interest. With the exception of one class-taught module on research methods (to be chosen from five different bespoke methods modules offered by the Department of Communication and Media), there is no group teaching. MRes students are invited and encouraged to participate in, and contribute to the wider research culture in the Department. But in terms of teaching, students' main point of contact will be with supervisors who provide one-on-one tutorials.
How you're assessed
Students studying the MRes will be assessed by coursework. Preparatory work (e.g. annotated bibliography, research project proposal) is designed to provide step-by-step development of ideas and knowledge that will feed into completion of the final dissertation (30-35,000 words), which is the primary mode of assessment.
Liverpool Hallmarks
We have a distinctive approach to education, the Liverpool Curriculum Framework, which focuses on research-connected teaching, active learning, and authentic assessment to ensure our students graduate as digitally fluent and confident global citizens.
Your experience
Supporting your learning
From arrival to alumni, we're with you all the way:
Why study Communication and Media at Liverpool?
We have a long-standing reputation for innovative research in media, cultural and communication studies
The interest in contemporary communication is at the heart of our enterprise, though always with a focus on how the media deploy their affordances to communicative and social effect
There is a strong family-ethos within the department. Personal interaction with our students is at the heart of what we do
We have exciting partnerships with industry, arts and key creative venues both in the city and internationally and they collaborate with us as part of the programme offer
Ranked 4th in the sector for outstanding (4*) research impact, with 100% of our impact classified as either outstanding (4*) or very considerable (REF 2021)
Our programmes address a wide range of questions about the modern media industry, news, communication and social interaction in a lively and creative environment
Our internationally-acclaimed research is casting innovative light on many aspects of the discipline and engaging with the very latest topics, such as social media, populism, artificial intelligence, global media events, fake news and online harassment.
Chat with our students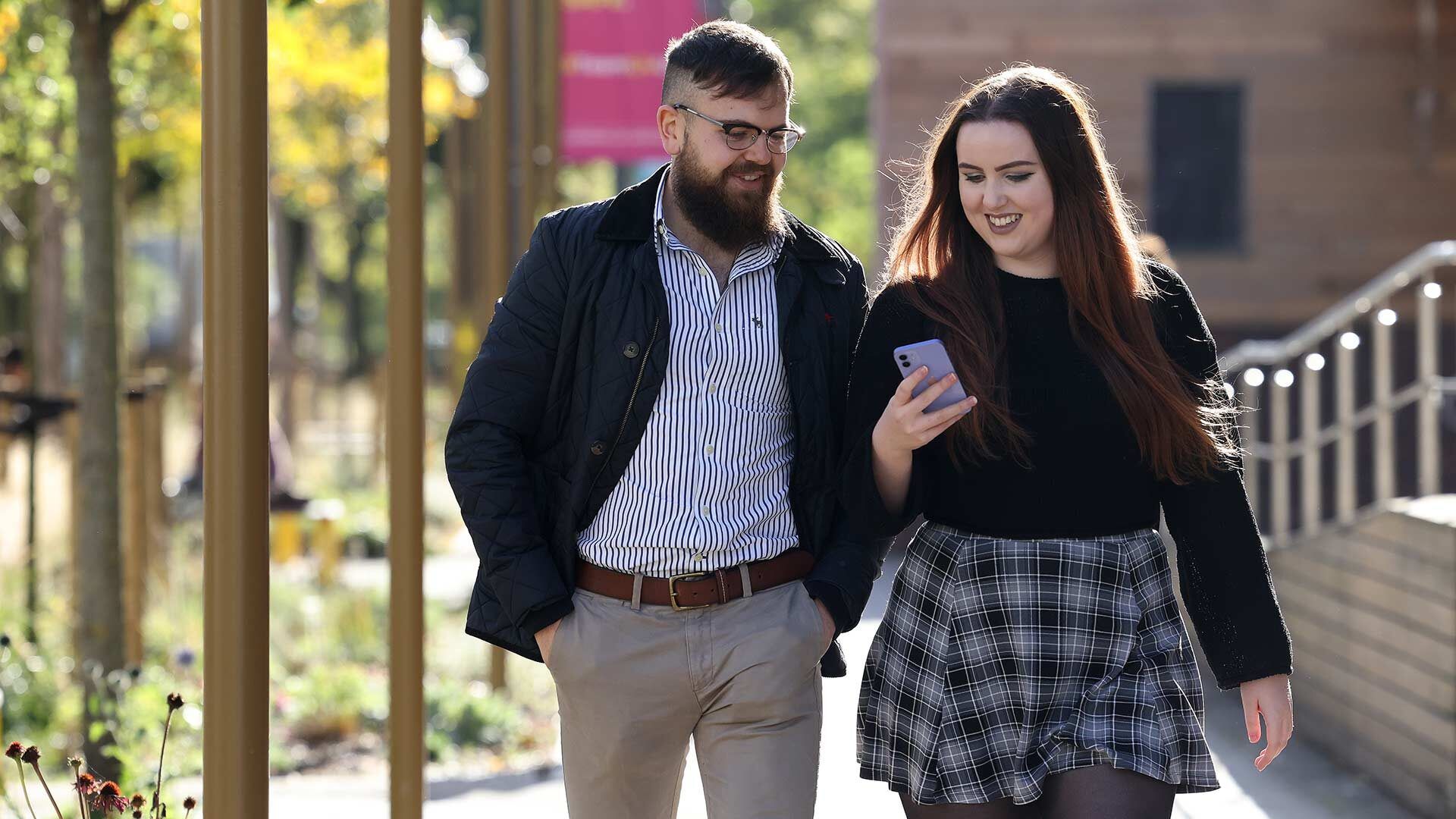 Chat with our students
Want to find out more about student life?
Chat with our student ambassadors and ask any questions you have.
Careers and employability
The MRes Communication and Media may enhance the career prospects of those working or wishing to work in fields associated with the study of Communication and Media subjects (Film, Television, Digital Media, Journalism, Linguistics, Public Relations, Cultural Industries, etc.). While managerial positions often require the ability to conduct research or project-work and to demonstrate sustained and complex organisational skills in ways encompassed by this programme, its emphasis on oral and written communication skills as well as on IT-based presentation skills will be useful for many types of employment.
Your future
You may want to take this course for personal development as you are interested in the field. Equally, the MRes is designed to prepare you for further research at PhD level, and to enable you to enter postgraduate research, offering a first step towards a career in academic teaching and research.
Fees and funding
Your tuition fees, funding your studies, and other costs to consider.
Tuition fees
UK fees

(applies to Channel Islands, Isle of Man and Republic of Ireland)

Full-time place, per year
£4,712
Part-time place, per year
£2,356
International fees
Full-time place, per year
£21,850
Part-time place, per year
£10,925
Please note, the fees shown are for the academic year 2023-24 and will rise for 2024-25. Some MRes courses incur additional bench fees. You will be notified of any fee which applies to you in your offer letter.
Tuition fees cover the cost of your teaching and assessment, operating facilities such as libraries, IT equipment, and access to academic and personal support.
If you're a UK national, or have settled status in the UK, you may be eligible to apply for a Postgraduate Loan worth up to £12,167 to help with course fees and living costs. Learn more about paying for your studies..
Additional costs
Please note, this programme may have additional costs associated with it depending on your choice of a lab or computational/fieldwork-based project.
Find out more about the additional study costs that may apply to this course.
Scholarships and bursaries
We offer a range of scholarships and bursaries to provide tuition fee discounts and help with living expenses while at university.
Entry requirements
The qualifications and exam results you'll need to apply for this course.
| Your qualification | Requirements |
| --- | --- |
| Postgraduate entry requirements | Applicants are required to submit a sample of written work (2,000-3,000 words). This can be an undergraduate essay or similar. |
| International qualifications | If you hold a bachelor's degree or equivalent, but don't meet our entry requirements, a Pre-Master's can help you gain a place. This specialist preparation course for postgraduate study is offered on campus at the University of Liverpool International College, in partnership with Kaplan International Pathways. Although there's no direct Pre-Master's route to this MRes, completing a Pre-Master's pathway can guarantee you a place on many other postgraduate courses at The University of Liverpool. |
English language requirements
You'll need to demonstrate competence in the use of English language. International applicants who do not meet the minimum required standard of English language can complete one of our Pre-Sessional English courses to achieve the required level.
English language qualification
Requirements
IELTS
IELTS 6.5 overall (with S:6.5, W:6.5, L:5.5, R:5.5)
View our IELTS academic requirements key.
International Baccalaureate

Standard Level (Grade 5)

TOEFL iBT
88 or above with minimum scores in components as follows: Listening and Writing 21, Reading 22, Speaking 23.
INDIA Standard XII
National Curriculum (CBSE/ISC) - 75% and above in English. Accepted State Boards - 80% and above in English.
WAEC
C4-6
Hong Kong use of English AS level
C
More about life in Liverpool
Discover more about the city and University.
Why study at Liverpool?
Liverpool bursts with diversity and creativity which makes it ideal for you to undertake your postgraduate studies and access various opportunities for you and your family.
Accommodation
To fully immerse yourself in the university experience living in halls will keep you close to campus where you can always meet new people. Find your home away from home.
Fees and Finance
Discover what expenses are covered by the cost of your tuition fees and other finance-related information you may need regarding your studies at Liverpool.
Contact us
Do you have a question about this course? Call or email the student experience team.
If you have any questions about the course content, please get in touch with the programme director.