Course overview
The Music MRes allows you to undertake a one year full-time or two year part-time, research project in Music. You will receive training in research skills and supervision from one or more academic specialists in the subject area. The MRes will encourage you to develop research skills whilst undertaking a major research project.
Introduction
This course introduces you to the inter-disciplinary nature of the field and aims to introduce  the wide range of methodologies such studies entail. Further, you are required to consider how you will approach and structure the dissertation as a project in primary research.
You'll work closely with a research specialist in the broad musicological field in one of the following areas: musicology, popular music, music industries, composition, analysis, audio-visual, music technology.
It is also a good choice if you wish to pursue a research project for purposes of professional development or personal interest. You will become part of a community of active researchers and will be encouraged to pursue your own research interests in collaboration with an academic supervisor.
The programme will enable you to acquire a critical and analytical understanding of a detailed dissertation or composition topic; engage in the wider cultural and critical aspects of the relevant area of expertise by undertaking a research skills training module and an additional module from the School of Music or the Faculty of Humanities and Social Sciences' pool.
The MRes Music provides excellent preparation for you if you're intending to undertake a PhD in the Arts.
What you'll learn
Develop independent research skills
Demonstrate a coherent methodology appropriate to the area of research
Expertise gained through work with a research specialist
Create your own music portfolio or conduct dissertation
Develop the ability to select, assess, employ and critically evaluate a range of appropriate research resources (such as textual, musical, visual or material sources) to an advanced level.
Course content
Discover what you'll learn, what you'll study, and how you'll be taught and assessed.
Studying this course part-time
International students may be able to study this course on a part-time basis but this is dependent on visa regulations. Please visit the Government website for more information about student visas.
If you're able to study part-time, you'll study the same modules as the full-time master's degree over a longer period, usually 24 months. You can make studying work for you by arranging your personal schedule around lectures and seminars which take place during the day. After you complete all the taught modules, you will complete your final dissertation or project and will celebrate your achievements at graduation the following term.
Studying part-time means you can study alongside work or any other life commitments. You will study the same modules as the full-time master's degree over a longer period, usually 24 months. You can make studying work for you by arranging your personal schedule around lectures and seminars which take place during the day. After you complete all the taught modules, you will complete your final dissertation or project and will celebrate your achievements at graduation the following term.
Semester one
Please note: programme and module details are illustrative and subject to change.
You will choose one optional module alongside your compulsory modules.
Compulsory modules
Research Resources (SOTA701)

Credits: 15 / Semester: semester 1

The aim of this module is to develop a scholarly bibliography of research resources relevant to your chosen field of study. With guidance from your supervisor(s), you will identify key primary and secondary resources and survey the existing scholarly literature in your area of research.
Training for Music and Research (MUMA722)

Credits: 15 / Semester: semester 1

​The module ensures that students posess the research skills needed to undertake the major MRES (Music) project in either musicology or composition. A supervisor will guide through diagnostic procedures and help guide the student towards completion of the portfolio of research preparations (100% of the course assessment).
Programme details and modules listed are illustrative only and subject to change.
Semester two
Compulsory modules
Feasibility Study (SOTA702)

Credits: 30 / Semester: semester 2

On this module, which is a core component of the MRes Arts degree, students undertake a preliminary piece of research as preparation for the dissertation project (SOTA703). In collaboration with an academic supervisor or supervisory team, students will develop an extended piece of writing (for example, a sample chapter) based on the proposed area of research. The work done on this module will provide an intellectual foundation for the dissertation and will enable the student, with guidance and feedback from the supervisor(s), to define the scope and boundaries of the research project.
Programme details and modules listed are illustrative only and subject to change.
Final project
You can register for MUMA701 Major Composition Portfolio in place of SOTA703 Dissertation.
Compulsory modules
Dissertation (SOTA703)

Credits: 120 / Semester: whole session

On this module, students will undertake a piece of original research in their chosen field. With guidance from an academic supervisor (or supervisory team) students will produce a dissertation of between 30,000 and 35,000 words (or equivalent) based on their independent research.
Major Composition Portfolio (MUMA701)

Credits: 120 / Semester: whole session

​The module forms the core of the MRES research element for composers, who will work one-to-one with their named supervisor to produce the main portfolio of composotions, lasting 20 minutes of music in total. The candidate will incorporate elements of either acoustic or electro-acoustic music that attempt to further the current field of new music. Opportunities will be given to have some pieces workshopped/ performed by professional musicians.
Programme details and modules listed are illustrative only and subject to change.
How you'll learn
Teaching on the MRes Music is delivered primarily through one-on-one tutorials but also includes a combination of workshops and seminars. All teaching takes place on campus. The main core of the programme is the development of a research project with guidance from a specialist supervision team. Individual projects encompass a wide range of topics and can be focussed towards written research projects or more practical areas such as composition, audiovisual work and performance strategies. Workshops take place alongside PhD researchers and include career development and professional skills for those wishing to embark upon a research career. Workshop numbers ten to be small, and a typical class would include between 10-15 students.
How you're assessed
Students on the MRes are assessed through a combination of formative and summative coursework. This takes a number of different forms, including annotated bibliographies, research proposals, presentations, compositions and essays. Students undertaking practical projects will work towards the production of a major portfolio of work.
Liverpool Hallmarks
We have a distinctive approach to education, the Liverpool Curriculum Framework, which focuses on research-connected teaching, active learning, and authentic assessment to ensure our students graduate as digitally fluent and confident global citizens.
Your experience
As a music student at the University of Liverpool, you will be a part of a small and friendly department. With access to our extensive range of facilities including state-of-the-art recording faclilities, our auditorium and professionally maintained instruments. All while being surrounded by like-minded musicians.
Virtual tour
Supporting your learning
From arrival to alumni, we're with you all the way:
Why study Music at Liverpool?
We pride ourselves on being an innovative department that embraces the full spectrum of music, from the great works of the past to emerging trends such as sound for computer games
Our staff and students come from a variety of performance and non-performance backgrounds and share interests that span classical, popular, world and film music
Long established as a classical music department, in 1988 we created the Institute of Popular Music – the world's first specialist centre for the study of Popular Music
Music placed in the top quartile for impact classified as outstanding (4*) (REF 2021)
Our recently refurbished facilities boast brand new studios, teaching spaces, and industry standard equipment. These include recording and production studios, an SSL studio, practice rooms with Yamaha pianos, a multipurpose rehearsal and performance space, iMac suites and a games research lab
In March 2022 we opened the Tung Auditorium, a new state-of-the-art performance venue seating up to 400 people, with space for a 70-piece orchestra.
Chat with our students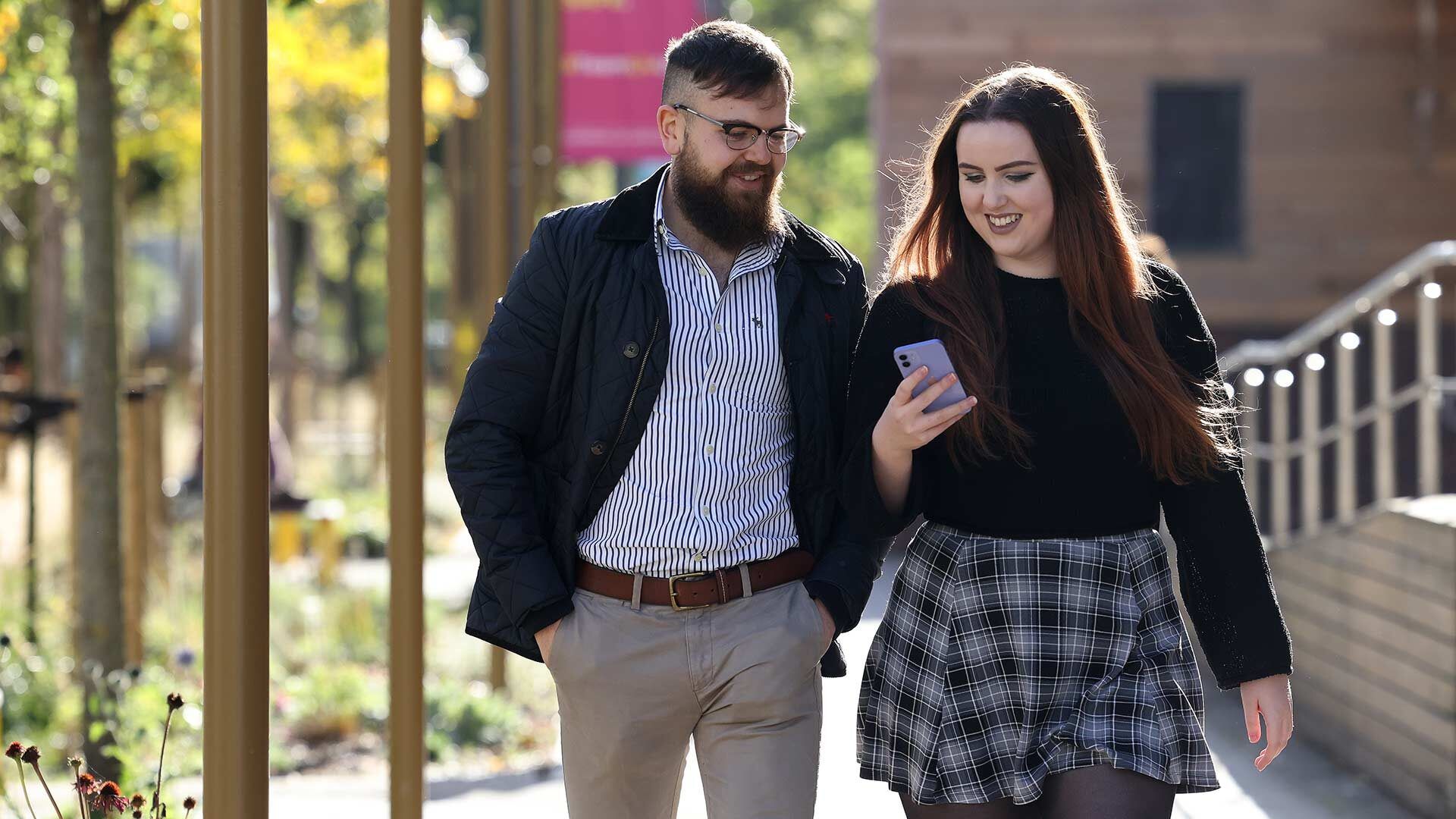 Chat with our students
Want to find out more about student life?
Chat with our student ambassadors and ask any questions you have.
Careers and employability
The MRes Music develops key skills to those working or wishing to work in a variety of fields related to music. The MRes is particularly suitable for graduates looking to pursue careers in the arts, culture, creative and heritage sectors, including composition, management in arts and culture organisations and teaching. Some students may want to take this course for its own sake and for the sake of personal development and the revitalization of subject
awareness. Equally, the MRes is designed to prepare students too for further research at
PhD level, and to enable them to enter postgraduate study, thus offering a first
step towards a career in academic teaching and research.
Your future
The programme opens up career opportunities which include working in:
Journalism.
Publishing.
Music management.
Law.
Fees and funding
Your tuition fees, funding your studies, and other costs to consider.
Tuition fees
UK fees

(applies to Channel Islands, Isle of Man and Republic of Ireland)

Full-time place, per year
£4,712
Part-time place, per year
£2,356
International fees
Full-time place, per year
£21,850
Part-time place, per year
£10,925
Fees stated are for the 2023-24 academic year.
Tuition fees cover the cost of your teaching and assessment, operating facilities such as libraries, IT equipment, and access to academic and personal support.
If you're a UK national, or have settled status in the UK, you may be eligible to apply for a Postgraduate Loan worth up to £12,167 to help with course fees and living costs. Learn more about tuition fees, funding and Postgraduate Loans.
Additional costs
Please note, this programme may have additional costs associated with it depending on your choice of a lab or computational/fieldwork-based project.
Find out more about the additional study costs that may apply to this course.
Scholarships and bursaries
We offer a range of scholarships and bursaries to help cover tuition fees and help with living expenses while at university.
Entry requirements
The qualifications and exam results you'll need to apply for this course.
| Your qualification | Requirements |
| --- | --- |
| Postgraduate entry requirements | You will need a 2:1 in Music or a closely aligned subject.  You will also have to provide a sample of written work e.g. an undergraduate assignment. |
| International qualifications | If you hold a bachelor's degree or equivalent, but don't meet our entry requirements, a Pre-Master's can help you gain a place. This specialist preparation course for postgraduate study is offered on campus at the University of Liverpool International College, in partnership with Kaplan International Pathways. Although there's no direct Pre-Master's route to this MRes, completing a Pre-Master's pathway can guarantee you a place on many other postgraduate courses at The University of Liverpool. |
English language requirements
You'll need to demonstrate competence in the use of English language. International applicants who do not meet the minimum required standard of English language can complete one of our Pre-Sessional English courses to achieve the required level.
English language qualification
Requirements
IELTS
6.5 (with a minimum of 6.0 in each component). For the MRes programme you will need 6.5 in the writing component.
View our IELTS academic requirements key.
International Baccalaureate

Standard Level (Grade 5)

TOEFL iBT
88 or above with minimum scores in components as follows: Listening and Writing 21, Reading 22, Speaking 23.
INDIA Standard XII
70% or above from Central and Metro State Boards
WAEC
C4-6
Hong Kong use of English AS level
C
More about life in Liverpool
Discover more about the city and University.
Why study at Liverpool?
Liverpool bursts with diversity and creativity which makes it ideal for you to undertake your postgraduate studies and access various opportunities for you and your family.
Accommodation
To fully immerse yourself in the university experience living in halls will keep you close to campus where you can always meet new people. Find your home away from home.
Fees and Finance
Discover what expenses are covered by the cost of your tuition fees and other finance-related information you may need regarding your studies at Liverpool.
Contact us
Do you have a question about this course? Call or email the student experience team.
To discuss your research proposal, please get in touch with the programme director.