Challenge
Keratoconus is a progressive thinning of the cornea which significantly impairs the vision of 1 in 2000 teenagers and work-age adults. This disorder is a leading cause of corneal transplantation which is a severe financial burden on the NHS and is not always successful due to rejection or infection. An alternative treatment acts to strengthen the disease weakened cornea, however current methods use ultraviolet A (UVA irradiation), which is toxic to the cornea, and requires the removal of the corneal epithelium, causing significant discomfort for the patient and an increased infection risk.
In 2014 Professor Rachel Williams, leader of Ophthalmic Bioengineering research in the Institute of Ageing and Chronic Disease, in collaboration with Professor Colin Willoughby, Professor of Molecular Ophthalmology and consultant corneal specialist, identified a novel non-toxic chemical agent that could replace the current method without needing to use UVA radiation or remove the corneal epithelium. This could significantly improve patient care and also increase the number of patients for which the treatment is appropriate. However, Professor Williams required additional expertise to get this product to clinical trials.
Professor Willoughby, said: "The clear advantage of our novel chemical systems is their simplicity and that they can be applied without the need for ultra-violet light.
"This would remove the need for the procedure to be carried out only at specialist clinical centres with expensive equipment, this would be especially good news to reduce NHS costs and also for people in developing countries who may not have access to specialist centres."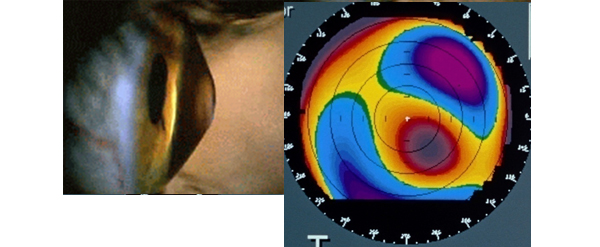 Solution
To develop this innovation further and overcome these barriers, Professor Williams was awarded a Knowledge Exchange and Innovation (KE&I) Voucher worth £20,000. This funding enabled the development of important collaborative relationships with international commercial partners, Aurolab and the Aravind Eye Care System, based in India. This new collaboration brought valuable expertise in pre-clinical testing, manufacturing and commercialisation.
Professor Williams, added: "By working with Aurolab and the Aravind Eye Care System we believe we can develop this new chemical cross-linking process as a safe and cost effective treatment for keratoconus. The initial KE Voucher was an excellent way to get this collaboration started."
Impact
This partnership was then able to develop additional experimental evidence and demonstrate a breadth of capability leading to the award of an EPSRC Translational Alliance Platform award worth £250,000. This grant is funding the development of their ophthalmic product and the pre-clinical trials that were required to demonstrate its effectiveness as a treatment for keratoconus. Working with the IP and Commercialisation team, this research has now applied for patent protection, and Professor Williams is developing a strategy to exploit her research fully and reach the global patient population.
Back to: Collaborate with us